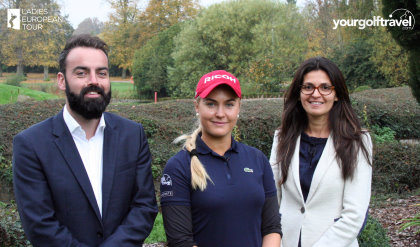 Your Golf Travel Partners With Ladies European Tour

Your Golf Travel has become the official travel partner of the Ladies European Tour. As part of a two-year agreement, the company will create bespoke travel and attendance packages for LET events.
These will include preferential access to tickets plus exclusive access to LET players through private clinics, meet and greets, Pro-Am places and bespoke VIP events.
Ladies European Tour Chief Executive Officer Ivan Khodabakhsh said: "As a global organisation operating events in more than 18 countries on four continents every year with a dedicated international fan base, the Ladies European Tour is the perfect vehicle for Your Golf Travel to advertise their products and services to their clients in Britain. We have some first class golf lined up for 2016 at some fabulous tournament venues and whether its leisure, tuition or competitive golf, there is something for all the family to enjoy at a Ladies European Tour event. Our Members are well known to be among the most approachable and connected athletes in professional golf and we are delighted that more of our fans will now be able to share this experience."
Chief Executive Officer of Your Golf Travel Ross Marshall said: "The Ladies European Tour has a fantastic product, and the development of the brand and tournament schedule is something that we are delighted to be aligned with. We aim to support the innovations being undertaken by the LET and will be proud to create, promote and deliver exclusive travel products alongside the Tour and its member players. We see it as the ideal opportunity to contribute positively to stronger participation by women and girls in our game."
Your Golf Travel ambassador Charley Hull commented: "In my three years as a member of the Ladies European Tour, I have been fortunate to play in more than 40 events in 18 countries around the world and there is nothing more exciting than having a large gallery cheering you on. I am extremely pleased that travelling to our tournaments will now be even more accessible thanks to Your Golf Travel's expertise and this will be a fantastic service for our valued supporters."