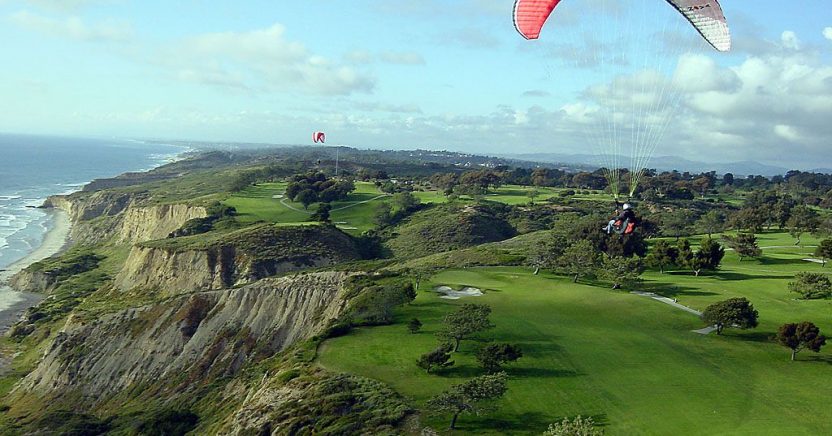 TORREY PINES, CALIFORNIA

Sarah Stirk fulfils a long-held ambition to pay a visit to the fabled Torrey Pines Golf Course in San Diego, and play its stunning South Course, venue for Tiger Woods's most recent, and maybe final, Major victory 
As far as municipal courses go, I think Torrey Pines is pretty special. I've covered the Farmers Insurance Open on the PGA Tour for the last few years, and every time I'd say to myself, 'I need to go there!' This year worked out perfectly. I was out in Los Angeles covering the Genesis Open at Riviera, and decided that a week off afterwards, just down the coast, was exactly what was needed.
La Jolla is an incredible place. It's a well-to-do beach enclave north of San Diego and has a really nice, chilled vibe. The city itself is pretty small – we covered San Diego in a day – and then spent the rest of the time loitering around La Jolla. 
One of my undoubted highlights was the Torrey Pines state park. There are some incredible trails to explore, and the views from the cliff tops are spectacular. Watching the paragliders on TV always mesmerised me, so it was fantastic to see them up close. I nearly signed up for a taster session, but chickened out at the last minute. My loss.
Anyway, back to the golf. There are two courses at Torrey Pines, the North and the South, both of which are owned and maintained by the city of San Diego. Both are used for the opening two rounds at the Farmers Insurance Open, with the South hosting the weekend's action. The latter is known as more challenging, but both are difficult, with some penal rough.
I played the South not long after the tournament, so it was in great shape and the putting surfaces were super quick. I have to admit that I'm with Rory McIlroy on the greens. I'm not a massive fan of Poa grass, and I found putting really tricky, especially late in the afternoon. We also played on a particularly chilly day – hence the newly acquired beanie – so scoring conditions weren't easy. 
The South course was designed by William F Bell and first opened 1957, it was then renovated by local hero Billy Casper and his design partner David Rainville in the late 1970s. Rees jones worked his magic and completely rejuvenated the South course in 2001 at a cost of $3.5 million, taking the yardage to a staggering 7,607 yards. The South course is held in such high regard that the US Open was, of course, staged there in 2008, making it only the second municipal course ever to hold the event. That year Tiger Woods prevailed over Rocco Mediate in an 18-hole play-off, claiming his 14th and, to date, final major. Carrying a bad knee injury, Woods effectively won the title on one leg, which would later require surgery. Torrey Pines will host the US Open again in 2021. By this time Woods will be 45. Surely too late to win here again?
What makes Torrey unique is the fact that it is funded by local taxpayers. This means that residents in the area can play for around $70, while out-of-towners have to pay three times that, but it's certainly worth it. A championship course on the cliffs of the Pacific Ocean, with near-perfect weather year round – apart from the odd foggy day in February – makes it a great destination. 
It is kind of strange to have covered as many tournaments there as I have, and to reminisce about the US Open, while remembering this is a public course. The first thing that struck me about the set up is the driving range – a little strip of land next to the car park, which has seen better days. The balls weren't very good, and it wasn't long enough to hit a driver – even for me. How Tiger warmed up here and produced the magic he did, I have no idea! Don't expect concierge service, or someone to meet you with a cool towel on hot, sunny days. This place is more about business than service. You can also expect slow rounds, not just due to the difficulty, but because everyone stops to take selfies on the spectacular par threes. Guilty!
Talking of which, very few courses have comparable views to the coastal gem that is the short third hole. At 200 yards, it offers the most spectacular views of any hole on the property, overlooking the endless, dreamy expanses of the Pacific Ocean. The shot plays about two clubs less than the yardage, but it's still a tough task to gauge the right distance for this daunting approach and, trust me, you don't want to be long. Having said that, you don't want to be short either, as there's greedy bunker at the front of the green. My only criticism would be that it comes too early in the round, when you're game is still warming up.
Torrey Pines, La Jolla and San Diego – what a three-ball – roll on 2021!
A round on Torrey Pines' South Course costs $202/$242 (week days/weekends). Fees on the North course are $110/$138. For tee time bookings up to 90 days in advance, visit www.sandiego.gov/park-and-recreation/golf/torreypines.
Stay up-to-date: