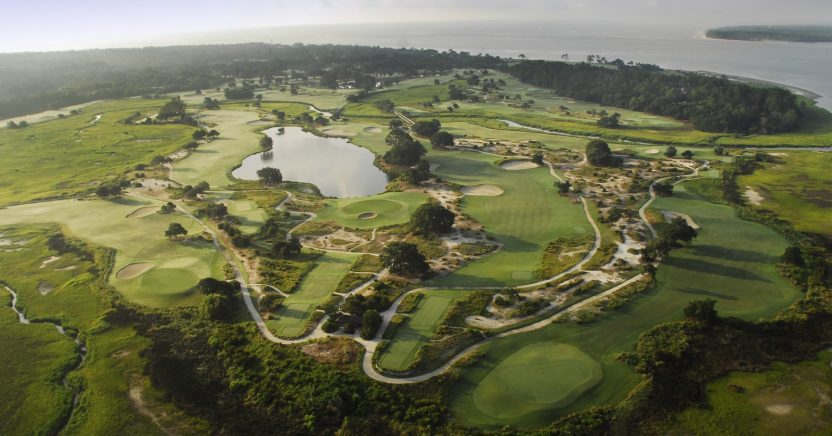 sea island, georgia

Taking a well-earned break between tournament reporting, Sarah Stirk heads to Sea Island in Georgia, a stunning costal golf resort that a growing percentage of the world's tour players call home
Covering The Players Championship and the AT&T Byron Nelson in consecutive weeks meant I had a couple of days to spare in between. One of those was taken up interviewing reigning Open champion Henrik Stenson at Lake Nona in Florida, the other was spent on the Seaside Course and in the spa at Sea Island. As far as perfect ways to spend a day, this was right up there.
I've covered the RSM Classic on the PGA Tour from the studio a number of times and I'm delighted to have just signed with RSM as a media ambassador. I've heard great things about the resort, and was very excited to visit. It's an easy journey an hour north of Jacksonville, and I headed straight up after the conclusion of play at Sawgrass.
There are pockets of America where clusters of tour pros tend to settle. Orlando is obviously a popular place, where the likes of Stenson and Poulter reside, while Ponte Vedra is a hotspot too, but if you want to practice on the range next to a tour pro and get a few tips, head to Sea Island.
My host for the trip was one of the pros, the charming Mike Foley, who suggested that as many as thirty players, including web.com and mini tour players, call the Georgia resort home. Having seen it first hand, I can see why. Davis Love III is perhaps the most famous resident, his late father was the pro here for many years and he is the tour event host.
First of all, I think the vibe is a big attraction, very similar to Hilton Head, and great for families. To call it chilled and laid back doesn't really do it justice. It's a place where you instantly unwind. Of course, being by the water always helps, plus there's loads of great restaurants on the island.
Mike told me I absolutely had to stop by Southern Soul BBQ shack, as it was one of the best eateries around, and is co-owned by DL3. It wasn't quite what I was expecting, but what an experience. It was very rustic and low key, but full of charm. When I arrived, and I saw a line of customers were queuing out the door, I knew the 2016 winning Ryder Cup captain was onto a winner.
I checked into The Lodge on Sunday night, which is an intimate and beautiful 40-room hotel, which feels like you're in Scotland. They also have a lone piper who plays on the front lawn every evening, which is a lovely touch. The rooms are spacious and cosy, and the attention to detail is superb. I know it's an American thing, but there's something very homely about freshly baked cookies and milk at bedtime. Of course, if you're feeling particularly peckish and want more there's a 24-hour butler service on hand. The staff and level of service were impeccable across the whole resort.
Other accommodation comes in the form of The Cloister, a five-star, 265-room hotel right by the beach, and for those looking for even more home comforts, cottages are available to rent, which still give you access to all the Sea Island experiences and amenities.
The resort comprises three courses – Plantation, Retreat and Seaside, the latter of which is the signature layout and the weekend host of the tournament. It's a Tom Fazio redesign of the 1929 classic by Harry Colt and Charles Alison. Having seen the pros do battle in November, I know it's a course that places a premium on shot selection and positional play – something I found out pretty quickly! There's not a whole lot of room off the tee, and you really have to pick your spots.
It's a very clever design and thoroughly enjoyable. The course starts out surrounded by marshland and opens up on the back nine. The 13th and 14th are spectacular, and provide great views out over the water. It's described as a links-style test, but it definitely felt more parkland, and played like an inland course. Multiple teeing areas and softer playing conditions cater for resort guests, but when the PGA Tour comes to town the course plays much firmer, faster and, of course, longer. The course conditioning was superb, and the greens were a comfortable pace, not extremely slick, but absolutely pure. It's a really nice walk too, and definitely a course I'd love to play again, although next time I'd like to find a few more fairways!
The Plantation course co-hosts the tournament with Seaside, with players alternating over the first two rounds. It's definitely categorised as parkland with ancient live oaks, cedars and long leaf pines lining the fairways. Retreat is the most forgiving of the three, described as resort style it was redesigned by Davis Love III and his brother Mark in 2001.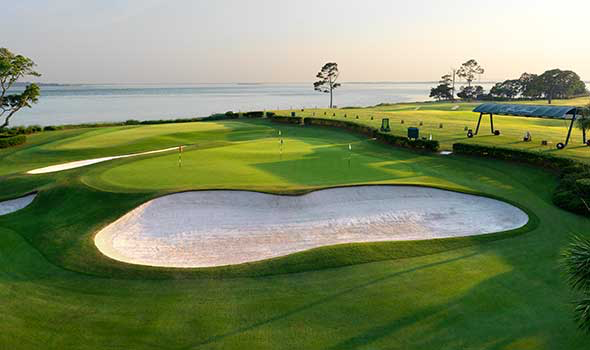 One of the standout features of the resort is the Golf Performance Centre, which provides an individualised approach to teaching, whether you're a Masters champion or an absolute beginner. Guests get the same treatment as the pros, so there's no excuse for not leaving here at least two shots better than when you arrived. I was extremely disappointed not to have longer on site to really feel the benefit. The driving range and practice areas are some of the best in the world, and it's an inspirational place to learn and improve.
What I loved about the Performance Centre is the all-encompassing approach. They have a raft of top teaching pros, a dedicated master clubfitter on site, and specialists to help with your fitness and mental training. Dr Morris Pickens has worked with three Masters champions and is one of the premier sports psychologists in the business. Randy Myers is the resort's fitness guru, but sadly I didn't have time for an intense training session, although I've heard great things.
Finally, without dwelling too much, a visit to the beach club and spa is a must. Again, the service was second to none, and if I wasn't feeling chilled out already, I was pretty much floating on a cloud when I walked out. A lot of people combine a visit to the Masters with a trip to Sea Island, and it's a great thing to do.
If there's one downside, and that's the only one I could find, it's getting there from the UK. Orlando is the nearest international airport and it's a good three-hour drive north. It might put some people off, but it absolutely shouldn't, it's a little slice of coastal paradise with an infectious vibe.
For more information visit www.seaisland.com
Stay up-to-date: