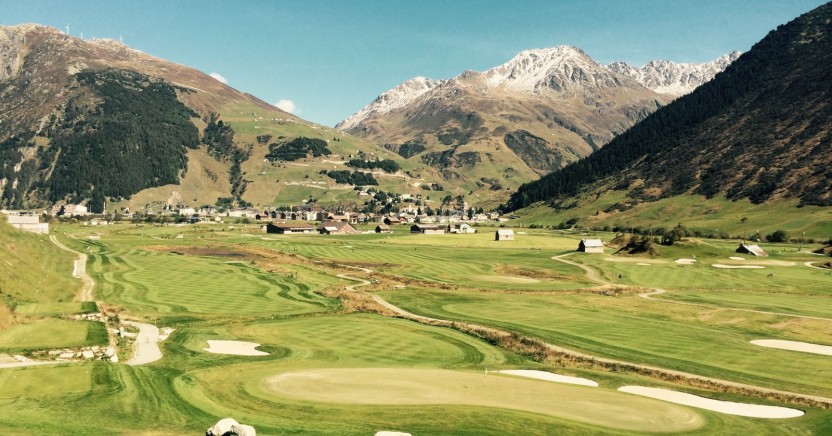 PUTTING ANDERMATT ON THE MAP

The opening of a new 18-hole championship golf course in the sleepy Swiss ski village of Andermatt is the next phase of an ambitious billion-dollar plan to transform it into a sporting playground to rival St Moritz
The Toblerone-style typography and eight-month-a-year snowfall found in the Swiss Alps dictates that it will never rival Spain's Costa del Sol or Portugal's Algarve when it comes to attracting the golfing hoards. But if you're looking for stylish resorts, refined service, clean air, and are fit enough to climb the odd vertiginous fairway, then Swiss golf has plenty going for it.
Already boasting over 90 courses, Switzerland is no newcomer to golf, with many of its established courses having been round for over half a century. And while it has so far failed to produce a truly world-class player, this land-locked country is making a bold bid to offer something alternative to simply breathing in fresh air or hiking in the hills for its summer visitors.
Thus it was with a great deal of interest that I boarded a Swiss Air jet from London's City Airport early one morning in October to begin my journey to Andermatt, a small-scale ski resort in the southern Swiss Alps which is dipping its toes into the golf market for the first time.
After a 90-minute flight to Geneva, followed by a delightful two-hour train journey skirting the edges of Lake Zurich, and a short transfer by road, I found myself checking into the five-star Chedi Andermatt, whose owners have put up for the money for the new golf development.
One of three hotels in the GHM Group owned by Egyptian property billionaire Samih Sawiris – the others are located in Bali and Oman, the Chedi Andermatt, which opened in 2014, forms the centrepiece of a resort that will ultimately feature five further hotels and hundreds of properties, from two-bedroom apartments to four-bedroom chalets, that are currently being built in controlled phases. They are part of an altogether grander plan to build a whole new ski resort that Sawairis is boldly predicting will become the 'new St Moritz' within the next ten years, with a huge new network of ski lifts that will connect Andermatt to adjacent skiing villages to create a wider choice of runs.
All that looks a long way off at present, with the Chedi, which is modelled on an over-sized Swiss chalet, dominating the skyline of this sleepy village, which boasts a population of less than 1,500.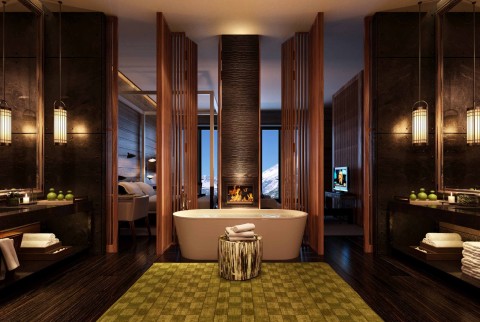 Translated from Thai, a 'chedi' is a place of meditation and relaxation, and that's certainly the theme that runs throughout the hotel, which is comfortable beyond compare, with sofas the size of double beds scattered around the entrance lobby, where guests snuggle up in front of one more than 200 open fires that can be found in public spaces and in the 49 suites and 55 private apartments that are on offer. Dark wood interiors and low lighting offer up a distinctly Oriental-Asian feel that is a feature of all Chedi resorts, but seems somewhat out of kilter in these alpine surroundings.
Spa lovers will happily get lost in the 2,400 square metres of saunas, hydrothermal baths, treatment rooms, fitness studios and indoor and outdoor swimming pools, but if all that sounds too much like hard work, guests can simply retreat to their vast suites, where yet more dark wood, cool slate, luxurious leather, and mountains of plumped pillows provide the pampered backdrop to what are very cosy mini-palaces. Personal iPads in each room provide all the services of a private butler, from ordering room service to closing the curtains and turning on the fire; while a freestanding bath, 12-feet tall rain shower, and Aqua di Parma toiletries are on tap to wash away the worries of a hard day on the piste.
Apart from the Alpen and yoghurt at breakfast, the dining options are distinctly un-Swiss, with Japanese and Asian-fusion restaurants fighting for your attentions at dinner, while fondue fans will have to take a five-minute walk into the village to get their fix of bread dipped in cauldrons of melted gruyere in one of the inns that must be overflowing during the ski season.
But, as global warming does its worst, Andermatt can't rely on skiing alone to pay the bills, so it's with no small amount of interest that after a relaxing night in a suite overlooked by the snow-capped peaks, that I find myself teeing off at Andermatt Swiss Alps Golf Club.
Located just a short buggy ride from the Chedi, the 18-hole course officially opens for play this spring, although hotel guests and locals have been playing it for over a year now. The clubhouse was in the early stages of development during my visit, but a two-storey construction is promised, with a restaurant and bar included in the plans.
The bulk of the golf course is thankfully laid out on the bottom of a valley, rather than the fearsome slopes that rise up steeply on both sides, with only a few holes – most notably the stretch from the third to the sixth – requiring crampons to progress up the fairways. At over 1,400m above sea level, the ball travels 10 per cent further than normal, which is handy for those playing off the back tees, which take the course close to 7,000 yards, although there is a choice of tees for less powerful hitters that reduce it to 5,800 yards at its shortest. Apart from the wind whistling down the valley, the other constant presence during a round here is the sound of bells ringing from the herds of cows that graze the slopes, many of whom will lift their heads briefly from the grass to watch your shot. Other than that, the only noise to be heard is the occasional guttural internationally-recognised swearword for a missed putt.
Highlight holes include the 7th and 14th, both of which play from hugely elevated tees, while short par-thee 13th runs along an escarpment and plays to a very small target. Water dominates the finish to both nine-hole loops, with lakes lining the fairways at the 9th and 18th, which share the same green so that golfers can play the long or short versions of the game.
All in all, it's an extremely entertaining golfing experience, where the quality of the design plays second fiddle – only by a small margin – to the stunning backdrop of the snow-capped mountains.
If that isn't enough of a golfing fix, a mile or so further up the valley is a wonderfully bonkers 9-hole course at Andermatt Realps, a rollercoaster of a layout that climbs dramatically up and down the side of the mountain, with stunning views from every angle give you just enough time to get your breath back before the next shot.
With a stream train chugging its way along the valley floor, and a group of classic Jaguars snaking down the windy road made famous by Sean Connery's Aston Martin DB5 in Goldfinger, it really was the stuff of fairytales. All I needed was for Julie Andrews to spring out from behind a bush singing 'The Hills Are Alive', and the picture would have been complete. Oh, hang on a minute, that was in Austria….
For more information on Switzerland visit www.MySwitzerland.com or email info.uk@myswitzerland.com. The Chedi Andermatt offers double rooms from £338 per night. For bookings, visit www.chediandermatt.com.
Stay up-to-date: