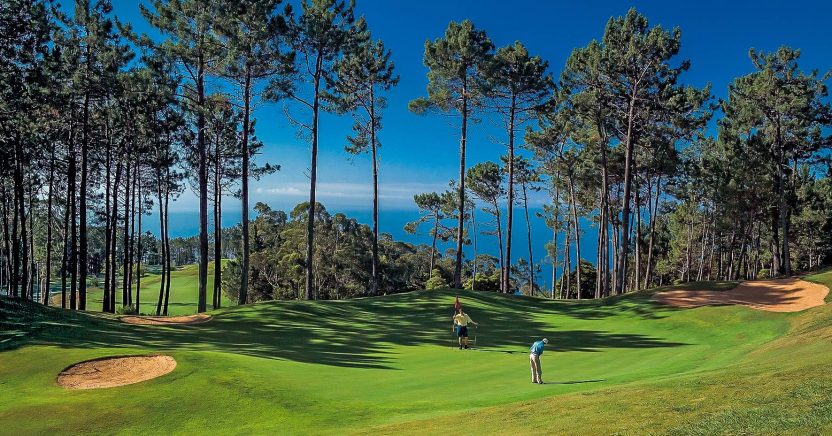 MAGICAL MADEIRA

Clive Agran enjoys a pre-pandemic trip to Madeira, where the sloping fairways on the island's championship courses provide the backdrop for a relaxing break amid the dramatic volcanic landscape
Although it lies a few hundred miles off the west coast of Africa, in many ways Madeira is not unlike the UK, which perhaps partly explains its popularity with British tourists. Coming from an island, we love other islands and around this one, the sea is a lot warmer. Indeed, the pleasant year-round weather is a major part of Madeira's appeal.
We're lucky to be able to fly there as finding a spot flat enough to land an airplane on its rugged and rocky volcanic landscape proved problematic but, with the help of some impressive engineering, Cristiano Ronaldo Madeira International Airport, to give it its full name, receives flights from across Britain and around the world. If you don't fancy flying, countless cruise ships stop over at the pretty port in downtown Funchal – although I doubt many are operating in the current pandemic.
There's more impressive engineering to admire on the 25-minute ride from the airport into town and all over the island in the shape of decent roads and countless tunnels. Unfortunately, when it comes to courtesy and consideration, driving would appear to be one significant activity where any positive British influence isn't apparent.
But there are other, possibly more important areas, where we have evidently played a constructive role. For example, in the design and layout of the numerous glorious gardens where the fertile volcanic soil supports a brilliant range of colourful and sweet-scented plants.
Elegant country houses are scattered about the steep hillsides enjoying panoramic views over the steep-sided slopes. Many have been sensitively converted into hotels. My first two nights were spent in one such lovely place, Casa Velha Palheiro. Sepia photos of King Carlos playing tennis confirm its regal connection and, since it has a king-sized bed, I fantasised His Majesty may even have slept in my room.
Its wonderful garden, tea-house and croquet lawn hint heavily at British influence, which is further fortified by the adjacent golf course. Not unsurprisingly, Palheiro is a hilly 18-holer where flat lies are rare and straightforward putts even rarer. Although not everyone does, you can be forgiven for taking a buggy. If you don't want to spoil a good walk by having to miss-hit a ball every so often, Madeira is endowed with dozens of wonderful hikes of varying lengths. Many follow the route of levadas, which are old irrigation channels hewn from the rock some centuries ago. There are nearly 2,000 miles of these weaving through lush tropical forest, alongside ravines, next to waterfalls and amongst spectacular scenery.
For the even more energetic, there's mountain biking. You might think it would be too hot to cycle, but thanks to the combined influence of the Gulf Stream and Canary Current, it's a surprisingly moderate climate, with mild year-round temperatures that average out at a near perfect 20°C. Most of the rain falls between October and April, when snow settles on the mountain peaks.
Always rather suspicious of so-called micro-climates, I have to confess that Madeira proved me wrong. Having moved from Casa Velha Palheiro into Funchal's latest luxury hotel, the Savoy Palace, a taxi took me from a sun-soaked city up into the hills and dropped me at Santo da Serra Golf Club, where the cloud and rain had reduced visibility so much that even I, a modest striker of the ball, could have hit it out of sight. I'm glad I returned to try again the next day, because the sea views are sumptuous on this wonderful 27-hole layout that has hosted the Madeira Open on innumerable occasions.
Although golf is arguably the UK's greatest gift to the world in general and Madeira in particular, there are others, not least of which is magnificent Madeira wine. As with port in mainland Portugal, Brits have made a significant contribution to the production and development of this popular tipple. The Blandy family in particular appear to have played a pivotal role and a tour around Blandy's Wine Lodge in Funchal is both fun and fascinating. Provided the cork is replaced, Madeira doesn't go off in the same way regular wine does when opened and it ages much better. Consequently, remarkably old wines dating back to the 18th century can be bought with confidence as they are certain to taste great. And the Blandy family have also aged pretty well so that today the seventh generation is running the show.
Just in case you were wondering, Madeira cake is only indirectly connected to the island as it was developed right here in the UK as a compliment to accompany the wine. Wandering, possibly weaving, around the Old Town district of Funchal after visiting the Wine Lodge, you should focus on the charming, narrow, cobblestone streets and quaint buildings. Fish is a favourite in most of the restaurants and if you fear you might be sobering up too quickly, a traditional 'poncha' containing, amongst other things, brandy and lemon juice, should keep you cheerful for a few more hours.
Provided you're not the envious type, strolling around the marina admiring the multi-million dollar yachts is a pleasant way to kill an hour as is a ride on the cable-car that lifts you nearly 2,000 feet up the mountainside. Although there's no snow at the top, you can toboggan back down the steep streets on a wicker sled guided by two 'gondoliers'.
I spend my last couple of nights in the Castanheiro Boutique Hotel, which is slap bang in the middle of town. Up early the next morning to catch the car ferry over to Porto Santo, which is the only other occupied island of the four that make up the archipelago. After a couple of hours at sea, you disembark onto a wild, craggy, remote and wonderfully atmospheric narrow island that is surprisingly full of fascinating curiosities. Apart from the spectacular beach, perhaps the greatest attraction on the island is the glorious Seve Ballesteros designed golf course, Porto Santo Golfe. It takes you on a thrilling roller-coaster ride through gorgeous scenery with jaw-dropping views down to the rocky coast below. Its wow-factor is right off the Richter scale, which, if you'll pardon the expression, gently jogs me to mention that, on my last night in Madeira, I experienced my first and probably last ever earthquake. Madeira really is full of surprises, nearly all of them extremely pleasant.
For more information on hosted tours to the islands of Madeira and The Azores, visit www.lusoluxury.com.
Madeira and the Azores are exempt from UK Government advice against all non-essential international travel. However, the requirement to self-isolate for 14 days on your return to the UK remains in place as Golf News went to press.
Stay up-to-date: