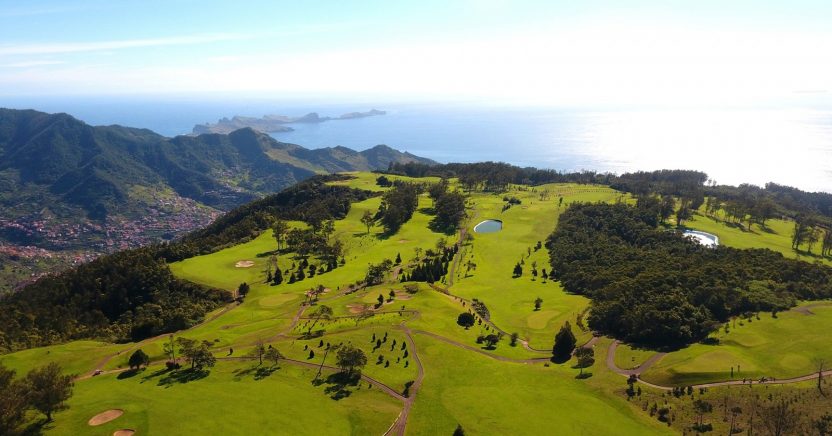 Magnificent Madeira

Madeira's mild climate is just one reason why the Portuguese archipelago is now attracting visitors of all ages, after seemingly being pigeon-holed previously as a destination for the grey of hair.
Word has spread of Madeira's many other attractions: its varied and dramatic landscape; its opportunities for active holidays – including mountain biking, paragliding, diving and trekking; and its breathtaking vistas. It still retains the myriad charms that attract those approaching their dotage, but they are no longer the sole preserve of the senior: beautiful gardens and UNESCO World Heritage Site countryside, wine, wonderful food, friendly natives, easy navigation, and, of course, golf. 
Madeira boasts three excellent courses, each offering the sort of milieu that would have TV directors ordering cameramen to linger long away from the action on the fairways. With the island covering an area of just 286 square miles, and with the capital Funchal its hub, it's easy to get around – so much so, that if you book a tee time, the club may very well send a shuttle to pick you up.
Two of the courses – Palheiro Golf and Santo do Serra – are on Madeira, while the third, Porto Santo, lies a short hop away on the island of the same name, one of four comprising the Madeira archipelago. The best way to enjoy them is by purchasing a Madeira Golf Passport – available from most hotels and the golf clubs – which entitles the bearer to five rounds across the two 'mainland' tracks. 
If you need a testimonial to the quality of the layouts, just take a look at who designed them: Robert Trent Jones Snr, Cabell B Robinson and Severiano Ballesteros.
RTJ's 1991 redesign of Santo da Serra – which dates originally from 1937 – created a spectacular 27-hole complex in a beautiful natural landscape, with views of Porto Santo and the bay of Machico, where Portuguese navigators first landed in 1419. 
The Machico and Desertas nines form the 6,825-yard championship course, on which the European Tour's Madeira Islands Open has been held on ten occasions – Mark James winning the inaugural 1993 tournament. The third and fourth on the Machico are regarded as the signature holes, sitting atop cliffs more than 2,200ft above the Atlantic. If that's likely to bring on an attack of acrophobia, either keep it on the short stuff or try the 3,193-yard Serras course, a delightful alternative, with lakes and mountain views along flatter terrain.
The Robinson-designed Palheiro Golf opened in 1993 and sits within the magnificent Palheiro Estate, which is more than 200 years old and was owned in the 19th century by the Blandy family – more of whom later.
The course borders the five-star Hotel Casa Velha do Palheiro and meanders through a pristine environment of maritime pine and botanical woodland, garnished with lush, sub-tropical vegetation. And, at nearly 1,640ft above sea level, the location enjoys similarly dramatic views of Madeira's mountainous skyline and the Atlantic Ocean, as well as the island's capital which is just ten minutes away.
The 6,656-yard course takes full advantage of Madeira's terrain, with abrupt ridges and deep valleys. It is listed inside continental Europe's top 200 in one benchmark course ranking, and the presence of a splendid hotel, secured a spot for Palheiro in the top 80 in two recent 'best European golf resort' lists.
A short, 20-minute flight – or a two-and-a-half hour cruise – will cover the 27 miles between Madeira and the archipelago's eastern-most island, Porto Santo, home to Porto Santo Golfe, which hosted the Madeira Islands Open between 2009-11. 
Laid out by Seve, the 7,036-yard course comprises two distinct nines, spanning an area from sand dunes to basalt cliffs. The US-style southern route is dotted with lakes, requiring a precise game; while the northern route is atop yet more cliffs, near a stunning beach, also called Porto Santo. The signature hole is undoubtedly the 200-yard, par-three 13th, which requires a shot over a gorge to reach a clifftop green.
There's no real need to stress the quality of the views from these three courses – their location means you take that as a 'given', as the young people say. Each will also happily sell you a glass of Madeira, the famous fortified wine which has been produced on the island by the Blandy family for more than 200 years. A visit to Blandy's Wine Lodge in Funchal is one of many 'must dos' while staying here.
As my hair gets more snowy than merely salt 'n' pepper, I can see why the more mature among us wanted to keep the paradise of Madeira a close secret. But the genie's out of the bottle and word is spreading faster than the 2km toboggan ride from Monte to Funchal. Did I not mention that?
FACTFILE
Madeira is less than a four-hour flight from most UK airports, with both British Airways (www.ba.com) and EasyJet (www.easyjet.com) among airlines offering direct flights to Funchal.
PALHEIRO GOLF
WWW.PALHEIRONATUREESTATE.COM/PALHEIRO-GOLF
PORTO SANTO GOLFE
WWW.PORTOSANTOGOLFE.COM
SANTO DO SERRA
WWW.SANTODASERRAGOLF.COM
Visit the Discover Madeira website at www.madeiraallyear.com
Stay up-to-date: