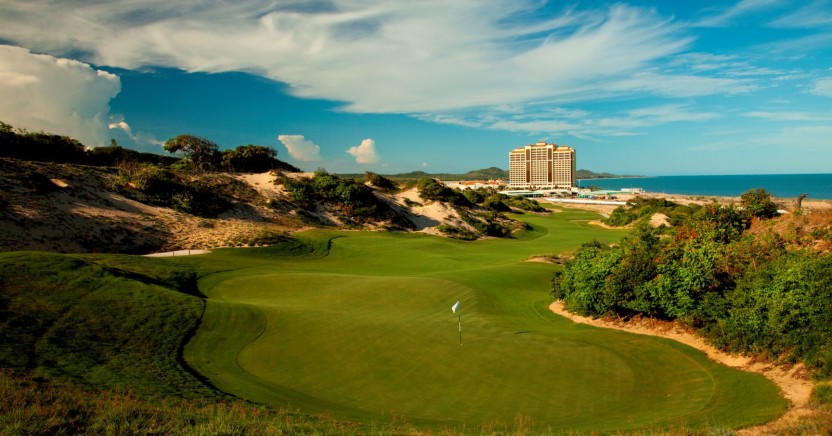 good golfing vietnam

Following the opening of a group of luxury resorts featuring courses designed by some of the game's most famous names, Vietnam is well on the way to putting itself on the golf holiday map, writes Sarah Stirk
'Build it they will come'. Well, that was Kevin Costner's ghostly inspiration for carving out a baseball field in his backyard in the Oscar-nominated film Field of Dreams, but the same principle could apply to the thinking behind Vietnam's golf development, which is dangling the carrot of a finely-chiseled collection of world class golf courses designed by some world class architects to attract a new and intrepid generation of long-haul travelling golfers to its shores.
Throw in an inviting climate, high quality accommodation, stunning beaches, a safe environment, interesting local food, culture and history, friendly people, and sensibly-priced green fees, and the result is a country that has seen its golf visitor numbers rise from virtually zero five years ago, to more than 250,000 rounds to date, and counting.
Despite being slightly off the traditionally beaten track as far as golfers are concerned, Vietnam is making a strong case for being the Far East's next hot golfing destination on the back of a trio of top tracks located on what is being called the 'Golf Coast Vietnam'.
Leading the way at this all-star cast is Ho Tram Strip, Vietnam's first integrated casino and golf resort, which is located 80 miles south east of Ho Chi Minh City. It's centrepiece is the Greg Norman-designed Bluffs Course, which only opened in October 2014, but has already won a hatful of awards – including 'Best New Golf Course in the World' at the World Golf Awards – and earlier this month hosted the inaugural Ho Tram Open on the Asian Tour, which attracted a strong field and was won by Sergio Garcia.
With The Bluffs also scooping 'Best Golf Course in Vietnam' and the Grand Ho Tram Strip bagging 'Best Golf Hotel in Vietnam', it's been quite a month for Vietnam's most pre-eminent golf resort, with the triple success confirming both the resort, and the country, as one of golf's most exciting up and coming destinations.
Norman, who also built a championship course at Danang Golf Club, has always believed that The Bluffs had the potential to become one the world's great courses. Speaking at its initial launch, The Shark said: "As a golf course designer, you only get the opportunity to work with sites as good as this maybe a few times in your career. It took Mother Nature thousands of years to create these sand dunes so we made every effort to preserve the natural character of the site. This is one of only two pieces of land of this quality and character that I have ever been given to work with, the other being Doonbeg in the Ireland. It's a very special place."
The course is framed by the white sandy shoreline of the Vietnamese sea, and the opulent 541-room hotel – The Grand Ho Tram. With a second tower under construction, which will increase resort capacity to 1,200 rooms, an award-winning casino, an appetite for the very best entertainment, and a host of amenities from beach games to luxury pools and spa, the Ho Tram Strip is gathering momentum as the major new force in golf and hospitality, and is well on its way to earning a reputation as the Las Vegas of Asia.
Having Garcia win the Ho Tram Open certainly added to the hype around the $1.5 million tournament and its trail-blazing Bluffs Course, which is the second of Norman's designs in Vietnam, following the opening of Danang Golf Club in 2010. The Bluffs Course itself lies on a coastal plateau, with holes routed around towering seaside sand dunes. The highest point of the windswept property is located 50m above sea level on the 15th green, but the most spectacular vantage point comes earlier in the round at the signature par-three fourth. Here golfers are treated to 360-degree views of the course, the coastline and the strip. The 7,000-yard layout features sensational rolling dunes and dramatic ocean vistas, and as with all modern designs, it's about utilising the natural topography, while causing minimal disturbance to the environment. The huge greens also feature some extraordinary contours that are fast becoming Norman's trademark.
With Nick Faldo and Colin Montgomerie already boasting courses in Ho Tram Strip, and with a fourth, Ba Na Hills, (a first design for Luke Donald), due to open next year, it's no doubt that Ho Tram Strip is leading the way for Vietnam's golfing growth. And with 36 championship courses in play throughout the country, and another estimated 65 projects at various stages of planning and construction, it's no doubt that it has the potential to become a major player as a golf destination.
While many golfers heading east might have previously opted for Thailand, those with a more adventurous side are certainly curious about what Vietnam has to offer. Culturally it's more diverse, touristically less developed, and although at the higher end of the market, there are many reasons why Vietnam is making big waves in the world of golf, and the star names are lining up to carve their names into this most stunning of landscapes.
Stay up-to-date: