Espiche Clubhouse & Golf, Portugal

Located within a picturesque nature reserve, Espiche Clubhouse & Golf  is an eco-friendly course that offers a truly authentic taste of Western Algarve
 The Western Algarve has long enjoyed a reputation for offering a more authentic taste of Portugal than the slighter brasher, trendier central region, where large-scale resorts, chain hotels, and flashy marinas have been attracting the in-crowd in recent years.
Although requiring a slightly longer drive from Faro airport, the Western Algarve is still easily reachable, thanks to the A22 motorway, which runs the length of the coast, making the courses between Portimao and Lagos within just an hour's drive of the main tourist hubs.
One course definitely worth the detour is Espiche Golf, which, in terms of Portugal's relatively short golfing history, is regarded as something of a new kid on the block.
Located just a few minutes from the coast, and the city of Lagos, in the picturesque region of Barlavento, Espiche Golf only opened six years ago, but has already garnered a reputation for offering great golf and superb Algarvian hospitality.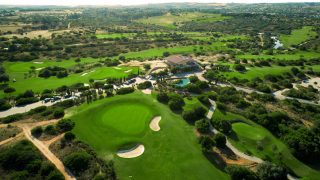 Built on a nature reserve, Espiche's 18-hole course has been designed to blend in with the contours of the craggy landscape, with a principle of 'least disturbance' offering a truly naturalistic golfing experience. Designed by South African architect Peter Sauerman, the 5,862-metre layout winds its way between indigenous olive, fig and almond trees, and various lakes and streams, and offers wonderful views over fields and vineyards, while the distant Monchique mountain range provides a memorable backdrop to your round.
The par-72 course boasts multiple teeing options to make it playable for all skill levels, but, regardless of handicap, golfers will have to be at their most accurate to find the right spots to attack the flags from the narrow and undulating fairways, many of which are lined with ball-hungry bushes.
The course is laid out in two returning loops of nine, each of which starts with a relatively straightforward par five and ends with a testing par four. It's a lightly bunkered layout, with sand mainly confined to greenside traps – apart from 14, 16 and 17, which feature nests of fairway bunkers – while water comes into play at a handful of holes, most notably at the par-3 15th and the par-4 18th.
The course is always presented in superb condition, with the greens being particularly impressive, and although it's a layout that requires repeated plays to discover the best way to tackle some of its more testing holes, it's a fun track, with no two holes alike, and lots of great views to enjoy should your own game be not so pretty. As with all courses in the region, the prevailing winds can add another dimension of difficulty to any round, but also provide a welcome cooling effect during the heat of summer.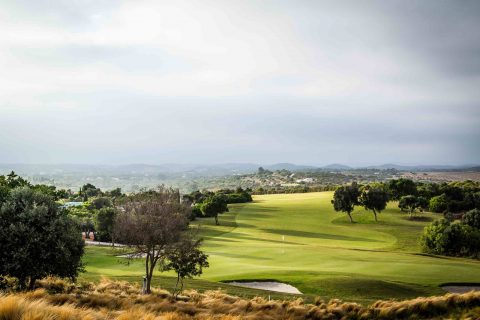 Given the amount of care and attention that has gone into every aspect of the club, it will come as no surprise that Espiche has picked up numerous industry awards since opening in 2012. The course took third place in Golf Magazine's 'best new course' category in 2015, while that same year it won the title's 'clubhouse of the year' award – the first club outside of the US to pick up this prestigious gong.
Beating competition from hundreds of exclusive clubs from around the world, the judges were particularly impressed by the innovative design, sustainability and creativity of the building, which enjoys a south-facing hilltop location and commands stunning views over the course. Designed by architect Nadine Berger, the clubhouse was built on the ruins of an old farmhouse, with the stone from the original building used in the outer structure of the lower walls of the two-storey structure, while the top floor is framed almost completely with glass to offer a 360-degree view of the course and surrounding countryside.
Boasting large terraces on two levels, with a restaurant and bar, interior courtyard garden, luxurious locker rooms and a reception area, every element has been carefully considered to ensure it blends in with the environment. Diners come from far and wide to experience the club's Gecko Restaurant, where fresh local produce is used to create fine dining dishes that showcase the best of traditional Portuguese cuisine.
Frederico Champalimaud, Espiche Golf's general manager, said: "We are dedicated to providing players with a new perspective on the game – different from any other offered in the Algarve – and the clubhouse has been a key element in our aim for a distinctive service."
While Espiche doesn't currently offer on-site accommodation, plans are currently under way to develop a hotel and residential village on a parcel of land adjacent to the golf course. The project is being driven by the same ethical vision that underpins the existing resort, and will feature plenty of green spaces and a low-build density to ensure Espiche remains true to its ecological principles.
The new resort will include a village square linking to a boutique hotel, with a restaurant, sky bar, conference rooms, spa and gym. The rest of the resort will comprise luxury villas and town houses.
Unquestionably, these are exciting times at Espiche Golf, so our advice is to get there early before word gets out.
GOLF BREAK PACKAGES AT ESPICHE GOLF
Stay-and-play packages with unlimited golf at Espiche, and overnight accommodation at the Cascade Resort in Lagos, are currently available for seven, five and three nights. Prices start from €358pp. For more information, visit www.espichegolf.pt or call 00 351 282 688 250.
Stay up-to-date: