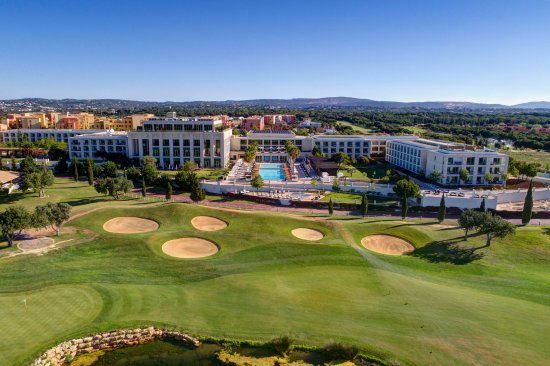 Anantara Vilamoura Resort, Portugal

Clive Agran enjoys a luxury stay at the five-star Anantara Vilamoura Resort in the Algarve while on an arduous assignment to play in the pro-am at the European Tour's Portugal Masters
Robert, a good friend of mine, was at The Oval last month when Alistair Cook scored that memorable century on his final test match appearance for England. "I was there", Robert crows, all too frequently. "It's something to tell the grandchildren, isn't it?" he adds. My suspicion is that his grandchildren will grow even wearier of his tedious eyewitness account than his family and friends already have.
Inevitably, we are very rarely there when extraordinary sporting feats occur, and the most we can realistically hope for is to be watching live on TV when it, whatever it is, happens. Well, I came about as close as I ever have to witnessing an outstanding sporting moment at mast month's Portugal Masters.
Having arrived in Vilamoura two days before the tournament got underway, I checked into the fabulous Anantara Resort, which is bang next door to the Victoria course on which the Portugal Masters is staged. My magnificent suite directly overlooked the course, and I briefly entertained the outrageous thought that I might even be able to cover the event without ever leaving my hotel room!
As well as the appalling lack of professionalism that such behaviour would have displayed, there were innumerable attractions to lure me out, not least of which was the hotel's five fabulous swimming pools, splendid spa and several exceptional restaurants; not to mention fun-filled Vilamoura, which was less than five minutes away.
Before the tournament, there was the Wednesday Pro-Am to negotiate. For us hackers, such an event is fun, but fraught. The gentle format – a Texas scramble variant whereby you take the best drive, everybody plays their own ball from there and only birdies and better count – did much to ease the pressure. However, it effectively rendered every one of my non par-three tee shots totally redundant.
Glaswegian Scott Jamieson (winner of the 2012 Nelson Mandela Championship) was our affable Pro to our Am. He drove the ball miles, and on the rare occasions that he missed the fairway, our team boasted a German club pro who also crunched the ball out of sight, while the only other genuine amateur in our team, besides me, was a single-figure UK scribe for whom length was also not a problem.
One of the most futile activities I have ever performed in the 70 years I have been on this earth was teeing off last on the par fours and fives in the certain knowledge that my career-best drive would struggle to get within 100 yards of the worst of my playing partners' efforts. Less you form the mistaken impression that I'm being modest, I should add that no fewer than two of my tee shots on the par threes were used. And in case you still need convincing that I'm not being too self-effacing, I should add that I holed one of the putts for a birdie. By the way, that's not the outstanding sporting moment referred to above; that's still to come.
Despite my gallant efforts, my team were just edged out of first place by the super-slim margin of 24 shots. The winners, remarkably, came in at 46 under par, which any statistician will tell you is better than two-and-a-half birdies per hole. Extraordinary stuff, if slightly dubious.
Conscientious almost to a fault, and loyal to my new hero, Mr Jamieson, I kept tabs on him and followed the tournament throughout Thursday about as diligently as one would expect of a seasoned journalist.
Over a magnificent meal in the superb Emo restaurant in my hotel on Thursday evening, a fellow journalist, who really ought to have known better, proposed we play hooky the next day and have a game at one of the dozen or so outstanding courses in the area. A quick word with the hotel's 'Golf Guru' (there's also an official 'Wine Guru') and it was all fixed before you could say, "Shouldn't you stay here in case something historic happens and you miss it?"
Quinta do Lago (South) is a great course and both I, and my nameless associate, enjoyed ourselves enormously right up to the moment when we swept back into the hotel and sensed a certain excitement in the air.
It immediately became apparent that something significant had happened whilst we were away. Although even the ten birdies and one eagle that Oliver Fisher had just recorded in his second round wouldn't have been sufficient to lift my pro-am team into first place, it was enough to enable him to record the first ever 59 on the European Tour.
More than 680,000 rounds have been played on the European Tour since it was founded in 1972, and this was the first to break the magical sub-60 barrier. Even more remarkable, I was very nearly there.
Clive Agran was a guest of the five-star Anantara Vilamoura Resort, where a seven-night stay for two in a deluxe garden view twin room in December and January, including breakfast and five rounds of golf (Victoria, Pinhal, Old Course, Millennium, Laguna) with transfers to the courses, costs from €1,940.
For more details, visit www.vilamoura.anantara.com.
Stay up-to-date: