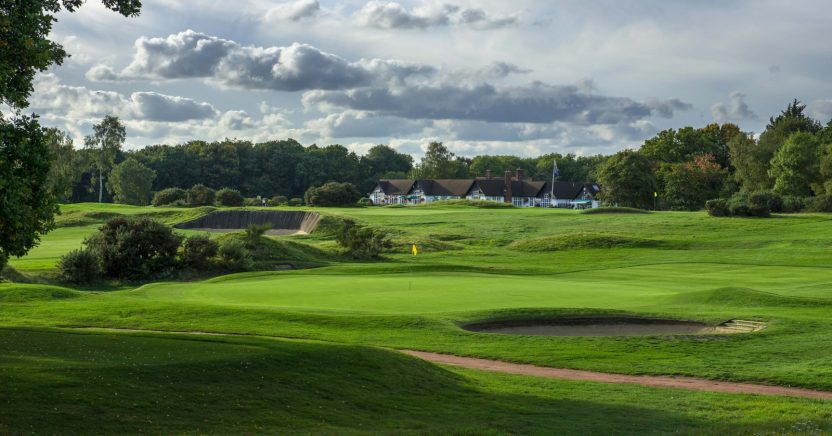 SANDY LODGE GOLF CLUB, HERTFORDSHIRE

Tucked away on the Moor Park Estate, on the outskirts of Watford, Sandy Lodge boasts a stunning links-style parkland course that is set to rise in the rankings following recent investment
Sandy Lodge is one of those rare golf clubs whose name provides a very solid guide as to the kind of playing experience you can expect. Founded in 1910, and designed by six-time Open champion Harry Vardon, the club's championship course is often described as an inland links, which makes it somewhat unique in this corner of Hertfordshire, where free-draining soil is often hard to come by.
Bernard Darwin, writing in The Golf Courses of the British Isles, might have been guilty of stating the bleeding obvious when he said that the club 'deserves its name in that it is wonderfully sandy', but he got it right when he also described it as 'a fine training-ground for the driver, and also for the putter, for there are no better greens near London'.
More than one hundred years later, Darwin's comments still hold true today – and perhaps somewhat undersell the playing experience, given the recent improvements to the course and the practice facilities, more of which later.
The club's expertly written centenary book, In Arena Virtus(which, according to Google, translates as 'The Arena of Power') records that Sandy Lodge was founded by a frustrated London geologist called James
Markes, who was tired of playing golf on the muddy parks around the capital. Using his expertise in all things soil-related, Markes soon realised that the land at Sandy Lodge Farm was perfect golfing country, and he enlisted Vardon, who was a close friend, to construct a golf course.
The result was a wide-open, windswept, inland course that resembled a seaside links. The course remained that way until the outbreak of the Second World War, when it was turned over to grazing. Fortunately, the course was restored after hostilities ended, although large sandy waste areas were grassed over with tree and shrub growth ensuing, changing the look and feel of the layout.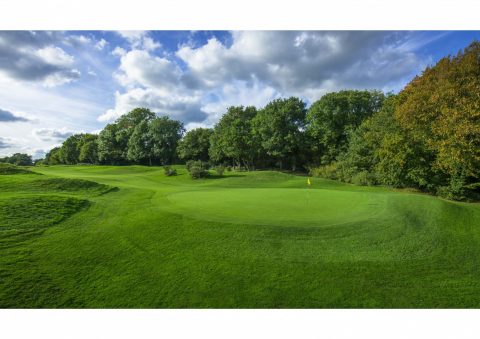 Despite its outwardly altered appearance, the course, which underwent a further redevelopment in 2000, remains true to its original roots. It may not be the longest in the region – measuring 6,505 yards from the back tees – but it's still a fair and enjoyable challenge for golfers of all levels.
The professionals and elite amateurs that have taken part in Open Qualifying over the last three years have certainly found it no pushover, with a three-under-par 67 being the best score recorded at this year's tournament in June giving some idea as to the challenge presented off the blue tees.
With six par threes and five par fives, there is no shortage of variety, and, in an age where time is money, it's certainly refreshing to be able to nip round here in three-and-a-half hours, while the easy-walking nature of the land ensures that you can do so without breaking sweat – unless your match happens to be particularly tense or the sun should dare to come out.
Teeing off a suitable distance from the prying eyes in the clubhouse, the golfer is eased into the round with a gentle 488-yard par five – or a par four off the back tees – but the pace soon quickens up at the second,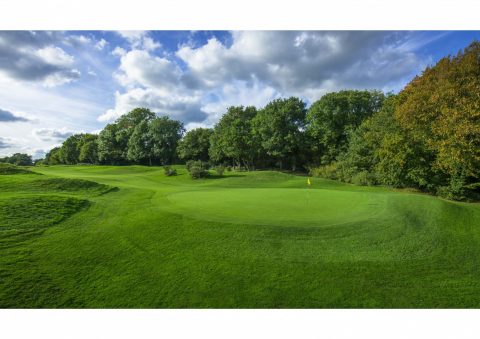 'Sleepers', a mid-length par four which features an attractive timber-faced bunker some 40 yards short of a raised green. A new back tee gives big hitters more to think about, as it brings the bunker in range with a driver; while most high-handicap players hope to get a straight one away and come in with a short iron.
After the first of the six short holes, and another potentially reachable par five, the course really begins to bare its teeth at the fifth and sixth, both of which are lengthy par fours. The 454- yard fifth, Long Carry, features a heavily-bunkered fairway with a tricky two-tiered green, while the 461-yard sixth more than lives up to its stroke one index billing, with out of bounds down the left off the tee, a fairway that slopes to the left, and a significantly gradiented green.
The seventh, Laddie's Cockpit, is a cracking 190-yard par three which doesn't feature any bunkers, but is beautifully framed by a number of mounds, while a new raised tee provides a good view of the test that awaits. Back-to-back par threes are a rarity these days, but Sandy Lodge serves up at the eighth, Wee One, which is only 100 yards long, yet yields up surprisingly few birdies due to the putting surface's wicked contours. After yet another good short hole at ten, complete with plateau green, we come to the par-five 11th, Torrance, a 554-yard hole which features a phalanx of cross bunkers 50 yards out to provide a thought provoking risk-and-reward second shot, followed by a downhill approach to an attractive green located in an amphitheatre of trees.
The 398-yard 12th is a testing dogleg par four, where you must drive over two large mounds – hence its rather risqué name of Mae West – to a sharply left-to-right turning fairway, presenting a long second shot to heavily guarded green.
The 15th is a beautiful, but difficult, 200-yard downhill par three, which has remained largely unchanged over the years, with the hole framed by mature trees, and a green surrounded by bunkers to catch anything marginally offline. The final par five, the 17th, is many a member's favourite, with bunkers narrowing the landing area from the tee as the fairway gently rises and curves left to a wonderfully positioned green. Finding the correct part of the putting surface is vital here, as a large tier divides the front from the much lower back half.
All good things must come to an end, and they come to a particularly memorable one at Sandy Lodge, with many a match decided on this tricky 160-yard par three, which offers an uphill tee shot over a pit to a raised green flanked by mature trees. A par here might be good enough to win the day, but a birdie will make a post-round drink slip down even better – especially if the loser's buying!
With several new tees currently under construction, most notably at the final hole, there's no sense that Sandy Lodge is resting on its laurels, and the active team of eight fulltime greenkeepers, led by course manager Richard Elderfield, the club, under the stewardship of general manager David Griffin, is constantly looking at ways of improving the experience for its loyal membership, as well as visiting golfers.
Walking back towards the clubhouse you'll come across the club's impressive new practice chipping green. Designed by the in-demand agronomist team of Greg Evans and Ricky Willison, the heavily contoured clover-shaped green features four pins, and boasts a deep, riveted bunker for practising those demanding sand saves that are a part of any round here. With the 12-bay driving range and 18-hole putting green, which are also located directly in front of the clubhouse, Sandy Lodge now boasts some truly top-notch practice facilities to match the credentials of its championship course.
They certainly prove useful to the club's team of PGA Professionals, led by longstanding head professional Jeff Pinsent, who provide expert coaching services to the membership, as well as running a well-stocked pro shop and valuable club custom-fitting service.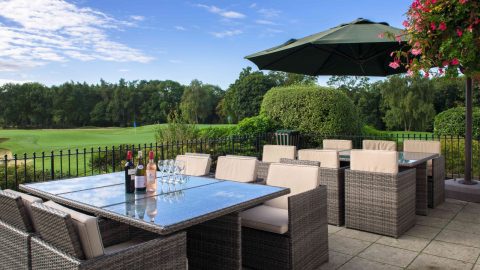 The clubhouse, which overlooks the course, leans nicely on the side of 'traditional', and is a spacious and comfortable spot in which to relax before or after a round. A welcoming bar opens out into a large dining area for catering for the regular functions that the club lays on as part of a varied and busy social calendar. The changing rooms have recently undergone a refit, and the clubhouse is set to benefit from further enhancements over the coming months, all of which will add to the attraction of this delightful venue.
As you'd expect for such a historic and reputable club, the membership stands at a healthy 700-strong, including 160 lady members, 80 juniors, and an active seniors' section. In order to encourage the younger generation to stick with the game, the club has recently launched an intermediate membership, with the joining fee element being reduced to £500 from £1,500 for those aged 18-30, while juniors get a free half-hour lesson each month as part of their £223 annual membership, as well as free weekend roll-up coaching sessions.
All told, Sandy Lodge is a club where the sum of its parts adds up to something really rather special, and is thoroughly deserving of much higher and wider recognition. But, then again, the members might like it the way it is, so if you do make the sensible decision to book a round here, please don't tell them I sent you!
GUESTS AND SOCIETIES WELCOME
'Sandy Guests' are welcome on weekdays throughout the year, with the summer green fee set at £65 on Mon-Thurs. Please call 01923 825429 in advance to book your tee time.
Societies are welcome on Mondays and Thursdays, with packages for groups of 12 or more starting from just £65.
For bookings and further details on bespoke packages, call 01923 825429, Email info@sandylodge.co.uk, or visit www.sandylodge.co.uk.
Stay up-to-date: