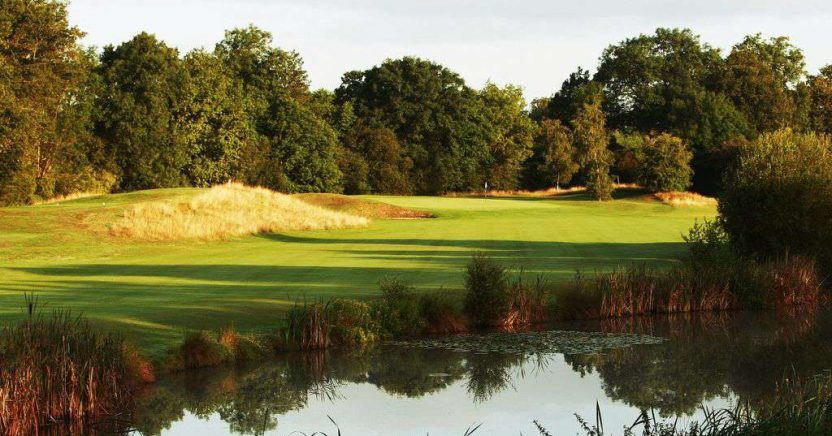 HEVER CASTLE GOLF CLUB, KENT

With 27 holes of top-class championship golf and a stylish clubhouse, and one of England's most historic estates just a pitching wedge away, HEVER CASTLE GOLF CLUB offers a truly unique experience for its loyal membership and growing number of visitors
Hever Castle is a name that will ring many bells with those with a passing interest in English history. For it was to here, in 1525, on the leafy borders of Kent and Surrey, that Henry VIII rode down from Hampton Court to win the heart of Anne Boleyn, whose family seat was at Hever. Sadly, things didn't work out for Anne – or indeed for many of Henry's subsequent wives – but that didn't stop Hever Castle earning its place in English history – a history that is very much alive today.
The golf club that adjoins the Hever estate can't claim such a storied past – it was only founded in 1992 – but being under the same ownership as the castle, the two entities have combined to create an attractive leisure proposition for those whose interests lie in golf and history.
Starting out life as Hever Golf Club, the 250-acre venue, which commands stunning views over the Kent Weald, has long enjoyed a fine reputation for the quality of the design, presentation and maintenance of its golf courses. The club boasts 27 holes, with members and guests being able to choose between the 18-hole Championship layout, comprising the Kings and Queens; and the nine-hole 2,784-yard Princes Course, which, when combined with the Kings nine, is called the Boleyn Course. The recently-opened Express Course, which is set within the boundaries of Princes course, provides a more elementary nine-hole layout that is a fun challenge for all players.
'A fair test' is perhaps the best description of the Championship course, as, although it is sometimes talked of as being one of the toughest parkland courses in Kent, it still rewards good play, and doesn't unfairly penalise less-than-perfect shots. Host of numerous Kent PGA Championships and Kent Opens over the last 25 years – not to mention the PGA EuroPro Tour – the 7,000-yard layout is designed to test the best.
Some would argue that length is its greatest defence, but that would be to ignore the copious amount of water, numerous astutely placed bunkers, tiered greens and some narrow, tree-lined fairways that place a real emphasis on accuracy. Having said that, it does open out in places, and there are plenty of opportunities to open the shoulders without being overly punished, especially on the front nine.
Multiple teeing options ensure it's playable for all skill levels, with the yardage reduced to 6,761 from the whites; 6,502 from the yellows; 6,023 off the green tees; and 5,716 from the reds. The green tees, which were only recently introduced, are proving particularly popular with older members, with regular competitions held on this shortened version of the layout, while they are also ideal for those starting out in the game.
While much of the talk will be about how you negotiated the notorious 644-yard 17th, few clubs can boast such an array of interesting holes, with the short third and sixth holes – both of which are played over water – being early highlights. On the Prince's course, it's the trio of stunning holes from 11 to 13 that stand out, not only for their beauty, but for their difficulty, with carries over and beside water to small, well-protected targets.
Keeping the courses in tip-top Condition is a constant drain on resources, but Hever's owner, and its management team, has always had a policy to constantly invest and improve the playing experience. A major overhaul of the drainage and irrigation systems has resulted in improvements to the condition of the fairways – and the course remaining open throughout the winter – while significant sums have been spent enlarging a number of tee boxes to reduce wear and tear, as well as creating a number of new raised tees to change up the angles on some of the holes.
2018 sees new course signage installed on all 27 holes, which coincides with the renaming of each hole to reflect its historical links with the Hever Estate. Maps from the mid- 1700s have given rise to hole names such as 'Bogey Plat' and 'Cleeves Walk' (the second and third on the Kings), while the 11th on the Queens is the dangerous-sounding Great Pond.
Course manager Rob Peers and his committed team of greenstaff have been hard at work on the course this winter, and following the recent arrival of four new gang mowers and a new tractor, are well placed to ensure the continued improvement of the playing experience.
Off the course, much of Hever's appeal lies in the superb Tudor-style clubhouse, part of which dates back to the 13th century, and which provides the perfect place for members and guests to relax before and after a day's golf. The spacious and elegant Astor Bar & Restaurant boasts a light and airy feel, with a 20-foot bi-folding glass partition separating the two rooms, enabling the space to be opened up when required. New flooring across both rooms gives a very stylish, contemporary feel to what is a very convivial space to enjoy the club's superb hospitality.
Elsewhere on the ground floor, golfers can enjoy the more intimate 19th Bar, while the sizeable outside patio area is always busy when the sun comes out. Upstairs there is a room to host weddings and private functions, which are proving increasingly popular at Hever due to its idyllic location, which is only 20 minutes from the M25.
Although proprietary-owned, Hever gives its members high priority, especially when it comes to accessing the courses, with priority tee times offered seven days a week, and an online booking system that allows 14-day advance reservations (visitors can book up to seven days ahead).
There are plenty of other benefits for new and existing seven-day members, including two free junior memberships for the children or grandchildren of adult members; 10,000 free range balls for the club's excellent academy; discounted green fee vouchers for up to three guests; a member's discount card with savings in the bar and pro shop; and free entry to the castle and its grounds. It all adds up to a healthy haul, and makes the £1,585 full annual membership seem great value.
Hever also operates a five-day membership (£1,055), as well as an Flexi membership, which allows golfers to buy up to £500 worth of credits, which are used towards green fees, and makes it the ideal choice for those who have limited opportunities to play, but still want the benefits of membership. For younger golfers
(18-35s) there is an intermediate membership, which starts at £610 for 18-22, and rises progressively to £1,125 for those aged 31-35. There is also a Prince's course membership for £465, which is ideal for those looking for an introduction to the game, or seniors who enjoy playing just nine holes.
Hever has always proved an attractive venue for societies, corporate days, green fee players, and golf break guests alike. Not surprisingly, many choose to make a proper day of it, warming up on the delightful Princes course, before tackling the Kings and Queens. With 18-hole summer season society packages starting from £42, and tailormade packages, with extra golf and a full range of bespoke catering options, available on request, a day out at Hever represents tremendous value.
Summer green rates start from £35 on the Championship course (£40 at weekends), while there are nine-hole green fee options on the Kings Course for those short on time.
Golf break guests are royally looked after at Hever, with visitors having the choice to stay in luxury bed and breakfast accommodation in the 28 five-star gold-rated rooms offered in the castle's Astor and Anne
Boleyn Wings – some of which boast four-poster beds – or Medley Court, a luxurious four-bedroom cottage which has its own private entrance and fabulous views of the castle. The latter is offered for a minimum of two nights and is ideal for small golf groups and couples celebrating those special occasions, but whichever
option you chose, both offer a truly memorable place to stay and play. It's fair to say that Hever Castle offers a unique experience, on and off the fairways, and with an array of membership benefits and tempting introductory offers, there has never been a better time to join the Hever family.
For more information and details of memberships, green fee bookings, golf breaks and society days, visit www.hevercastle.co.uk/golf or call 01732 700771.
Stay up-to-date: