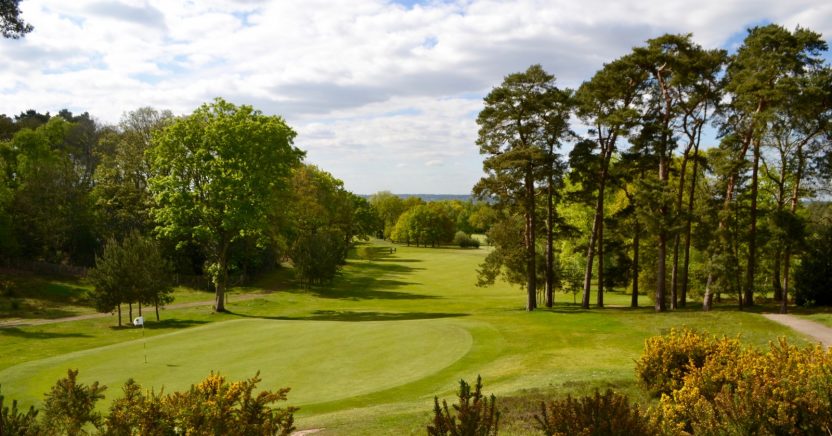 farnham golf club, surrey

Blessed with a beautiful Surrey heathland course located on free-draining sandy soil, Farnham Golf Club is the epitome of a hidden gem
Although located less than a mile from the A31, Farnham Golf Club's leafy location in the backwater village of The Sands ensures that anyone who plays a round here enjoys that slightly cut-off-from-the-world feel that helps you truly disconnect from life's daily grind.
I'm not a big fan of the term 'hidden gem', as it's often used to describe courses that are neither particularly off the beaten track or jewel-like, but I'm going to relent in this case, as you won't stumble upon Farnham by accident, and yes, after playing a round here, you'll wonder why you hadn't before, and hurriedly find a date in your diary to come back for more.
I was personally rather kicking myself for not having visited before, especially as it's less than 25 miles from my front door, but given that Surrey is blessed with over 100 courses, it's hardly surprising that it had slipped beneath my radar.
The Sands – which is often integrated into the name of the course – gives a hefty clue to the type of layout that is offered here. Located on the sandbelt that sweeps up from West Sussex, Farnham sits on superbly free-draining soil that, even after the most severe downpour, sees the course drying rapidly, and remaining open while many others in the region are closed. During particularly dry spells this used to mean burnt fairways and rock-hard greens, but the installation of full course irrigation now ensures that Farnham doesn't get too fiery in the summer.
Built on former farmland, the course first opened in 1896 as a 9-holer, but was extended just eight years later to 18. Jack White, who won the Open Championship at Royal St George's in 1904, assisted in the design, and he was joined by James Braid, Harry Vardon, and Vardon's brother Tom, for an exhibition match to celebrate the official opening of the 18-hole layout in 1905.
Part of the course was requisitioned for food production during World War I, and it wasn't until 1922 that the club fully got back on its feet again, with members able to play the full 18. The club suffered another agriculturally-enforced hiatus during World War II, and this time the course didn't re-open again until 1953, when another famous exhibition match, this time featuring, among others, Peter Alliss and South African star
Bobby Locke, was held. Locke, who won the Open Championship four times between 1949-57, reputedly applied for the position of head professional at Farnham, but was turned down by the committee. They have high standards here, in case you were wondering.
The club purchased the freehold of the land in 1968, and is run as a private members' club with a board overseeing the financial affairs and a committee running the golfing and social side of the club. Boasting a healthy 700-plus members, and a modest waiting list, Farnham has thrived at a time when many other clubs in this part of the world have struggled to keep their numbers up.
Asked why this should be, experienced club manager Alasdair Hay, who arrived from Foxhills almost four years ago, is quick to highlight the friendly and welcoming atmosphere that pervades the club.
"With many members living in the village, and others very nearby, there is a camaraderie among members that I've rarely seen at others club," he says. "We are really one big happy family, and it's amazing how quickly and easily new members seamlessly slip into the club. There's a reason that we're called a golf club," he adds. "Of course, we all love golf, but above all, we're a club."
And what of the golf? Well, the card of the course reveals a 6,613-yard par 72, which plays 6,268 yards off the yellows, and 5,839 yards for the ladies. While not long by modern standards, small greens, narrow fairways and plenty of undulations ensure its no pushover from whichever tees you play from, while its fair and forgiving enough to ensure that high handicap golfers can get around without causing too much damage to their scorecard or their egos.
It's definitely a course of two halves, if that's the right description, as the middle section, holes 5-12, is located on higher ground, covering typical Surrey heathland, while the opening four holes and the closing six have more of a parkland feel to them. Added together, it's a pleasant and entertaining mix, with lovely views towards the Hog's Back from the upper slopes, while course manager Rupert Lawrence and his dedicated team of greenstaff always present the course in superb condition.
With the previously-mentioned small greens, some of which feature significant undulations, finding the putting surface with your approach is no easy task, and places an emphasis on accurate distance control with your mid and short irons, while several doglegs, and a couple of excellent risk-andreward holes, ensure that astute course management is required at all times.
Highlight holes for this correspondent included the fifth, a 374-yard par four that plays uphill all the way to a raised green, with the second shot playing much longer than it appears. Anything short will almost be rolling back to your feet. The par-three sixth is one of four excellent short holes on the card, with the tee shot played from a raised tee over a sea of heather to one of the course's larger greens, which is protected by two front bunkers. At just over 180 yards off the back tees, finding the putting surface is no easy feat.
The 414-yard ninth is one of the toughest of the par fours, with the fairway dropping away severely at the 240-yard mark, ensuring anything left short will have to play over 180 yards of dead ground to a raised green that is a small target to a find with a long iron or hybrid in hand.
The 560-yard 11th is by far the hardest of the four par-fives, playing as a genuine threeshotter. With out-of-bounds off the right, it requires a long and accurate tee shot to a fairway that curves to the left, requiring right-handers to draw the ball with their second shot to set up an approach to yet another small and well-guarded green.
The par-four 12th is one of Farnham's showstoppers, with the elevated tee offering wonderful views of the Surrey countryside as you prepare to launch one into the blue yonder to a fairway that drops away dramatically. Crossing back over the road to the last six holes, the dogleg 14th is another strong par five, with a demanding tee shot needing to find the left side of a fairway that slopes to the right just to catch sight of the green. The 15th is arguably the pick of the short holes, a 208-yard test off the tips that asks you to avoid the bunker to the right of the green – which is quite severe – with a fairway wood.
The 430-yard 17th and 500-yard 18th offer a suitably challenging finish, with the former featuring out of bounds on the right and a fairway bunker awkwardly positioned on the left, requiring a good drive to set up any chance of reaching the green in regulation, while the final hole offers a solid chance of a closing birdie providing you find the left side of the fairway with your tee shot, which has to be squeezed trough a narrow phalanx of pine trees.
After your round, its back over the road to the clubhouse, where a pint and a selection of home-cooked food awaits in the welcoming Sands Bar, which has the look and feel of a charming country pub. Formed from two houses, the clubhouse has a cosy, lived-in feel, and provides a veritable home-from-home for the membership, which is extremely active in the county competition scene as well as taking part in a busy social calendar.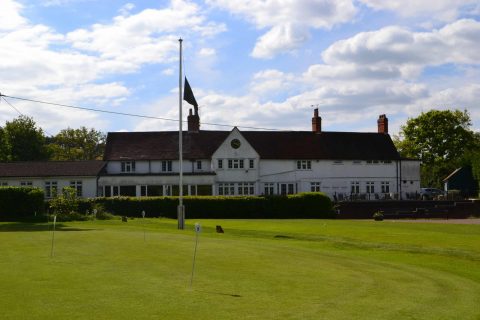 Farnham's excellent food offering is one of the elements that brings societies back here year after year, with its all-day breakfast being a legendary staple that has set up many a hungry golfer ahead of the day's activities. The restaurant can happily accommodate 40-100 guests, while there is an outdoor terrace that enjoys views over the first tee and 18th green.
The excellent pro shop, which is overseen by head professional Rob Colborne, offers a wide selection of hardwear and clothing from the biggest brands. Rob offers group and individual coaching for all skill levels and ages, with the indoor swing studio kitted out with the latest Foresight analysis system, while the club also boasts an impressive 16-acre short game practice area, for which members enjoy free range balls as part of their membership package.
All told, Farnham is a friendly and unpretentious club, with a fun and interesting golf course. I get the feeling that the members know that they have a good thing going, and wouldn't want to be overrun with coach loads of visitors, but if you promise not to tell all your pals, it's one course that you should definitely put on your list to play.
CORPORATE & SOCIETY DAYS
Group bookings for a minimum of 12 people are available from Monday–Friday (except Tuesday and Thursday mornings), starting from £55pp for 18 holes and coffee & bacon rolls, and £69.95pp for golf and a two-course meal. For enquiries on the full range of packages, call Lucy Oliver-Harding on 01252 782109 (ext 3) or email clubhouse@farnhamgolfclub.co.uk.
VISITOR BOOKINGS
Visitor tee times are available Monday-Friday from April-October for £60, and on weekends and bank holidays for £70. For bookings, call the pro shop on 01252 782109. For more information visit www.farnhamgolfclub.co.uk.
MEMBERSHIP
For membership enquiries across five- and seven-day categories, call 01252 782109 or email manager@farnhamgolfclub.co.uk.