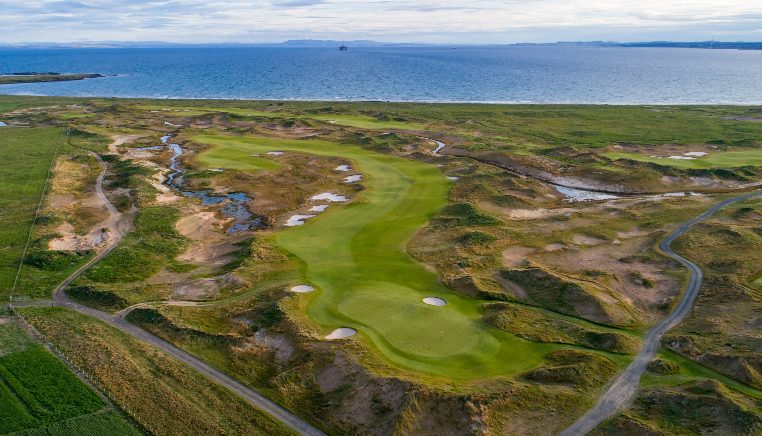 DUMBARNIE LINKS

After hearing the rave reviews about Dumbarnie Links, Golf News reader Chris Meldrum travelled to Fife to find what all the fuss was about
A course opening in arguably the most famous golfing area in the world has to be very special, otherwise it stands no chance of being successful given St Andrews and Kingsbarns are its neighbours – not to mention the likes of Elie, Lundin, Ladybank and Leven. Ever since I watched the Women's Scottish Open in August, shortly after Dumbarnie Links had opened, I had wanted to experience the course for myself.
My first impression, after after a 20-minute drive from my base in St Andrews, was a pleasant one, with a short winding drive down to the clubhouse, called The Old Barn, which only opened in April earlier this year. You know as soon as you enter the clubhouse you're in for a fantastic experience.  I couldn't speak highly enough of the food and the all-round service was outstanding, which seems to come down from General Manager David Scott. The clubhouse fits perfectly into its surroundings, making use of local stone. Simplicity and style run throughout the interiors, leaving the drama left for the outside on the incredible Clive Clark-designed course.
As soon as you walk onto the first tee, and cast your eyes down the fairway to the rows of man-made dunes that lie in wait, you know you are in for a special day. After having a friendly chat with our starter, who gave us our goody bag, it was decided that our tee of choice for the day was going to be the blues, which came in at 6,400 yards and proved to be the perfect choice. Total yardage for the course varies from 5,300 to 6,900 yards, although there is a special set of back tees on 12 holes that could take the course up to 7,600 yards should it ever hold a men's tour event, which I'm sure it will one day.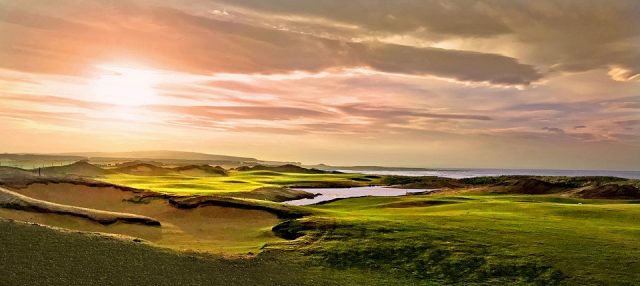 It doesn't take more than a few holes into the round to underastand what a fantastic job designer Clive Clark and his team have done. There are so many great holes on the opening stretch, mny of which look even better if you take the walk back to the tees. In a fascinating piece of design, Dumbarnie doesn't allow you to have a sneak peek of what's in front of you before your next tee shot. It reveals itself slowly, like the pages of a thriller.
There are opportunities to score, with several risk-and-reward par fours, but I forgot how many times I said 'wow' as I reached each tee. The balance of holes is probably perfect – generous off the tee and a good mix of elevations and twists and turns, while 14 of the holes offer stunning views of the Firth of Forth. If I had to chose my favourite hole, it would be a toss up between the gorgeous par-3 8th and par-4 9th, both of which will long in the memory.
The green surrounds and contours are nothing short of amazing, as was the overall condition.As I headed off into the back nine, I would have to admit, that I was having one of my most fun times of a golf course, I wasn't birdieing every hole, or even having the round of my life, but purely enjoying the course and what lay ahead on the back nine.
The start of the back nine seemed to be tougher, even though there is the reachable par-4 12th, where I lost my first ball of the round. The 10th definitely fits the bill as Stroke Index 1, with a second shot required to carry some 240 yards over water…I laid up on that one.
Holes 15-18 are set up to create the drama we all love on a golf course, with 15 and 17 being birdie chances and 16 and 18 being two very demanding holes indeed – there is such a great mixture for golfers of all abilities.
After my round, I was left to reflect on how perfect, Dumbarnie has managed to be in just a few month's and it's only going to get better. I loved the open space – all 350 acres of it – and the lack of buildings, other than the clubhouse, gives a splendid feeling of isolation. And if you're lucky enough to play in the sunshine, as we did, they can't be many other places you would rather be.
People have asked me if it's worth the £258 green fee. My answer is 'Every damn penny of it'. Definitely put Dumbarnie on your bucket list, you won't be disappointed. I can't wait to return.
Visitor Green Fees range from £185-£270. Caddie Fees: Single Caddie £56, Fore Caddie £80 (plus optional gratuity).
For further information visit www.dumbarnielinks.com.