THE ADDINGTON GOLF CLUB, SURREY

Whether you're looking for somewhere to join or a superb day's golf, The Addington Golf Club in Surrey ticks all the right boxes
First opened in 1913, The Addington is one of Surrey's oldest and most established clubs. The 6,300-yard, par-69 Old Course was designed by JF Abercromby, who not only built the course, but was the club's founding member and long-serving club president. Although he only ever built a handful of courses – including Worplesdon, Coombe Hill and Bovey Castle – The Addington is widely regarded as his finest work.
King George V was a patron from 1937-52, while PG Wodehouse was also a member, and the club quickly established itself as one of London's most fashionable. In the 1930s, a quarter of its 800 membership were women, while 1933 saw the US Ryder Cup team use the course to practise on before the matches at Southport & Ainsdale. Family owned for four decades from 1964, the club was purchased by the late Ron Noades in 2006, whose Altonwood Golf Group currently boasts a portfolio of five courses in the South East.
QUALITY COURSE
Following extensive investment in the course and clubhouse, The Addington has consistently been rated inside the top 50 golf courses in England, and has recently risen to 27th in Golf's World's list and 32nd in Top100golfcourses.com's charts.
The traditional heathland layout boasts six superb par threes, ranging from the 140-yard 11th to the par-3 230-yard 13th, while there are three excellent par fives. The course is short by modern standards, but is characterised by tight, treelined fairways, challenging dog-legs, some significant changes in elevation, and a number of carries over heather- filled ravines, which are spanned by a series of wooden bridges.
The par 3 230-yard 13th is the signature hole, which Henry Longhurst described as 'with the exception of the 5th hole at Pine Valley, the greatest one-shot hole in inland golf.'
There are wonderful views of London to be enjoyed from the high points, with the Shard and the Gherkin in full view from the 14th tee, along with a wide panorama of the city skyline.
RECENT IMPROVEMENTS
The course has been subject to ongoing improvements that have significantly enhanced the playing experience. Recent winters have seen ten new tee complexes constructed around the course, offering larger and better quality surfaces to play from.
Working closely with Cameron MacMillan, their agronomist, the club has had passive capillary drainage systems installed in half of the greens, which has resulted in much improved putting surfaces all year round. MacMillan has also overseen a more intense maintenance programme on the greens, which the course is beginning to see the benefits of. The club is also concentrating on a woodland management programme, so that golfers can experience the course as it was originally meant to be played.
Much of the course strategy had been removed over the years, with tree ingress on many holes. A heather regeneration programme has also been instigated to return the course to its original heathland design. A halfway hut is now in operation after the 10th hole, with hot food and cold beverages available on a daily basis. The club have ambitions to build a new clubhouse.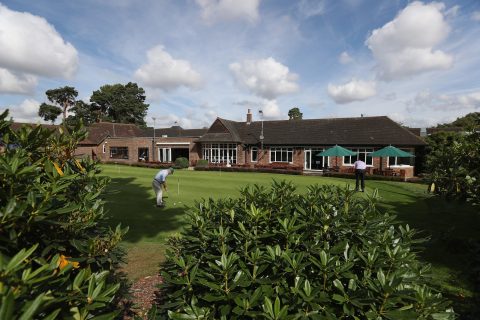 ACCESSIBILITY & AFFORDABILITY
While access to the course was limited to members and their guests under its former ownership, since its purchase by Altonwood the club and course now are now accessible to all, with visitors' tee times available throughout week and after midday at weekends, while societies and corporate groups are also welcomed from Monday to Friday, with packages starting from £50pp.
There is no joining fee for new members, a discounted rate is available for those aged under 35, and there are free junior memberships for children of adult members. Altonwood owns four other clubs in the region – Westerham, Surrey National, Godstone, and Woldingham – and Addington members enjoy full playing rights at all four venues.
LOCATION
Located just 13 miles from the centre of London, The Addington is easily accessible for golfers travelling from inside the capital and perfectly located for corporate golf days.
EXCLUSIVE GOLF SOCIETY OFFER
All society bookings made for July or August 2018 will receive a 25% discount when quoting 'Golf News Offer'.
EXCLUSIVE TRIAL MEMBERSHIP OFFER
Golf News readers can take advantage of a special two-month trial membership, costing £400.
For more information, visit www.addingtongolf.com, call 0208 777 1055 or email info@addingtongolf.com.
Stay up-to-date: