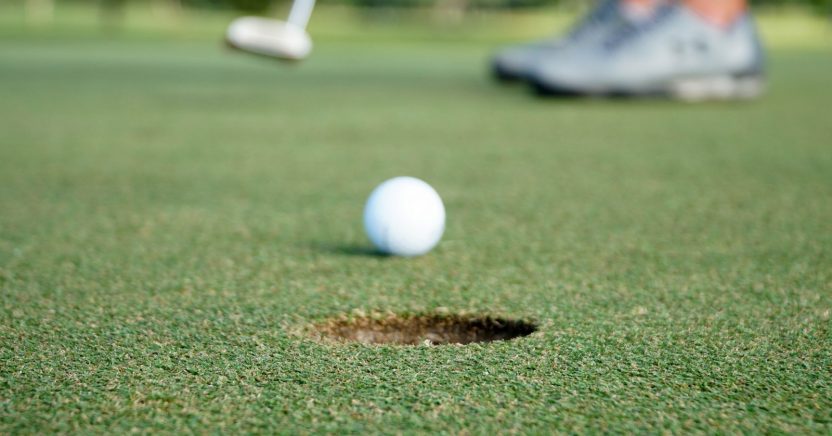 Three Ways To Lower Your Score Without Going To The Range
News
Golf is a time-intensive hobby! An 18 hole round of golf often clocks in at around 4 hours, and if you want to play well, you'll have to spend some time on the range as well to dial in your swing!
Or do you?
Indeed, you can lower your score without going to the range or changing your swing. Smarter choices on the golf course, more tools in your short-game toolbox, and a positive attitude will effectively lower your scores!
Keep reading to learn more!
Better Course Management
We all know the situation. Blocked by a tree, there's a narrow gap, and you can just about see the flag. A 7 Iron should just get you there, but you need to fly it between the branches and draw it 40 yards to the left.
Do you go for it?
The truth is, for most people, this is a 1 out of 10 shot. And going for it means that you'll leave yourself in more trouble than you originally were – 9 out of 10 times.
Nevertheless, many recreational golfers try the hero shots we have watched Tiger play in awe on the PGA tour.
Chances are you would have been better off to punch out back into the fairway and leave yourself with a straightforward approach shot into the gree. The worst that can happen is a 2 putt bogey.
If you want to lower your score without changing your swing, you need to make better decisions on the golf course. That means no more hero shots.
Or better yet, don't follow a bad shot with a stupid shot.
On the tee-box, consider what club avoids the hazards, even on a miss-hit. This might mean that you won't be hitting driver on every hole. Iron or wood off the tee is the smart choice if your driver has a high chance of getting you in trouble!
This alone will shave off a couple of strokes on your scorecard, and you'll have more fun during your round by keeping the ball in play!
Follow these simple rules:
Keep the ball in the short stuff
Avoid Hazards like your mother in law
Get it on the green, no hero shots!
If you keep this in mind, you'll shoot lower scores!
Short Game
Driving for the show, putting for the doe!
Ok, we agree; nothing feels better than piping a drive 300 yards down the middle. Especially when your buddies are watching.
Where you actually save strokes during a round is from 100 yards in. If you don't practice golf at all, at least make sure that your game inside 100 yards is dialed in!
Here are the shots you'll need:
6 or 7 iron punch shot
Low flight, high spin 100 yards shot
Pitching wedge or 8 iron bump and run
You usually have a couple of options around the green. Learn to get the ball close to the hole in every situation by utilizing what's in your bag. Nobody said that you're only allowed to use your 60 degrees around the green.
If you're on the fringe, consider what shot has the highest probability of leaving you with a tap in?
Are you better off putting off the green or playing an 8 iron bump and run? Again, don't let the PGA highlight reels mess with your self-perception. These people practice every single day and hit 1,000 balls a day. They're expected to deliver under pressure.
If you're ever played with a senior golfer, you might notice that they might average 150 yards off the tee box. So how do they still score in the 70ties?
The Short game is where you save the most strokes.
The Mind Game
We've all done it. 1 tray on the driving range, 20 minutes putting, and then off to the first tee box.
You visualize a high draw off the bunker on the right and take aim. Smooth tempo, smooth tempo, is all you're thinking.
And then… 80 yards duck hook into the bushes on the left.
The first tee nerves are real, and nobody gets spared by them.
Here's the key, though; The first hole doesn't predict how you'll be playing for 18 holes of golf!
No negative thoughts after you've hit the ball. Once the ball leaves your clubface, there is nothing you can do about it. So just move on.
Walk the course with your eyes focused on the horizon, and remember that you have par'ed many holes before. You know how to do it.
By keeping a positive attitude, you don't allow yourself to spiral down into a labyrinth of technical swing thoughts and youtube videos you've watched the night before.
The course is not the right place to change your swing, so just play what you have today and work with it.
You'll notice not only that you'll be scoring lower, but you'll also stay more relaxed and will have a better playing experience overall.
What To Do Next
If you don't have time to practice, don't feel bad about it. Golf is a hobby, and most importantly, have a good time when you get out on the golf course!
However, everyone agrees that golf is even more fun if you score well! So follow these tips and lower your score without changing your swing or spending hours on the driving range!
For more Golf reviews and user guides checkout Windtree Golf