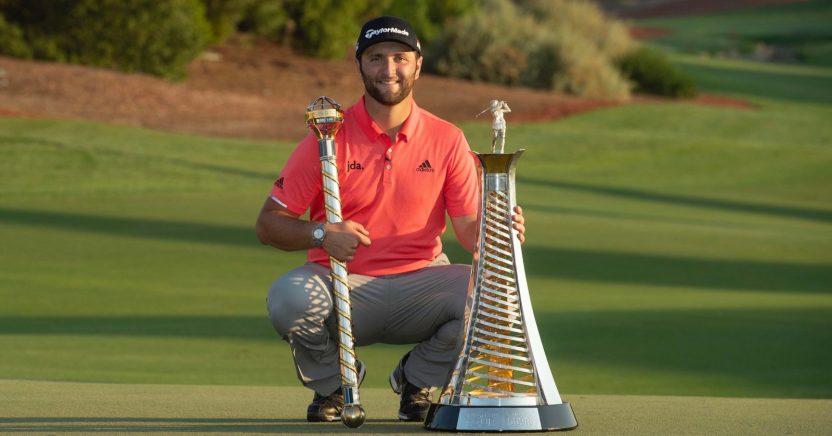 Rahm completes Dubai double
Featured News
Jon Rahm was crowned the 2019 Race to Dubai champion after a dramatic victory in the DP World Tour Championship, as the European Tour's season-long contest came down to a single shot.
The 25-year-old Spaniard held off a determined late charge from Tommy Fleetwood to seal his second DP World Tour Championship title in three years and his fourth Rolex Series victory.
Rahm went into the final round in a share of the lead with Frenchman Mike Lorenzo Vera, but he pulled six shots clear after seven holes. Rahm dropped consecutive shots on the eighth and ninth holes and his lead was further eroded on the back nine as Fleetwood finished with five birdies in his final seven holes to sign for a 65 and set the target of 18 under par.
That meant Rahm, who had posted two birdies and two bogeys after the turn, then had to birdie the last hole for victory to avoid a winner-takes-all play-off with Fleetwood to decide both the tournament and the Race to Dubai. He duly held his nerve with a superb bunker shot to four feet before rolling in the putt for a 68 to finish on 19 under par and claim the €3 million first prize.
Rahm has now won six times in 40 European Tour appearances – two DP World Tour Championships, two Irish Opens and two Spanish Opens – achieving that milestone in 15 fewer events than his legendary compatriot, the late Seve Ballesteros.
Rahm, who moved to world no.3 with the win, said: "Man, you dream of making birdies on 18 to win a tournament. And how I was playing early on, I was hoping not to need that, but it happened, and I came through when I needed it and really proud of myself for that.
"I've thought about winning the Race to Dubai all week. I've thought about it the last two hours. I've thought about it as soon as I made the putt. But it still hasn't processed in my mind. It's a thought in there, but it still has not been internalised."
Runner-up Fleetwood, who also finished second in the Race to Dubai rankings, said: "I couldn't have done much more. I'm really proud of the way I played the last few holes. Proud of the end of the season, and these two weeks make the season just seem in a different light than it did would weeks before we started.
"Fair play to Jon. That's a cracking birdie down the last when you have to make it. There's always going to be a little bit of disappointment there, but for the most part, I got myself back in it, and I am very proud of the way I played on that back nine. You know, it's Jon's time, Jon's moment, he's played unbelievably well this year."
Rory McIlroy, who wasn't qualified to win the Race to Dubai, could not replicate the fireworks of his third round 65, as he closed with 73 to finish seven strokes back in fourth place on 12 under par, with defending champion Danny Willett a further shot back in fifth after a 69.
Austrian Bernd Wiesberger, who had led the Race to Dubai going into the season finale, posted a round of 72 to finish in tied 28th on two under par. He slipped to third position in the final rankings, with Shane Lowry and Matt Fitzpatrick completing the Race to Dubai top five, each earning a share of the $5 million bonus pool.
Final round scores
269 J Rahm  66 69 66 68
270 T Fleetwood  67 68 70 65
271 M Lorenzo-Vera  63 69 69 70
276 R McIlroy 64 74 65 73
277 D Willett  69 72 67 69,
278 T Lewis (Eng) 67 70 73 68, T Pieters  (Bel) 70 68 68 72, S Garcia  (Esp) 71 73 67 67,
279 M Fitzpatrick  (Eng) 71 71 68 69,
280 A Sullivan (Eng) 70 74 67 69, J Scrivener (Aus) 71 72 72 65,
281 S Lowry  (Irl) 73 68 70 70, C Bezuidenhout (RSA) 71 67 70 73,
282 R Macintyre  (Sco) 71 74 68 69, P Waring  (Eng) 71 77 68 66,
283 G Migliozzi  (Ita) 73 70 68 72, M Kinhult (Swe) 68 71 68 76,
284 J Campillo (Esp) 73 72 69 70, P Casey  (Eng) 73 73 66 72,
285 R Sterne  (RSA) 71 72 71 71, J Luiten (Ned) 74 71 68 72, D Lipsky (USA) 72 71 71 71, J Rose (Eng) 69 70 73 73, V Perez (Fra) 73 73 72 67, L Oosthuizen  (RSA) 70 70 73 72, R Cabrera Bello (Esp) 68 73 74 70, M Schwab  (Aut) 69 73 70 73,
286 M Korhonen (Fin) 72 76 70 68, M Southgate  (Eng) 75 71 70 70, M Wallace (Eng) 70 74 69 73, E Van Rooyen (RSA) 71 72 73 70, T Detry  (Bel) 69 71 71 75, A Arnaus (Esp) 70 70 72 74, P Reed (USA) 74 68 72 72, B Wiesberger  (Aut) 70 71 73 72,
287 J Harding  (RSA) 73 73 70 71, J Hansen  (Den) 74 73 68 72,
288 L Westwood (Eng) 73 70 74 71, B Hebert  (Fra) 70 74 73 71,
289 F Molinari (Ita) 69 76 71 73, R Langasque  (Fra) 71 74 71 73, A Rai (Eng) 75 69 76 69,
290 H Li  (Chn) 69 77 74 70,
291 I Poulter (Eng) 74 76 70 71, H Stenson (Swe) 74 70 77 70,
292 T Hatton (Eng) 73 79 69 71,
293 J Smith (Eng) 74 73 70 76,
296 K Kitayama (USA) 71 75 77 73,
297 S Hend (Aus) 76 75 73 73, A Pavan (Ita) 77 74 71 75
Stay up-to-date: