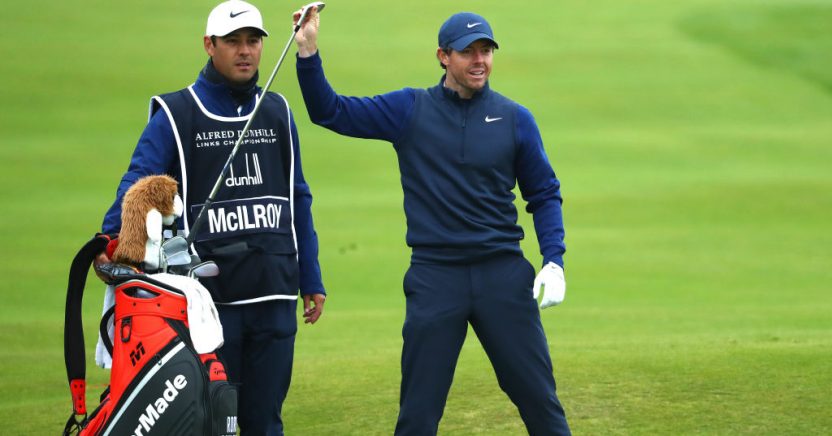 McIlroy says European Tour courses are 'too easy'
News
30 September 2019
Rory McIlroy ended his two-week schedule of tournaments in the UK with a few words of advice for the European if they want to see him compete more often on this side of the Atlantic.
The world No.2, who finished ninth at the BMW PGA Championship at Wentworth and tied 26that the Dunhill Links Championship in Scotland, said he was "sick of coming back over to the European Tour and shooting 15 under par and finishing 30th".
The four-time major champion complained that the course set ups were 'too easy' and were failing to sort out the good players from the best, with their lack of rough and wide fairways.
Speaking after posting scores of 70, 66, 70 and 67 in Scotland to finish seven shots behind the Dunhill winner, Victor Perez, McIlroy said: "I don't think the courses are set up hard enough. There are no penalties for bad shots. It's tough when you come back and it's like that. I don't feel like good golf is regarded as well as it could be. It happened in the Scottish Open at Renaissance. I shot 13 under and finished 34th. It's not a good test. I think if the European Tour wants to put forth a really good product, the golf courses and setups need to be tougher."
Perhaps fearing that he had come across as too critical of his European paymasters, McIlroy later went on Twitter to temper his remarks, posting: "Strategy, course management and shot making are important aspects of tournament golf that are being slowly taken out of the game at the top level, not just in Europe but worldwide. I would personally like to see tougher set ups in Europe, because it will produce better, more complete young players in the future and that can only be a good thing for the game and our Ryder Cup chances going forward."
In the wake of all that, it came as no surprise that McIlroy has announced his intention to repeat his US-centric schedule in 2020. For the remainder of 2019, he'll play just two more European Tour events: the WGC-HSBC Champions in China and the DP World Tour Championship to close the year in Dubai, before embarking on the defence of his PGA Tour FedEx Cup title.
"Winning the FedEx Cup was validation of my decision to play more in the States," said McIlroy. "I'm getting stick for not playing more in Europe, but I'm turning down millions of dollars by not going to Abu Dhabi and Saudi Arabia because I want to do the right thing for me. I want to play on the courses I want to play at."
He added: "It's been a great year. I've won big events and I've consistently played well. Every week I show up and I shoot good scores and play good golf. If I continue to do that, I'll be in a good spot. I don't want to travel that much anymore. I've done it for 12 years. I want to have easy flights and not have to go across eight time zones and have to get acclimatised. I'm happy to do what I've done this year."
Stay up-to-date: