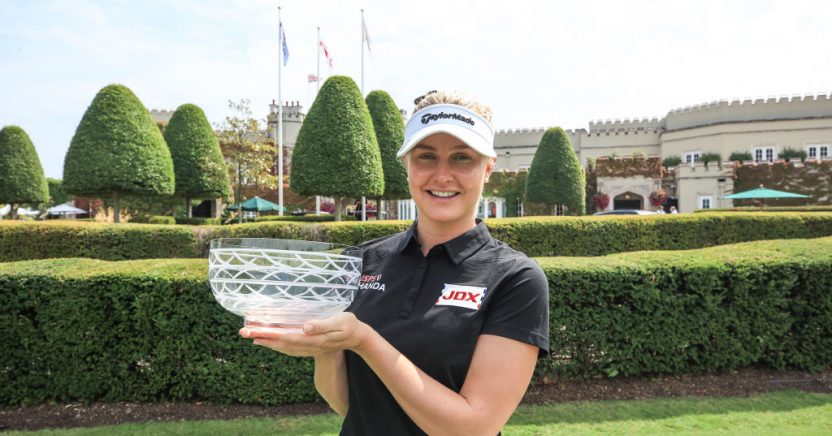 Hull and Hewson claim Rose Ladies Series spoils after fire cuts short Wentworth finale
News
The Rose Ladies Series Grand Final was cut short because of a large wildfire near Wentworth in Surrey, with Charley Hull announced as the Order of Merit winner.
Wentworth's West Course was evacuated after fire spread from Chobham Common, which is close to the 10th hole.
Rose Ladies Series organisers were unable to find an alternative date and venue, due to the resumption of the Ladies European Tour with the Scottish Open next week, so the tournament reverted to 36 holes, which were played on Wednesday and Thursday at North Hants and Berkshire.
Hertfordshire's Alice Hewson — a rookie this year on the Ladies European Tour — who led going into Friday, was declared the winner of the Grand Final Tournament, which came with a £10,000 prize. Order of Merit winner Hull won £20,000.
Kate Rose, who founded the series with her husband Justin two months ago, presented the prizes at Wentworth on Saturday morning.
The Roses, along with sponsors American Golf and Computacenter, had paid accommodation costs for players on Saturday night after play had been originally suspended until 9.30am on Saturday. However, the wildfire blazed throughout the night and nearby homes had to be evacuated. After meetings with the emergency services, it was decided that course had to remain closed on Saturday.
The three-day grand final followed seven one-day tournaments being held at courses throughout England in June and July. It was the first time a professional ladies' tournament had been held on Wentworth's West course.
Event organisers Excel Sports Management  — including Justin Rose's manager Paul McDonnell and the Roses — worked throughout the night to try to find a suitable alternative date, but with the LET and LPGA Tours returning to full schedules in two weeks' time, a solution could not be found.
Justin Rose, who was competing at the US PGA Championship in California, said: "Our mission was to serve the ladies and provide an opportunity for them to play and sharpen up for their respective seasons. The last thing we want to do now is create a burden for them having to fit in the final round at a later date."
Stay up-to-date: