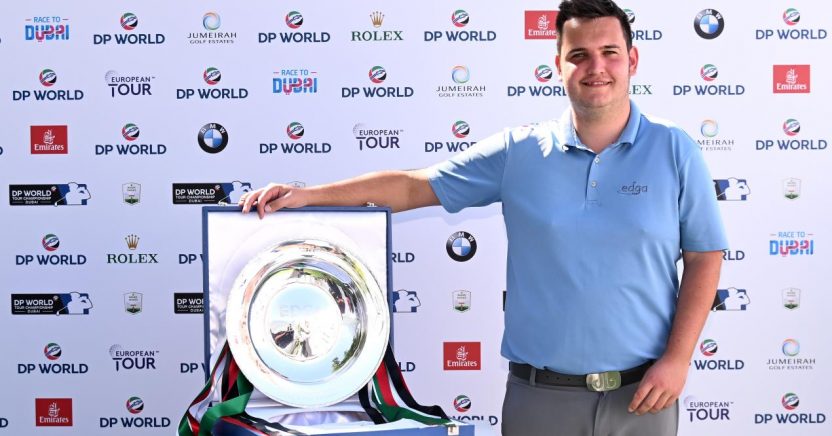 Groves wins EDGA Dubai finale
Featured News
Surrey golfer George Groves, the world's top-ranked disabled player, has won the inaugural European Disabled Golf Association's Dubai finale.
The 36-hole event, which featured some of the world's best golfers with disability, took place alongside the European Tour's DP World Tour Championship.
Groves shot rounds of 77 and 82 for a 15-over-par total, to win by three shots from America's Chad Pfeiffer.  American Christopher Biggins finished at 20 over, with Frenchman Charles-Henri Quélin, Irishman Lawlor, Australian Geoff Nicholas and Swede Joakim Bjorkman rounding out the field.
Groves, who has Erb's Palsy, a condition which leaves him with 20 per cent strength in his left arm after a medical accident during birth, was delighted with the win, having finished second at the EDGA Scottish Open this summer.
"It's fantastic," he said. "I'm going to go home very proud of myself, celebrate with my friends and family. The EDGA tour has really changed my life. I think it's just changed me as a person, and changed me as a golfer. It's really good to get us involved and on TV and to show other people with disabilities to get more into golf and be confident in themselves and get out there and show what you can do. So to come out and win this is just incredible."
Groves, who works at Horne Park Golf Club in Surrey,  won the English Disability Open by five shots earlier in the year, and has no doubts that he has chosen the right career path. "When I was younger I played football, but I was told I needed to do exercises for my arm, so my parents suggested I gave golf a go. I went to the range one day and really enjoyed it. Now that I'm world No.1, I'm pretty sure I made the right choice."
Stay up-to-date: