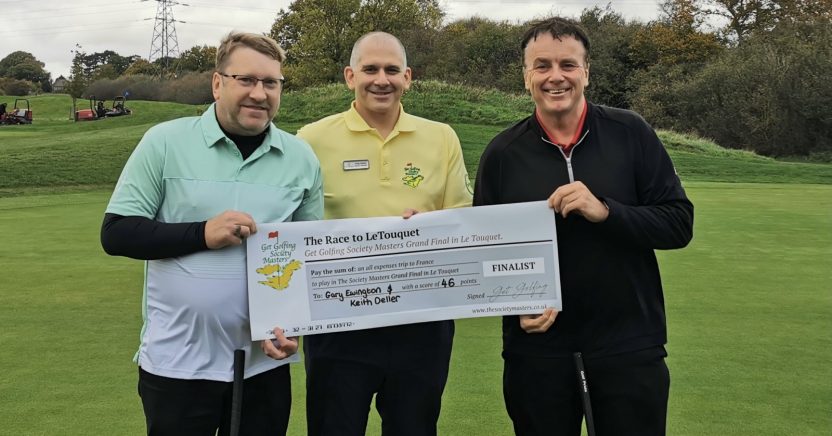 Get Golfing finalists battle it out for prized Le Touquet spots
Featured News
Get Golfing, the owner of eight clubs across the south, has just completed the regional finals of its Society Masters events, where the winners at each venue go forward to the finals next year at the Le Touquet Golf Resort in France.
First out of the blocks was the pairing of Chris Holloway and Ian Stuart of the Manner Printing Golf Society, who won at The Bristol Golf Club after a tense 'putt off'. Holloway held his nerve in front of about a hundred spectators by two-putting from 90 feet.
It was the same story at Mill Green Golf Club in Hertfordshire, where a field of 90 witnessed Keith Deller (pictured above right) and Macmillan Cancer Support event organiser Gary Ewington (pictured above left) took the honours, but only after former world darts champion Deller holed out a nervy six-footer to defeat David Selby and Chris Robinson, who had tied with 46 points in the main event. Deller, in his winner's speech, thanked everyone for a brilliant day and waxed lyrical about the quality of the greens.
At Pyrford Golf Club in Surrey, Liam Wyatt and Paul Lange demolished the field with 50 points in the Stableford event, leaving Mark Tolley and Gary McPherson in second place on 47 points. The field of 88 witnessed first-hand the stunning redesign work that is taking place at Pyrford. The competition was stiff, with third spot decided on count back, with Tom Williams senior and Tom Williams Junior pipped Peter and James Georgiou.
Jim Wilson and Michael Wilson of the AWE Society triumphed at Oak Park Golf Club in Hampshire with 44 points, beating Sandgate Old Boys Adrian Wood and David Graham (39pts on count back from Tim Canfield and Rob Tickner of the CODY Society). Graham also picked up the prize for longest drive on the 17th hole.
Also in Hampshire, Barrie Green and Steven Randall of The Royal Engineers Golf Society engineered a 51-point total to book themselves an all-expenses paid trip to Le Touquet. What made their achievements even more amazing was that they had the lowest aggregate handicap of all the players.
Over in Kent, Alan Jackson and Phil Rock won the day at Redlibbets Golf & Country Club with 49 points, just ahead of Martin Beard and Paul Doherty on 48 and Michael Whitfield and Marcus Wilkinson on 47. The renovation work to the course and the excellence of its presentation was remarked upon by all.
Unfortunately, the Covid-19 lockdown prevented play at Get Golfing's two other venues, Warley Park Golf Club in Essex and Hampton Court Palace Golf Club in Surrey.
Get Golfing CEO Edward Richardson said: "We wanted to do something a little bit special. It's a thank you to the organisers of our top 36 societies and it is making people aware of who we are and what we stand for. We firmly believe in the principle that if you spend money with us it will go back into improving the courses and the club. At Pyrford, for instance, we have done a huge amount of work on restoring the bunkers, renovating the lake banks and more. This was recognised recently by Golf Shake, which said Pyrford was in the top three of most-improved golf courses in England in 2020.
"From our perspective, it always starts with the golf course. People appreciate quality turf, good putting greens and a convenient location. That brings more and more people to our venues."
To enter into next year's Society Masters, where the society organiser and a friend receive a free day's golf and lunch, you need to book a society day at one of its clubs. Next year's Society Masters events will be announced shortly.
For more details, visit www.thesocietymasters.co.uk.
Stay up-to-date: