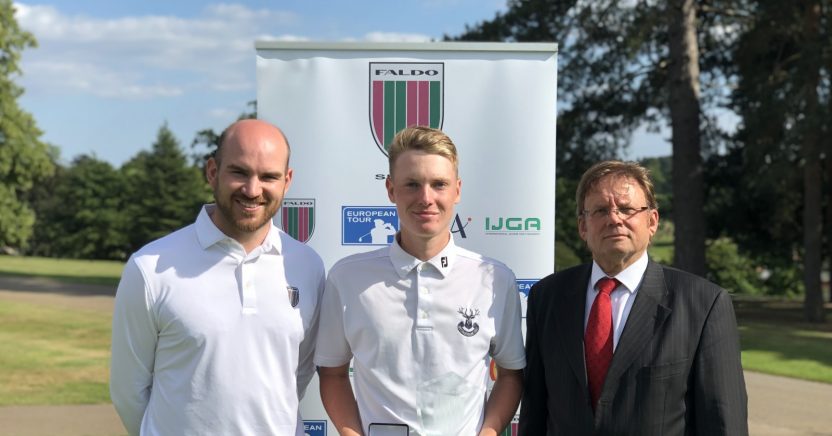 FREEMAN WINS FALDO SERIES QUALIFIER AT BROCKET HALL
Featured News
Talented English junior James Freeman has won the second England South event of the 2019 Faldo Series Europe calendar, securing a place at Al Ain Equestrian Shooting & Golf Club for the Europe Grand Final in November, alongside gaining full membership rights at host qualifier venue Brocket Hall.
The event saw 106 of the most talented boys head to The Melbourne Club, Brocket Hall this week, where Freeman reigned victorious in a three-man playoff over Arron Edwards-Hill and Tiger Adams.
The added incentive for the week came in the form of a generous pledge by the host venue, Brocket Hall, who offered full membership rights to the overall winner at the club for the next 12 months – one of the most prestigious memberships available in the UK. The prize was a fitting acknowledgement from the club, which is located next door to Welwyn Garden City, where Series founder, Sir Nick Faldo, polished his own skills as a junior golfer.
The three-day event was played on the Palmerston Course, a Donald Steel design opened in 2000 that plays a considerable 7,080 yards off the championship tees, winding its way through undulating terrain and mature woodland, consisting of 300-year-old pine, oak and cedar trees.
Freeman, who is a member at Retford Golf Club in Nottinghamshire, started the third and final round tied for the lead alongside Essex's Benjamin Humphrey. Humphrey, however, ended his chances of lifting the trophy with a final round 76 to finish in a tie for fourth. Freeman, who made eight birdies across the three rounds, remained in total control and shot a solid level par to finish, however, this was only good enough to enter a playoff, as Arron Edwards-Hill and Tiger Adams both closed with  71s to take the tournament into extra holes.
Adams was eliminated during the first playoff hole, allowing Edwards-Hill to win the Under-21 category, with Freeman winning the second playoff hole to secure the Under-18 category and the overall tournament victory.
Freeman said: "This is the first year I've played in the Faldo Series, and only my second attempt to get to the Grand Final after finishing 12th at Royal Ashdown Forest in April, so I'm delighted to have qualified for the final. The Palmerston course was in excellent condition and to win membership here for a year is amazing – I can't wait to make use of the two courses and practice facilities to sharpen up my game before November."
Rohan Miah wrapped up the Under-16 category and secured a safe passage to the Grand Final with impressive rounds of 75, 71 and 74 (+1), to beat Charlie Gilgenkrantz by a shot.
Leading final scores:
Boys' Under-21:
Arron Edwards Hill -2; Tiger Adams -2; Benjamin Humphrey +1
Boys' Under-18:
James Freeman -2; Samuel Caney +4; Owen Watts +4
Boys' Under-16:
Rohan Miah +1; Charlie Gilgenkrantz +2; Harley Smith +9
For more information, visit: https://faldoseries.com/
Stay up-to-date: