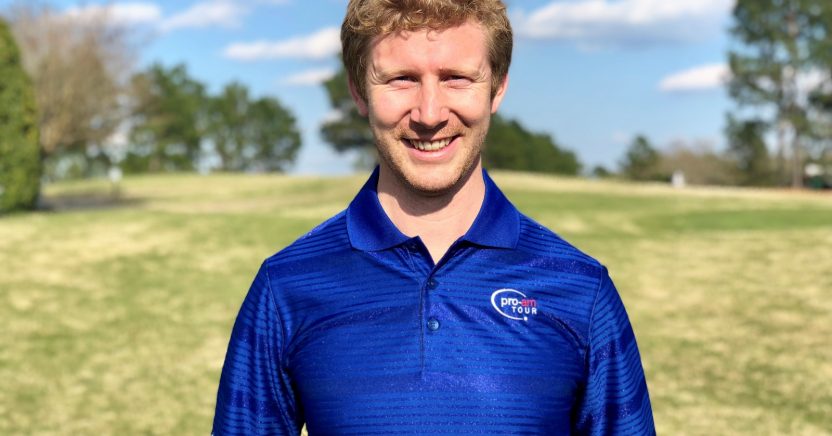 Trower backs cancer awareness campaign after undergoing life-saving operation
Featured News
PGA Professional Craig Trower, the co-owner of the Pro Am Tour, which organises tournament holidays all over America, is counting his blessings, and the professionalism of the staff at St George's hospital in south London, after recovering from a potentially life-threating cancer diagnosis during the midst of the Covid-19 pandemic.
Craig, 35, who worked at The Wisley Golf Club in Surrey for nine years before taking over the Pro-Am Tour in 2018, was admitted to St George's in Tooting in late April after suffering severe abdominal pains, which he initially thought might have been kidney stones. However, a CT scan revealed a much more serious diagnosis – a stage 3 cancerous growth on one of his kidneys.
After further tests, and several days of increasing pain, Craig was rushed back into hospital three days later, and has his entire kidney removed. It proved to be life-saving operation, as if left unchecked the cancer would have moved onto Stage 4, from which the chances of survival are drastically reduced.
Two months on from the operation, Craig is feeling healthy again and thankful for how things have turned out. He is also grateful for the support of family and friends, and particularly for the advice he received from fellow professional golfer Benn Barham, who went through a similar illness and operation in 2011, from which he went on to make a full recovery.
Craig is now hoping to raise money to increase awareness of the importance of early testing and diagnosis of all forms of cancer, and has set up a JustGiving page, the proceeds of which will be donated to Cancer Research UK.
Speaking to Golf News, Craig said: "Had I not been lucky enough that the tumour began to bleed into my urethra, I might have never been diagnosed until the cancer had reached Stage 4, which is a very different fight. Early cancer detection makes a huge difference to your prognosis, so I'm hoping to raise awareness of this. I emailed 'Stand up to Cancer' and spoke to a few people before being directed to Cancer Research UK."
He added: "Men really only get a heath check at 60 for bowel cancer, while women have cervical screenings every three years and breast screening from the age of 50. I feel something needs to change in this department. If I got it at 34, someone else will. Ben [Barham] was also 34. I have no doubt with the right funding someone will find a cost-effective way of early diagnosis. With 1-in-2 people getting some form of cancer, finding it early is so important."
Craig will be back in hospital in early August for a scan and will have bi-annual check-up for the next five years to make sure he's clear of the cancer, but in the meantime, he's busy reorganising the Pro-Am Tour's US tournament schedule, which has been hugely effected by the pandemic.
For more details of the Pro Am Tour's 2020-21 schedule, which includes events in Arizona, California and Florida, as well as a return to 2021 Ryder Cup venue Whistling Straits next September, visit www.pro-amtour.com or call 020 8050 2969. To support Craig's JustGiving page for Cancer Research UK, visit https://fundraise.cancerresearchuk.org/page/pro-am-tour-helping-early-cancer-detection-1.