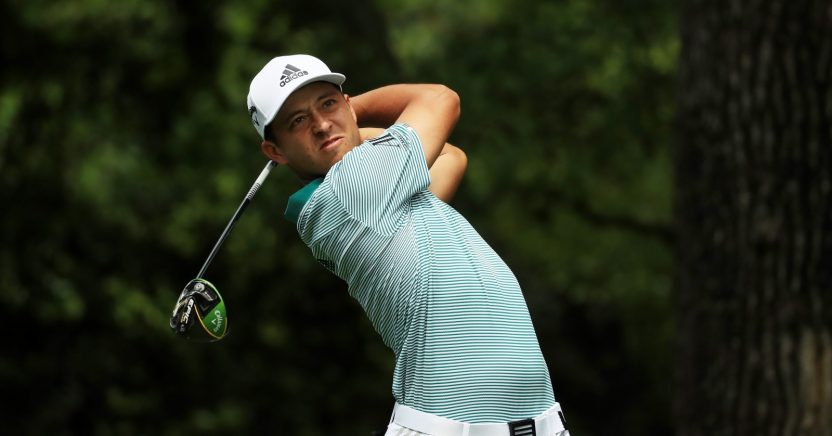 XANDER SCHAUFFELE

Xander Schauffele may have the hardest name to spell in professional golf, but TV commentators have had to get used to pronouncing it correctly after the 25-year-old from California moved serenely into the world's top ten just two years after joining the PGA Tour
You've had an incredible start to your career. Winning the Tour Championship in your first season on the PGA Tour in 2017; winning twice last year, including a WGC; and then winning in Hawaii at the beginning of this season. And now, coming into the year's final major, you've bagged a runner-up at the Masters and a third place at the US Open. You must have surpassed your own expectations by some distance?
Honestly, it's been a dream come true and way beyond what I could have hoped for, let alone expected. The finish I had last year, winning the WGC in China, obviously boosted my expectations for this year, just like it would anyone else. And I feel like I've done okay this year, nothing too crazy. But the more you can put yourself into contention to win, the more it means you're playing good golf. Sooner or later, you're more likely to get it done.
The wins have been somewhat random. All four have come from being behind, so while they're weren't unexpected, I haven't gone out there with a lead and had to hang on. That will be the next thing to accomplish I guess, to learn to be cool under the gun, having a lead and maintaining it. Last year I wasn't in contention that often, but when I was, I won. So I just need to get up there more often.
You finished 18th in your first Open Championship at Birkdale in 2017, and second behind Francesco Molinari at Carnoustie last year. You've clearly adapted to links golf pretty quickly. What's been the secret?
My dad's half French, half German, so the Open Championship was always on TV in my house when I was growing up, so in many ways I kind of knew what to expect. I just to try to have some fun, stay out of the pot bunkers, and make some putts. 
I enjoy playing links golf because you have a lot of options off the tee compared to parkland golf, and you can play shots to the greens in so many different ways. I like the imagination that is required to get find fairways and pins – it adds another dimension to the game. Links golf also requires patience, as you're going to get some bad bounces and some bad breaks from time to time, so the key is to remain patient, which is something I try to do.
Although you came up just short at Carnoustie, were you able to take away a lot of positives from that performance?
Yeah, I took a lot, actually. It was the high stakes, it's one every one wants to win, and, honestly, I fell apart. Jordan [Spieth] and I were feeding off each other in horrible ways you won't imagine. We got behind and we were hitting these weird shots that we wouldn't even hit with our eyes closed. So that was a very good learning experience for me, controlling the nerves and I sort of woke up a little bit and tried to come back to life. You've got to learn from stuff like that, learn to walk through the fire at a major, just like Brooks [Koepka] has done.
Looking at your performances in the majors over the last two seasons, do you feel like you're able to find a different gear for these big events, in the same way that Brooks seems to?
I don't know, it might just be coincidence, but hopefully it isn't. Maybe my mentality changes a little bit at the majors, as I'm sure it does for a lot of players. I get a little bit more focused coming into the week, put in some extra preparation. You just kind of dive a little bit deeper into yourself. I always bring my full team to the majors, and I feel like we have done a decent job of preparing for them so far.
Do you feel like your flying under the radar a bit, especially with all the hype around players like Brooks or Rory McIIroy?
Well they've won four majors each, so I would expect them to be very much on the radar. I don't know, a lot of guys I've talked to told me to enjoy flying under the a radar for as along as I can. I don't get people yelling out my name at tournaments just as I'm about to play, like a lot of those guys do, so that's cool with me, although I do get some kids asking for my autograph, which is nice. I've not turned one down yet, so that's where I'm at right now. I'm happy just doing my thing, but when the time comes, if it does, I'll be happy to be on whatever radar I am. It all depends on how I play. I still feel like I'm an underdog. I feel like until you're No.1, you're chasing, and I'm currently chasing.
You've been coached by you father, Stephan, throughout your career. How does that dynamic work?
Dad bred an underdog mentality into me from an early age. He always said to me: 'You need to go get it, because nothing is going to be handed to you.' He's always been pretty blunt with me, telling me when things were good or bad. You always know where you stand with him – nothing was ever sugar-coated.
We're a close team and he's been my only swing coach. I've read articles and spoke with other coaches with him around or without him, but I've never taken a lesson from anybody else. So everything he knows, I know now. We sort of share our thoughts when I'm struggling and we seem to be able to figure most things out.
I went through this rebel phase when I was at college where I would argue with him for no reason. I was aggressively against anything he would say. We'd have these huge arguments. We fought all the time. Now that I'm older, I realise how patient he was with me. I realised that I was fighting him for no reason other than he was my dad. He was a lot better to me than I was to him, that's for sure. I owe him everything really, and hopefully I'm repaying some of the faith he has always showed in me.
Stay up-to-date: