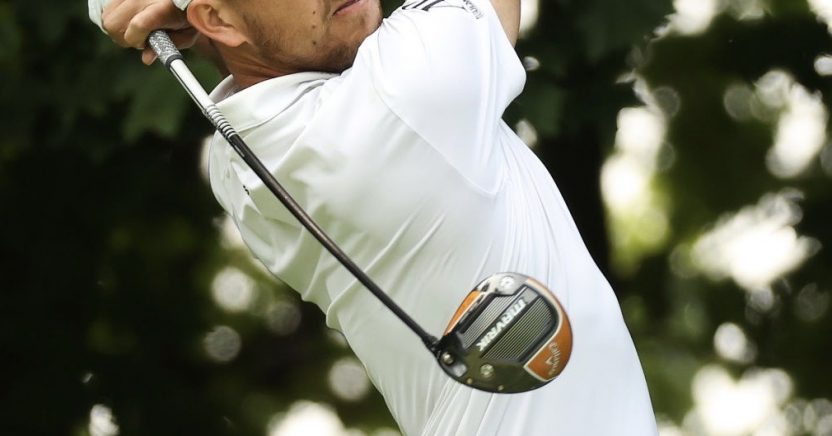 Xander Schauffele

With four PGA Tour wins to his awkward-to-pronounce name, two FedEx Cup runner's up finishes, and an enviable record in the Majors, 26-year-old Xander Schauffele is one of the most consistently high-performing players in the game and looks destined for further honours
Just four short years ago, Xander Schauffele was fighting for his professional life on the lower rungs of the Web.com Tour, having missed missing nine of his first 12 cuts in the second tier of America's pro circuit. Ranked 1,743rd in the world, the former San Diego University student could only watch on with a mixture of envy and frustration as his peers, including Jordan Spieth and Justin Thomas, stormed golf's upper ranks and became the poster boys for the new generation of American golf.
"I've had doubts at every stage of my career," says Schauffele, who, following the conclusion of the 2020 PGA Tour season, is currently ranked the seventh best golfer in the world and has banked almost $4m in prize money over the last 12 months. "Coming out of college, you never really know how good you are, you've never played for money, you've put all your eggs in one basket and your whole life revolves around it. For a while, I didn't think I was going to be good enough."
Golf can be a humbling sport and Schauffele has often had to come within touching distance of failure to rise above it. When he qualified for the 2017 US Open, just 72 hours before the event was due to begin, he was on the verge of losing his PGA Tour card. And yet, in his first round at a major championship, he shot a flawless six-under-par 66 and went on to eventually finished fifth. Later that year he won his maiden event at the Greenbrier Classic, and just three weeks later followed it up by becoming the first rookie in PGA Tour history to win the Tour Championship, scooping over $12 million in the process. He ended the year as world no.32, and the golfing world knew his name – and some even learned how to pronounce it.
Since then, Schauffele has won another two more PGA Tour events, finished in the top-10 in eight of the 19 majors he has competed in to date and peaked at sixth in the world, one up from his current position following another impressive season which, although yielding no wins, saw him finish second in the FedEx Cup for the second year running and finish outside the top 25 on just one occasion in the last 20 events.
He rounded out the PGA Tour's 2019-2020 wrap-around season last month with a second-placed finish at the Tour Championship, after shooting four rounds in the 60s, and then just last month placed fifth at the US Open at Winged Foot – which was his fourth straight top-10 at the tournament.
However, the way Schauffele chooses to manage his newfound status as a perennial contender is to almost ignore it, even going as far as tapping in those old feelings of angst. "I feel a little anxious before most tournaments," he says. "I feel anxious because I want to do well. It's the same every time I care about something. Once the tournament starts, though, the nerves tend to kick away."
He adds: "I expect a lot from myself but, over time, I've learned to tame that. I try to play the cool card and have zero expectations. That way, it's not hard to stay patient. It's great to have come close to winning a major, I've contended in the final round and I think I'm more than capable of winning more than one major, but golf is a weird game and you quickly learn it's not good to expect anything."
Raised in a quiet suburb of San Diego in southern California, Schauffele credits his 'competitive nature' to his father, Stefan. A former German Olympic hopeful in the decathlon, Stefan's dream was shattered by a head-on collision with a drunk driver that left him blind in his left eye. A dead ringer for Miguel Angel Jimenez, Stefan had the tendency to bark thickly-accented orders from the kitchen table – and now behind the ropes on the fairways – as he transferred his athlete's underdog state of mind into his children.
The symptoms didn't take long to manifest. Carrying his dad's European love of football, Schauffele quickly discovered how much he hated losing and searched for a new sport where he could channel his competitive energies on his own time. Stefan had become fascinated with golf after stumbling on a high-tech simulator in Tokyo and became a scratch player in little over a year after joining the San Diego Golf Academy. He began to pass on his passion for golf to Xander, likening the swing process to a javelin throw, and had him thrashing 300-yard drives before he turned 13.
When Schauffele played in junior tournaments, Stefan wouldn't pander him like some of the other parents. Instead, he wouldn't accompany Xander any further than the car park.
"My dad was always very hard on me when it came to sports," Schauffele says. "He always used golf to teach me life lessons. That could be tricky at first, but now I'm a little bit older, I'm nothing but grateful. He's been a massive influence on me."
After finishing second behind Tiger Woods at last year's Masters and third at the US Open, it's too early in his career to talk of Schauffele being the best player not to have won a major, but he's getting close to earning that tag given the consistency of his results in the big events, and as each major hoves into view, Schauffele knows the pressure is building to get his head in front at a major and keep it there.
"The only time I'm really having fun when I play golf is when I'm winning," he says. "Being in the mix is the best feeling in golf, to have that chance, to be under a tonne of pressure, there's nothing more rewarding than pulling it off when you're under the gun. As players, we live for that moment. If I can give myself a good look on a Sunday, I'm generally happy. I think I'm a pretty good man in that position."
At last year's Masters, Schauffele held the lead for all of two minutes before the juggernaut that is Tiger Woods stream-rollered into town and took the title from under his nose. With this year's delayed Masters just six weeks away, how does he feel he'll cope with an Augusta devoid of fans and atmosphere?
"Last year was incredible, the noise around the course as Tiger moved into contention was incredible, and it was an amazing event to be a part of. I did have my 30 seconds in the sun with the lead, and it was a really cool feeling, but it proves to that I know I can contend and that I can win at Augusta if things fall into place. You can't control what others do around you, but I know that I have the game and the temperament to get it done."
WHAT'S IN XANDER'S BAG?
Driver: Callaway Mavrik Sub Zero Triple Diamond (9)
Fairway woods: Callaway Rogue Sub Zero (15, 18)
Irons: Callaway Apex Pro '19 (4-PW)
Wedges: Callaway Jaws MD5 (52), Titleist Vokey Design SM6 (56), SM8 (60)
Putter: Odyssey Stroke Lab Seven (White Hot insert)
Ball: Callaway Chrome Soft X
Stay up-to-date: