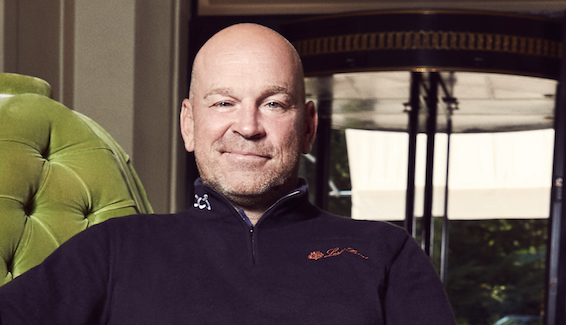 Thomas Bjørn

Twelve months after leading Europe to victory at the 2018 Ryder Cup, Thomas Bjørn returns to Paris with Ecco Golf to try out its latest shoes and relive some Ryder Cup memories
Sat here in the ballroom at the Café Royal in Paris, where you based the European team 12 months ago, what memories does it bring back for you?
Walking into the hotel, and to this room, brought back some very special memories. This was our safe place – this is where all the important conversations and decisions happened. Some of them didn't finish until early into the morning of that final day. It was the most amazing week, and that comes from the relationship with the players. What we did together, that's something I'll always be proud of. It's the greatest feeling I've ever had from golf.
What has life been like since the win in Paris last September?
It's been a strange year. As captain, you have 20 months to prepare for the Ryder Cup, but as soon as the matches are finished, it's all over. It's a shock to the system. The lead up to the Ryder Cup so hectic, you're constantly busy, and you're having to manage your time. I had a nine-month period where I was only home for six days. Now close to a year after, you get your life back. I'm enjoying playing out on tour, and enjoying spending time hitting balls on the range without having 15 people coming up to me to chat. First and foremost I am still a player.
What did you learn from the whole experience of captaining the team? When I look at man management, that's something I didn't know anything about. I've managed my own career, and I had people around me to help, but now you are dealing with people that are living in the same world as you, and the reality is a lot of them are probably better than I ever was as a player. You have to deal with those egos, and you soon realise that it doesn't take any specific personality type to be a good golfer. Every one of them is as different as can be, and it's remarkable you can have people who are so different, yet their output as golfers is so similar.
To deal with the 12 of them individually was an amazing thing. To get a team of people to function, and this applies to a sports team, but life in general too, is to take each person individually and identify their qualities. Maximise their individual strengths, then they will create a team themselves.
I didn't need to stand up in this room and talk about being a team, I had to speak to them individually and help them realise what they were good at. Making them aware that those 11 teammates are different to them, to give them space to be different. Doing what you're good at yourself will help the team be successful.  I asked every individual to do what they need to to do to prepare, and they created the team. Those players walked through those doors as a high-functioning team because they created that themselves, it wasn't forced onto them. 
How much has tour golf changed since you turned pro 23 years ago, and how hard it is to compete against the young guys out there now?
Golf has changed a lot. Nowadays you could be playing in a 15mph crosswind and hit the ball straight at the flag. When I came out on tour I'd be aiming 20 yards to the side and letting it drift in. The evolution of equipment has changed the away golf is played. Now it's about hitting it hard and long. I don't think this is a massive problem. We sometimes have an overly-romanticised view of what has come before. The game has changed dramatically. The only negative is that some of the older golf courses have become obsolete, as they don't want professionals shooting 30 under par in a tournament. 
You'll be able to play the senior tours in 2021, does that excite you?
When you're 28 and someone asks you about seniors golf, you tell them there's not a chance of you playing it. But when you're 48 that idea sounds a lot more appealing. It can be soul-destroying to play your abolsoute best and finish 56th. When you look at some of the players who struggled in their last four or five years on tour, and then switch to the seniors and start winning, you start to think 'I'll have some of that'.
Relationships are important, and these are the guys I've played on tour with for years. I don't have relationships with the young kids out on tour.. I played with Ernie Els recently in the Czech Republic and it was nice, like turning the clock back 20 years. You've got stuff in common, so I'm looking forward to the cameraderie, and renewing old friendships, just as much as the golf.
You've enjoyed a long relationship with Ecco Golf. How did it come about? Back in the 1990's I got a phone call from Ecco explaining that they wanted to start making golf shoes. The golf shoe market in those days was dominated by only two or three brands, and the shoes were very heavy and pretty rigid. I found it an interesting proposition, and got involved in helping Ecco to develop those early models. It developed into a big success story, first in Northern Europe, and then across the world. Even now, we have great conversations how to move footwear forward and how to develop it. It's amazing how much fresher my feet feel after a round of golf now than when I first went came out in tour, the comfort levels are through the roof.
How involved do you get with Ecco's current designs?
I'm happy to offer my advice when it's asked for. Shoes must support your feet while swinging the club, and they need to comfortable for a whole round, so they need to be lightweight as well. There are a huge number of demands on a golf shoe, especially when you're walking 10km a day. There has been a huge shift to hybrid footwear in recent years, much of it lead by Ecco. You just have to look at the youngsters out on tour these days, none of them wear spiked shoes. They've grown up with spikeless shoes, and they feel comfortable wearing them on and off the course.
What are your specific demands for your footwear?
Stability for me is the most important aspect. I want support when I'm hitting the shot. There's now a great balance of being able to make a shoe light and soft, while still including stability. You need to feel secure in the shoe, and when I look back at some of the earlier soft shoes, you didn't get that feeling. 
You've co-written book about the secrets of golf's winners during which you discuss the tough times you had coping with depression. How hard was it to relive those moments in your career?
A lot of sportsmen and women go through dark moments that they are not trained to deal with. I went through a season in 2004 where I didn't want to get out of bed. I had kids, so I had to, but I wanted to hide from the world – and my life. I then had a good stretch, but I had it again about 2010. The first time lasted a long time because I avoided the truth and tried to cut corners. Then I woke up one morning and looked myself in the mirror, and said 'I have to beat this.' My tool was having those conversations with the mirror. As I've got older I've found it easier to deal with, as I've been there before and got myself out of it, and It's easier to see the warning lights.
Mind Game: The Secrets of Golf's Winners by Michael Cavin and Thomas Bjørn, is published by Yellow Jersey (RRP £20).