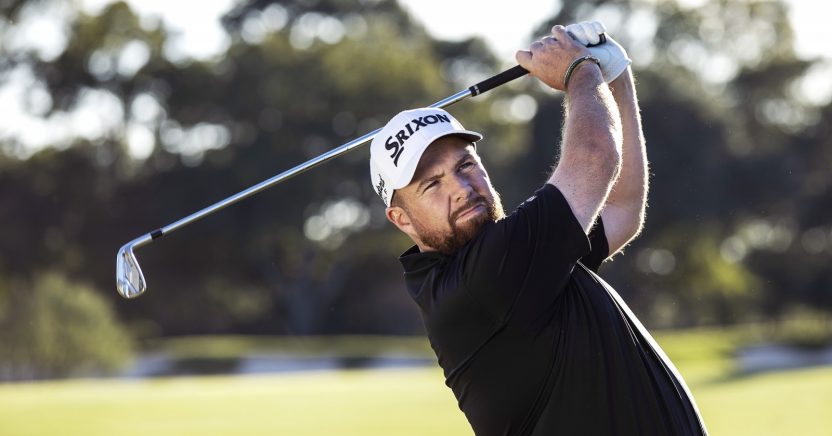 SHANE LOWRY

Having spent almost two years with the Claret Jug in his possession, Ireland's Shane Lowry knows more than most just how special the trophy is, and he won't be giving it up easily when he tees it up at Royal St George's.
As you'd expect from a man who has held on to the Claret Jug longer than anyone since Dick Burton's five-year reign during the Second World War, Shane Lowry has more than a few stories to tell about his unexpectedly extended period as the 'Champion Golfer'.
While his boisterous celebrations in Dublin in the days following his triumph at Royal Portrush were well recorded, it is in the quieter moments in the intervening times that have enabled the 34-year-old from County Offaly to appreciate the magnitude of his success, as well as understand what the trophy means to so many people, and not just his friends and family.
While wheeling a padded suitcase containing the Claret Jug through a hotel lobby in Dubai at the end of 2019, Lowry recalls being stopped by a man who asked whether the box did indeed contain the iconic trophy. Admitting that it did, the man asked whether he could see it. Being the generous soul that he is, Lowry agreed and got out the jug from its protective case for yet another photo op. Seeing the coveted trophy in all its glory and having held it in his hands for a few seconds, the man in question promptly burst into tears. The Claret Jug tends to have that effect on men of a certain age.
"Seeing that kind of reaction made me realise what a special trophy it is and what it means to so many people who love golf," says Lowry. "Just to have it in my possession for this length of time and being able to share it with all my friends and family, and so many other people, has been just an incredible honour. Obviously, I've got my replica, and I'll have that forever more, but to have the real thing for two years has been amazing. I'll be sad when the time comes to give it back, but hopefully I get it back at some stage, whether it be St George's this year or maybe another time down the road."
Well, that time has now come, and later this month will see Lowry defend his title at the aforementioned Kent links in front of a slighter smaller crowd than the one which witnessed his impressive six-shot win at Portrush in 2019, in what seems like a distant age.
Lowry has worn the mantle of being 'Champion Golfer' pretty well, all things considered, and although he hasn't won a tournament since his Open success, a world ranking hovering around the top 40, and a dozen or so top-20 finishes over the last two seasons, point to a man that is still playing some very decent golf. Eighth place at The Players Championship in April and tied fourth behind Phil Mickelson at last month's PGA Championship, and three other top-10s this season, indicate that he is coming into form at the right time of the season, especially with a Ryder Cup just around the corner. Like most players in the top echelons of the game, Lowry sees himself as a big game performer these days and aims to peak for the biggest events.
"It's great to do it in the big tournaments," he says. "I feel like I've been doing that over the last couple of years where I arrive at those big events and manage to kind of find some sort of an 'A' game, or something towards my best game anyway.
"Standing on the 18th green at Royal Portrush with the Claret Jug in your hands gives you a lot of confidence in yourself. I don't know what it is, but I just love major championships. I just love the big weeks. I feel like I'm maturing as a golfer, as a person, so I feel like when I get to those big tournaments I kind of know what's going to happen. You're going to have ups and downs; you're going to have difficult times on the course, and you're going to have good runs, and when you're having those good spells, you need to take advantage of them."
Now semi-permanently based in the States, having recently bought a house in Florida, Lowry has clearly benefitted from competing regularly on the PGA Tour, and although he will continue to support the European Tour, it's not hard to see why his future career lies in America. "Ireland will always be my home, but while I am playing in America it's great to have a base and have somewhere to call home. I've definitely matured as a player since I've moved to America, and my game has really benefitted from the practice facilities and the climate."
While chasing individual glory is one thing, Lowry is hoping that he can finally become a team player by making a debut appearance at this September's Ryder Cup. The Irishman currently sits in 10th position on the World Points List and is just one place behind the last automatic qualifier, Victor Perez. Whether he qualifies by right or earns a captain's pick, Lowry certainly did his chances of making Padraig Harrington's starting line-up no harm when playing alongside the Ryder Cup captain in the last round of the PGA Championship at Kiawah Island last month, where the pair finished tied for fourth having started the final day tied 23rd.
"I was kind of trying to cheer him on and play my own game but playing with Paddy was one of the best days I've had on the golf course," says Lowry. "It was so much fun. We were obviously grinding it out to beat each other and trying to do well in the tournament, but it we kind of spurred each other on."
He adds: "I wasn't really playing well enough to make the [Ryder Cup] team in 2018, but after missing out on that my main goal at the start of last year was to play in the next one. I was maybe about 80th in the world ranking at the start of 2019 but winning The Open put me in all the big events and since then I've given myself a really good chance to make the team. Obviously, I'd like to qualify automatically, but if I have to get one of the three captain's picks, so be it. Either way, I would really enjoy being on that team, and I definitely feel that I can bring something to the party. I'm confident in my own ability, and know that if I'm put on the first tee against anyone that I can bring home a point for the team."
Before thoughts turn to Whistling Straits, however, Lowry still has the small matter of trying to defend his Open Championship title at course that he has only played once before – and that was over 15 years ago.
"I played The Amateur Championship at St George's in 2006 and I shot 81 in the one round that I played around there, and I haven't been back since," he jokes. "Obviously, I watched Darren [Clarke] win his Open there in 2011, and I know it's one of the trickiest venues on the Open rota, especially if you get a hot summer in England. It can get firm and fast and play like proper links golf, so it'll be a great test.
"I'm really looking forward to the whole experience of going there as defending champion. In that respect it's going to be a new experience for me. There's a certain weight of expectation and extra attention that comes with being the Open Champion, especially given that we've had to wait so long for it to come around again. Whatever happens, it's going to be really exciting. Everyone's just looking forward to playing The Open Championship again, and I for one can't wait."
WHAT'S IN SHANE'S BAG?
Driver: Srixon ZX5 (9.5°)
Fairway Woods: TaylorMade SIM2 3 (15°), TaylorMade M5 5 (19°)
Utility: Srixon ZX Utility (21°)
Irons: Srixon ZX5 (4, 5), Srixon ZX7 (6-PW)
Wedges: Cleveland RTX ZipCore (50°, 58°)
Putter: Odyssey Stroke Lab Exo 2-Ball
Ball: Srixon Z-Star XV