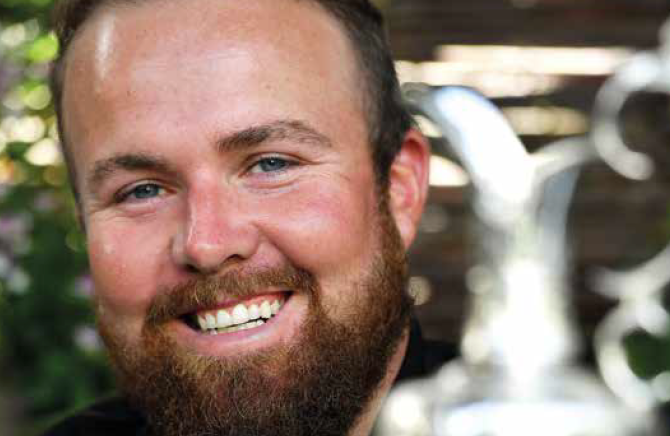 SHANE LOWRY

Open Champion Shane Lowry talks through his magical week at Royal Portrush and reveals what life has been like since claiming the coveted Claret Jug
What have the last few months been like since your Open win?
It's been an amazing time, as you can imagine. I didn't know whether I would ever get a chance to win something as big as The Open. It was almost an impossible dream, so for it to happen so relatively early in my career is something else.  I had to take some time off from golf, not only to celebrate with friends and family, but also to take stock of what I had achieved and to really soak it up. I wasn't ready to get back on the golf course straight away, so it was good just to take a step back for a few weeks, spend some time on holiday with my family in Portugal, and enjoy it all.  
So do you feel like the win has truly sunk in?
I'm not sure when it will fully sink in. I've been introduced as the 'Champion Golfer of the Year' a few times in recent weeks and I still have to pinch myself that they're talking about me. I'm sure it will sink in over the coming months, or however long it takes, but it still feels very surreal.
So you took Rory McIlroy's advice to enjoy the moment?
I certainly did. It's been well catalogued that although my form has been quite good in the last year or so, before that I was really struggling. I lost my PGA Tour card and I was down in the dumps a little bit with golf, so when you come back and get to achieve something like I did at Portrush; to win The Open Championship on the island of Ireland, it is dream stuff, but I wanted to take it all in, and reflect on the highs and the lows.
I came back in mid-August for the FedEx Cup's Northern Trust and the BMW Championship and going into those events was pretty confident of winning a place in the Tour Championship, but I just missed out by three spots. It was disappointing not to make the top 30, but there are lots of other big events to play for before the end of the season. I've got to focus on winning the Race to Dubai title now, which would be amazing, while the points list for next year's Ryder Cup is just starting up, and I'm going all out to make Padraig's team.  
What was going through your mind during those four days at The Open?
I didn't feel too comfortable after the practice rounds, but when I look back now, I was actually playing okay. A lot of players get a little bit uptight about how they're feeling in the run-up to a big tournament. I had a great conversation with my coach that Wednesday night and I went out Thursday and I felt like I played lovely. Shot a nice score. Got myself right into the tournament, really where I wanted to be. Then, after ten holes on Friday, I was leading the tournament by a couple of shots and I was flying. But I then started to look at the leaderboard, and I let it slip a little bit. I tried to get to the clubhouse quicker than I should have, and didn't stay in the flow. If anything, that really helped me on Saturday, because when I got going I just put the foot down. I'm not sure I've ever been in that place before, but it's a nice place to be. I felt like I was going to birdie every hole. Obviously Sunday was incredible, to win The Open, but the Saturday was one of the most surreal things that's ever happened to me on a golf course. The crowds, the singing, everything that was going on – it was unbelievable.
Has your life changed since winning?
Yeah, it's changed my life a little bit. I'm definitely getting recognised a lot more now, which, if anything, has made me feel more comfortable out on the golf course, especially when I was playing in America. Fewer people are getting me confused with Beef [Andrew Johnston] or JB Holmes, so that's been one of the upsides of being better known!
What has been the reaction been like in Ireland?
The support I've got back home has been incredible. Hopefully it's going to do a little bit to help raise the profile of golf in Ireland, and it's going to get some more kids playing the game. It does feel like it has had that effect a little bit over the last few weeks, and hopefully I can move forward and become more successful.
What is the coolest thing that has happened to you since winning?
For me, the coolest thing did I was at Croke Park in Dublin on the Saturday evening after the tournament and got a standing ovation from 60,000 people before the hurling the semi-final between Kilkenny and Limerick. That was pretty cool. Croke Park is kind of sporting mecca. When I was a kid, that's the only place you wanted to play, so it was pretty cool doing that.
How does a win like that change your expectations of yourself?
Being a major champion doesn't give me the God-given right to go out and shoot 65 tomorrow. I still have to go out there and play my own game.  I'm going to give every round 100 per cent and shoot the best score I can, and see where it leaves me at the end of each week. I feel the way I've been playing all year, and the mental frame of mind I've got myself in, has been really good. I just need to keep doing that and see where it take mes. Hopefully I can kick on and become the player that I really feel like I want to be, and go on now and maybe win a few more tournaments and move further up the world tankings. Ultimately, my main goal for the next ten months is to make the Ryder Cup team and to be on the plane to Whistling Straits. Nothing has changed in that respect. I'm in every big tournament, so hopefully I can give it a good run and be on that team.
When did you first realise you might be able to make a career out of golf?
When I came out of school, I played a lot of amateur golf and was knocking around with Rory and quite a lot of other good players,  but I don't think I've ever been the type of person who would think or say that I'm good. I made the Irish team when I was 19, and from then on I kind of thought that I was going to be a professional golfer, but I was young and naïve. When I started to win amateur tournaments, I kind of thought, this is what I want to do and this is what I can do, but you never know how it will pan out.
Stay up-to-date: