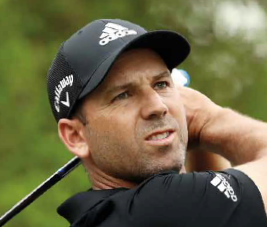 SERGIO GARCIA

After suffering a mid-season slump last year, Sergio Garcia has come firing out the blocks in 2019, and is going all out to add to his already impressive list of tournament wins, including a second major triumph following his memorable Masters victory in 2017
By your own high standards, 2018 wasn't one of your finest seasons, but judging by your results so far this year you seem to be coming back to some of your best form. How do you feel your game is progressing as we move into the 2019 major season?
If you take away the middle three months of the year, it was actually a pretty good season. Unfortunately, those three months happened to coincide with some of the majors and some pretty other big tournaments, so in those terms it looks like I had bad year.
But if you look at first part of the season, and the last four months of the year, I played pretty well. I had a lot of top 10s, two wins – if you include the Ryder Cup, which I do! – and plenty of other solid results.
I just don't want those three months to happen again. You can have a couple weeks here and there when you slip up a little bit, but you can't let it continue for that long. That's never happened before in my career, and I don't want it to happen again. So I'm going to focus on making sure that I keep practising hard and playing hard, and try to maintain the consistency that I've had throughout my career.
You've certainly put yourself into contention a lot over the last six months.
The way I've always looked at it, you can't get victories without being up there among the leaders on Sunday and finishing in the top ten, and in that respect I'm pretty pleased with the way my form has been trending over the last four or five months.
I've had six or seven top-tens, including a victory at Valderamma, and been in there with a chance over the weekend, and playing much more consistently. If you're fighting to finish 25th, you don't have a chance of winning, so I'm pleased that I'm putting myself into contention more often, and hopefully another win is around the corner. 
Is age catching up with you yet?
I'm 39 now, 40 next year, so winning isn't so easy at this age, or any age, although it's great to see Francesco [Molinari] and Paul Casey winning in their 40s. Winning becomes tougher as each season goes by. All the new guys on tour are much better now than they used to be, and, you know, it doesn't make life any easier. At the end of the day, the only thing I can do is give myself the best chance, and try to play the best way that I know. You know, if I'm around the top ten and I have my chance of winning, I'm happy.
When you look back on the tail end of last year, was there a particular moment that you felt things turned around that got you on this great run of form?
I felt things starting to turn at the Wyndham Championship at the end of August. I shot 66 and 65 in the first two rounds, and felt like my ball striking was coming back. And then I played great in Portugal, but didn't really make anything, and finished seventh, and then being a part of the Ryder Cup team in Paris obviously gave me a little extra boost.
And from then on all my tournaments were at a good level – winning at Valderrama, finishing second in Sun City, and top-tens in Dubai and Hong Kong. I feel like I've been playing at a nice level and that's why we got all those good results. I've just got to try to keep going along the same lines and keeping up the momentum.
Because you already have a major in the bank, do you feel that you have different expectations of yourself?
I don't know. I mean, I know what I want to do, and I know what I want to achieve. Obviously, my expectations are different, yes, because now I want to win my second major. I want to keep being consistent. I want to try to keep improving in all aspects of the game, and giving myself chances at winning tournaments and winning majors. That's what I've done my whole career, and that's what I want to keep doing. Then it's just a matter of having a great week at the right time and hopefully I'll lift another one of the big ones.
Now that the majors are bunched together over four months, has that changed the way you've prepared for this season over past years?
No, I haven't really done anything differently. You obviously try to be at the best level you can be between April and July, but it's not easy to peak for such a long period of time.
However, if you can get into a good rhythm, on a really good roll, over that time, you would put yourself in with a good chance of bagging a few really big wins. The flip side is that if you have a few bad weeks, you've got to bounce back quickly and find a way to get going again.
I actually don't mind that the majors are close together, because it makes it exciting for everyone, players and fans, as you don't have to wait too long for the next one! It's definitely going to be exciting, because we know that as soon as Augusta finishes, they know there's the PGA coming the next month, and we don't have to wait two months until the US Open.
You put Callaway's new Epic Flash driver in the bag at the beginning of the year. How have you got on with it?
I really like it a lot. I like the look of it and have been impressed with the way it has worked for me. I love the playability that it's given me, the way the ball is coming out a little bit faster. The combination of Epic Flash driver and the new Chrome Soft ball works perfectly for me, and I'm really pleased with the control, and distance, that it's given me. I'm feeling in a great place with all the new gear, and hopefully it can help me push on.
Are you surprised how quickly you've got comfortable with the new clubs?
Of course, there are always going to be question marks when you've been with one company for so many years, but those questions kind of got answered as soon as I started working with Callaway, and I couldn't be happier with way things have turned out.
It's becoming quite common for players to switch their equipment around. I think it depends a little bit on the player, but also it depends what company you go to. Obviously I went from a good company to a great company, so I wasn't going to a company where I didn't know if they had good products or not. In coming to Callaway, I knew that I was going to a great golf company with great quality equipment, really good people, and a great way of working. 
In addition to equipment changes, there's obviously been a lot of talk about the new rules changes that came into force this season. What has been your take on it?
It's been quite tough for a lot of tour players to suddenly change what they've been doing instinctively for so many years. The knee-high drop, for instance, has certainly almost caught me out a few times, so you have to pay attention in this those kind of situations.
A lot of the new rules were introduced to simplify things for amateurs, make the game a bit easier to understand, and speed up play, so whatever rules can do that is good for the game.
For a tour point of view, the rules have certainly resulted in a lot of players taking more advice from referees before they take a drop, and other types of issues, so that has, if anything, slowed down things a little bit, but I guess it'll pick up again once it begins to become second nature. These things take time.
You put your hands up when you mistakenly thought your putt had been conceded in your quarter-final match against Matt Kuchar in the WGC last month. How hard was that to take? 
It's quite simple. I screwed up. Obviously, I missed my putt and I kind of tapped it with the back of my putter before he said anything. Yeah, it's a loss of hole. I understand that.
The only issue was that Matt was like, 'I didn't say it was good, but I don't want to take the hole. I don't want to do it like this'. So I was like 'Okay, it's fine, what do you want to do? There are many options that you can do if you don't want to take the hole, even though I've already lost that hole.' But obviously he didn't like any of the options that were there. It's fine. At the end of the day, I'm the one that made the mistake.
If you make a mistake, you get penalised and that's it. I've always said it. I'd rather get penalised, if I've done something wrong than get away with it and know that I've done wrong. I don't know if there's other people that can live with that, but for me, it's tough to know that I've done something wrong and got away with it.
Talking of putting. What have you been doing with regards to putting with the flag in or out?
From long range, I've generally been putting with the pin in, because it gives you a little bit better view of the hole, and also you don't have your caddie or someone else's caddie, like, walking around the hole, so that kind of helps. But when it comes down to putts inside 30 feet, I like to putt with the pin out every single time.
As Europe's all-time top Ryder Cup points scorer, you're obviously hoping to be a part of the team as a player for many years to come, but have you given any thought to when you might like to take on the captaincy?
I don't even I don't even want to think about it yet. You know, I'm hoping that physically, mentally and game-wise, I'm going to be good for a few more. So when that time comes, if it comes, I'll think about it and I'll make a decision, but it's not something that I'm focused on at the moment. I'm still fairly young –  well, I am in my eyes!
Finally, do you think becoming a father has helped your golf game in any way?
It has definitely given me something else to think about when I'm not playing, that's for sure! My daughter, Azalea, is awesome, and being a dad is the best thing. It changes you, for sure, mostly for the better, but it has been an incredible experience so far. It's not been too much of a distraction from my golf. If anything, it's made me want to work harder, and be a better player.
Stay up-to-date: