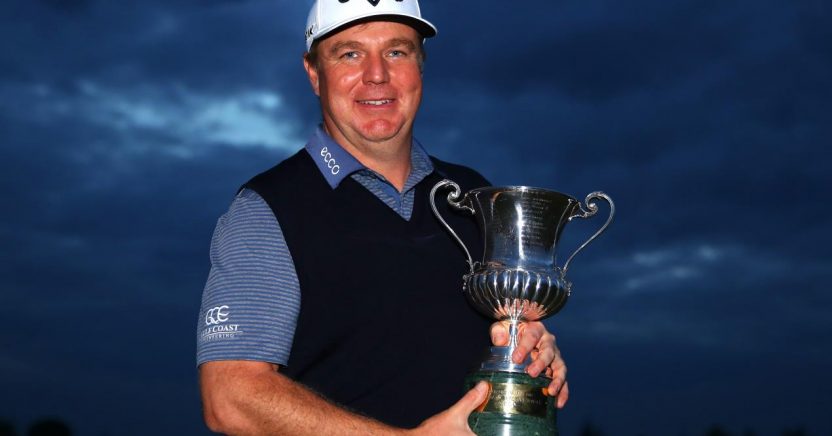 Ross McGowan

Surrey's Ross McGowan got back in the winner's circle after an almost 12-year absence with victory at this autumn's Italian Open. Golf News editor Nick Bayly caught up with the popular 38-year-old to talk about the overdue win and how he has coped with playing during a global pandemic
It had been over a decade since your last win on the European Tour – at the Spanish Open in 2009 – before your win in Italy in October. What was your immediate reaction to getting your head in front again?
It was part elation, part relief, but it certainly came at the right time for me. It's no secret that the last few years have been difficult, and as each year goes by it gets harder and harder. At 38, I'm no spring chicken and every year the new guys coming through just seem to be hitting it farther and farther, and the courses keep getting longer, so it's tough for shorter players like me to carry on competing at the highest level.
I've had to get every ounce out of my game to stay competitive, and I while I know that I'm never going to be able to bomb it 320 yards, I've really worked hard on my short game, and that has really helped me compete and put some scores together. There are so many variables in golf, not to mention 156 odd rivals each week, that winning isn't always the end goal. Playing consistently is the key to being successful, and the wins are just the bonus when everything comes together for a particular week.
You seemed to come into the Italian Open with not much form to speak of. What clicked that week?
To be honest, I felt I had been playing pretty well coming into Italy, and certainly wasn't out of form. I'd made the cut in four of the previous five tournaments and felt like my ball striking was good, and the work that I've put in on my wedge play and my putting was really beginning to show up in my performances on the golf course. So, while I certainly wasn't brimming with confidence, I felt that my game was progressing, and I was hoping to put in a decent performance.
Had you played the course at Chervo before?
No. It was a new venue for pretty much all of us, which helped level the playing field a bit. Having said that, it was a long course, and definitely suited the bigger hitters. I'm not one of them, so there were lots of holes where I really had no chance of flying the fairway bunkers, so I had to adopt a different strategy. I had a lot of long approach shots – and not all of them from the fairway – but fortunately I was hitting my fairway woods and long irons well, and my short game was pretty tidy, so I was able to put together some decent scores.
You holed some lengthy putts throughout the week. Is that often the difference between a good week and a great week on tour for you?
Yes, it can be. Everyone hits the ball miles these days – well, a lot do – so it often comes down to whose putter is hot on any given week. I was rolling the ball well all week, and we picked some good lines. I also holed a bunker shot at the right time on Sunday, which kept me in it, so sometimes you need that extra bit of luck to get you over the line. I didn't have a great week with the driver, but thankfully it was a wide-open course, and I still had some angles into the greens!
You had a new caddy on the bag in Italy. How did that come about?
Yeah, because you need to have your caddie in the Covid bubble with you, I started back in June with my girlfriend, Chloe, on the bag. She's a nurse and has no idea about caddying, but it seemed the best way for us to be together safely. She had been working full-time at a hosipital before the pandemic, but she decided to become an agency nurse during the lockdown, so when tournament golf returned in June she took time off to caddy for me. That was never going to be a long-term solution, so a mate of mine, Henry Smart, has taken over bag duties. We've known each other since we were juniors at Banstead Downs. He's a very decent golfer – plus two or three handicap – so he knows how to get it around a golf course. I've played lots of golf with Henry and he knows my game. He started out in Italy, so he got off to a pretty good start!
When it comes to reading putts, Henry gives me how he sees it, and I tell him how I see it, and if they're wildly different views, we generally find a compromise. Of course, I have to go with my instinct, but having another pair of ears and eyes is essential. He also helps me stay relaxed between shots and keeps me positive, and, so far, it seems to be working. Henry runs his own business, finding college places in America for UK golf students, so he's keeping that ticking over while caddying for me until the end of the season.
How did you celebrate the win?
After I'd done my post-tournament interviews with the media, Henry and I headed straight for Milan airport, so there wasn't much time for celebrating at the course. There were a few players and caddies on the flight back to London, and the cabin crew noticed that I was carrying a rather large trophy, so the Champagne came out and we had a few celebratory drinks on the plane. Back home, we were met by Chloe's parents at the airport, and we went home and the Champagne came out again, but we weren't able to hold much of a party given the Covid restrictions. A few neighbours congratulated me, and I had lots of nice messages on social media, but it was very much of case of moving on to the next event and trying to keep the momentum going.
It must have felt very different to win a tournament without having any spectators watching. How have you found playing without galleries over the last six months?
It's been very strange, and not something I want to get used to. Some players need the crowds to feed off, while others find it a distraction. I certainly miss having spectators around, but I've been around a long enough to not get particularly bothered by them one way or another. It was certainly bizarre to come off the final green in Italy and be clapped by 30-odd officials, sponsors and players, rather than a few thousand spectators, so that was all very different.
I've been really impressed with how the European Tour has got us back playing during the pandemic, and all the safety protocols that have been put in place. Yes, the odd player has tested positive, but they have mainly occurred outside of the Tour bubble, so we've had no mass outbreaks at events. Some players have struggled a bit with the lockdown measures and all the restrictions that are required to keep the bubble intact, but with everyone's place on tour carried over until next season, no-one has been forced into doing it, other than for purely financial reasons. I've been tested about 30 times now, and it never gets any less unpleasant, but it's a very small price to pay for being able to carry on doing your job, especially given what else is going on in the world.
Last year's Italian Open had a prize fund of €7m, and the winner, Bernd Weisberger, won just over a million, and next year it's going back up again. I'm sure you're happy with €160,000, but part of you must wish it had come 12 months earlier?
I know, but I'm not complaining. Last year the Italian Open was a Rolex Series event, and had much stronger field, so it is what it is. Someone in the States emailed me to congratulate me on winning a Rolex Series event, as I think it had still been billed as one over the there, so I had to put him right on that one. Playing on tour is incredibly expensive, so while I'm enjoying the win, I've got to get straight back out there and carry on playing well.
The two-year exemption that comes with the win must be huge bonus?
It's almost as important as the win itself, to be honest, as it will allow me to get into the events that my previous category didn't, and I'll be able to plan a schedule that works for me, rather than going from week to week not quite knowing where I'll be playing. Hopefully the Covid crisis will have calmed down next year, and we'll be able to get to back to playing something like a normal schedule, and fans and sponsors will return, so that prize money can get back to somewhere near where it was before, but all that's out of my control.
How did you pass the time during the initial lockdown back in April? Was it a big bedsheet across the washing line for pratice?
Not quite, although I did manage to buy a hitting net online. It wasn't very good one and I had to improvise a bit, as I kept on breaking it. To be honest, after 15 odd years on tour, I was quite happy to put the clubs away for a few weeks. I didn't want to sit around the house doing nothing, so I did some volunteer work with a friend delivering vegetable boxes around where I live in Surrey for five or six weeks. It got me out of the house and gave me something to do. There are only so many TV box sets you can watch – although believe me, we've watched a few!
Callaway has stuck with you throughout your career. How important has it been to have their continued support on the equipment front?
Yes, they've been very good to me throughout all the ups and downs. It would have been easy to have be let go when it was on the Challenge Tour and missing cuts, but they've stuck with me, and I'm really grateful for their support, and all the great products I've been able to use. I'm not particularly technical when it comes to my equipment, but I've been really impressed with some of the new kit, and I'm always keen to test out whatever new launches they have in the pipeline. Hopefully the next driver will go even farther!
WHAT'S IN ROSS'S BAG?
Driver: Callaway Epic Flash Sub Zero (10.5)
Fairway Wood: Callaway Mavrik (17)
Utility Iron: Callaway X Forged UT (21)
Irons: Callaway Apex Pro '19 (3-9)
Wedges: Callaway Mack Daddy 4 (46, 50, 56), Callaway Jaws MD5 (60)
Putter: Odyssey Toulon Design Atlanta
Ball: Callaway Chrome Soft X
Stay up-to-date: