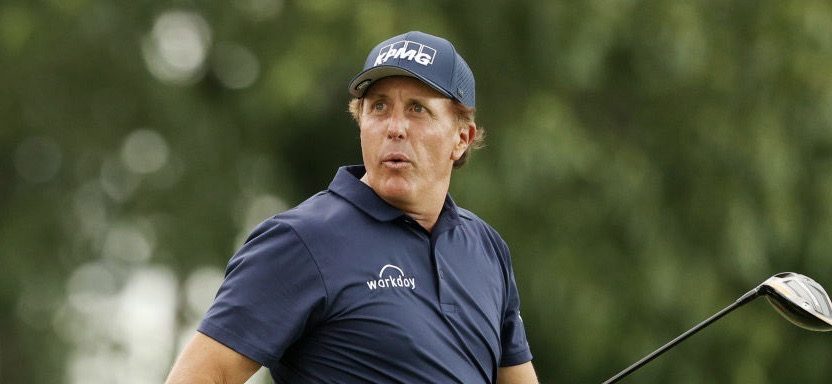 PHIL MICKELSON

With 51 wins to his name, including five majors, and 12 Ryder Cup caps, Phil Mickelson has done it all during his 28 years on tour. But despite turning 50 in June, the PGA Tour's elder statesman is still enjoying competing with the new generation and shows little sign of wanting to join the senior circuit
Having reached the milestone of 50 last month, and been on tour for almost three decades, how motivated are you to carry on competing at the highest level?
The simple answer is that I love what I do. I love my job. I love trying to play and compete. I know it's a cliché, but I've always felt that age is just a number. I feel like I'm in the best physical shape I've been in for years and there's nothing holding me back from potentially playing some of my best golf. I also enjoy playing and learning from the young guys coming through, and I enjoy trying to play my own game and compete against them regardless of my age. I still feel like I've got the game to compete, and when I stop being able to do that, I'll try something else.
You perhaps weren't in the greatest shape back in your 30s, yet you still won a lot of tournaments during that time, so clearly your success isn't all about fitness?
Whenever I watch TV highlights of tournaments that I've won or played well in 15 or 20 years ago, it's kind of embarrassing the way I looked and the way I didn't really take much interest in my health. It just wasn't something that a lot of players paid much attention to back then. Now I take a much greater care about my health and fitness – you have to if you want a longer career – and I feel a lot better than I did 15 years ago. As I said, there's nothing stopping me from being able to play and practice as hard as I can to play well out here. Now it's all on me.
Can I get the best out of me again? I believe I can, and I'm excited for the challenge ahead. The greater the challenge, the greater my interest level. I respect and understand how talented and great players these young guys are, but I also enjoy the challenge of beating them, and I think I'm ready to do that.
Have you given any thought on whether you'll enter any Champions Tour events this season or is your focus still 100% on the PGA Tour?
It's nice to have the option to move over to another tour, but I feel there's still a lot of unfinished business on the PGA Tour. I still want to play in another Ryder Cup, and I still feel like I can compete at this level for a few more years. When I stop hitting bombs maybe I'll play the Champions Tour, but I'm hitting some crazy bombs right now. I still have a decent swing speed, and I hit the ball every bit as far as I used to, if not further.
Usually, as guys move into their mid-40s, they regress, but I had a 5mph clubhead speed increase last year. A little bit of commitment in the gym, a little bit of work ethic, and all of a sudden there's no reason that physically I can't do today what I did 15, 20 years ago – in fact I'm doing more – so hopefully I can be competing on the PGA Tour for a few more years yet.
Having said that, I am looking forward to competing on the Champions Tour, whenever that time comes. I grew up playing with a lot of those guys, so having a chance to compete against them again is going to be a lot of fun. I'll probably play two or three senior events a year, because I want to support it, but I feel like if you want to successful on a tour you have to commit entirely to that one tour. So, I don't see myself oscillating back and forth between the two.
Not many players get better once they pass 50. What makes you think that you can be the exception to the rule?
As I said, I believe that I have the tools to carry on playing at an extremely high level, I just need to show it. Physically, I'm swinging the club better, more on plane, striking it more solid, hitting the ball longer, and swinging the club faster than I have in many, many years. I know that there's a lot more to winning than just hitting bombs, and I'm trying to put all those pieces together and I'm enjoying the challenge. So I don't know if I can answer that directly. I would rather just show what I believe is possible and keep grinding away.
It's obviously been a strange season due to the impact of the pandemic. How did you cope with the lockdown and now that the PGA Tour is back, what has it been like to play with no fans?
Yeah, it's a unique feeling to be playing in front of empty galleries, but I feel like the PGA Tour has done an amazing job of creating a safe environment, given how many people are out here competing. It's great that we're able to still play, even though it's very quiet and we don't have a lot of people out here. Of course we miss the fans, and I can't wait for them to be allowed back in, but at the same time it's also still a job for us, so to be able to carry on working during what has been a terrible time for so many people, has been a bonus and hopefully we will have provided some entertainment for fans watching at home on TV. 
The game has changed in all manner of ways since you joined the tour in 1992, but what do you make of the distance some of players, most notably Bryson DeChambeau, are able to hit the ball these days? Do you think it might hasten the USGA into changing the rules governing equipment on tour?
I personally don't feel that you should punish athletes for getting better. I don't think that we have had massive equipment improvements in recent years, we have just had players that have been able to take advantage of the equipment more so than they were able to in the past. And I hate to see that discouraged.
If you look at what Bryson has done to make his improvements – getting in the gym, lifting weights, changing his diet etc – and now you're talking about trying to roll it back because he's made himself a better athlete? I don't know if I agree with that. I understand the impact distance is having on golf course design, but from the small little bubble of the PGA Tour, I don't believe players should be punished or discouraged from continuing to try and get better.
What did you consider 'a bomb' back when you first came on tour compared to what it is today?
When I first came out on tour, in 1993, I was 25th in driving distance at 269 yards, and in 2003 I was 25th in distance at 299 yards, so there's a 30-yard difference there. These days, I'm averaging 303 and I'm down in 50th spot, so there are a lot more guys who hit the ball long.
There are many ways to win a golf tournament, but you cannot dominate the sport without speed. You might be able to do it for a year or two, but you can't out-perform everyone consistently without clubhead speed. These days, hitting a bomb means flying the ball 315 yards and getting 182mph ball speed with ideal launch conditions. That level of speed allows you to put more spin on the ball, it allows you to hit the ball longer, make carries come in higher and softer into the greens. It allows you to do more with a golf ball than if you don't have speed, so the best players in the world are going to have to have speed.
However, I believe there is a point of diminishing returns at about 182mph ball speed, which is going to equate to about 122mph clubhead speed. You usually have about a 1.5 smash factor, 150 per cent energy transfer, but if you start going faster than 182mph with your driver, you start losing a little bit of control and that's why you'll find all the top guys right in that area.
I used to struggle to get 170mph, but now I can get it up to 182mph pretty much at will, so distance isn't holding me back. It's maybe my accuracy with my iron play or my putting. But if I didn't have the speed to start with, it wouldn't even give me a fair chance.
How much do you want to play in another Ryder Cup?
Well, Steve [Stricker] knows how badly I want to be on the team, but I don't want to be a captain's pick, I've got to earn it. If I play to the level that I believe I'm capable of I'll make the team. But if not, you've got to give those spots to some younger guys that haven't had the chance to play and compete the way I have.
Stay up-to-date: