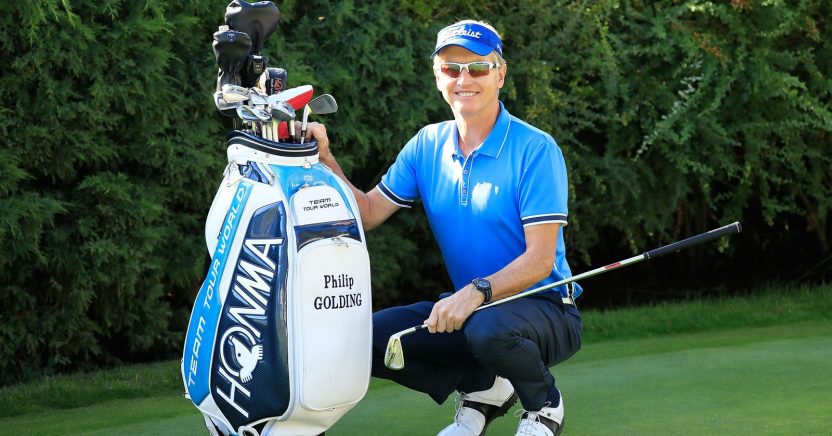 PHIL GOLDING

Golf News editor Nick Bayly catches up with Hertfordshire tour professional Phil Golding, who is enjoying a second wind to his career on the revitalised Staysure Tour
You've won five times on the Senior Tour now, most recently at last month's Staysure PGA Senior Championship at the London Club. Was that the most satisfying win of your senior career, shooting 63 on Sunday to beat a strong field?
It was certainly the biggest win of my senior career in terms of prize money, but also in terms of the status of the tournament. The PGA Senior Championship has just retuned to the Staysure Tour's schedule, and is one of the most important events of the season, so it was a real honour to win it following its revival.
As far as the final round went, I didn't think I had much of a chance of winning when I set out, as I was six shots behind the leader, Santiago Luna, but I birdied the first two holes, and was then five under after seven, so by the turn I knew I was in with a shout. From then on, the only time I looked at the leaderboard was on 16, after I made a mistake there. I made a good par on 17, and then a nice two-putt for birdie on the last, but it wasn't until 45 minutes later that I knew I was the champion.
It's not been a great season for me by any means, but getting a win always does wonders for your confidence, so hopefully I can take that forward with me for the remainder of the season.
Do you feel like you have the type of game that will keep you competitive over the next few years?
I've been lucky enough to be injury-free for pretty much my whole career, and I try and take care of myself physically. I go to the gym a couple of times a week, and work on cardio fitness and strength conditioning. We older guys can lose a lot of muscle mass quite quickly, so it's important to keep in shape if we want to compete with the younger guys coming through.
How did you cope with the gap between leaving the European Tour and joining the senior circuit?
I just love competing, so I made sure I stayed match fit by playing in every pro-am and every competition I could, and tried to keep my edge. I always made sure I had a card in my hand, and never played just for fun. I turned 56 this year, but I still enjoy the heat of competition just as I did when I was a youngster. It never leaves you.
Do you have a coach, or are you self-taught now?
I do have a coach – his name is Lawrence Farmer and he's based down at Long Ashton Golf Club in Bristol. I see him every few months, and we work through a few things. Whenever I see him, I come back feeling re-energised about my game, and it's always good to have another pair of eyes to look at your swing. I'm not a particularly technical kind of player, but there is always something that can be improved upon.
You've been playing with Honma equipment for a few seasons now. How did that come about and what do the clubs bring to your game?
Yes, I've had Honma irons and hybrids in the bag for a while now, and really love them. After leaving the main tour, equipment sponsors dry up pretty quickly for most senior players, which, while not great, also frees you up to play with any clubs you like. I hadn't heard much about Honma before, but as soon as picked them up I really loved the whole look, feel, and the performance. They're premium quality, forged clubs. They are used by a lot of tour players in Asia, but they're gradually getting known over here. I'm certainly one of the only guys on the Staysure Tour using them, but they work for me and I will be carrying on using them. I've got a new set waiting for me at Core Golf in Thame, as my current set is getting a bit battered, so I'm just waiting for a break in the tournament schedule to go down there are get properly fitted.
You're attached to Sandy Lodge Golf Club. How often do you get to play there?Yeah, I've been at Sandy Lodge for a while now, and tend to do a lot of my practise there in the evenings. I was a member for a long time, but it's only recently that it has been a more formal attachment. I love the course, and they've just invested in some new practise facilities, with a new short game area, with a chipping green and a practise bunker, which is great for the members, and for me. It's a really thriving club and it's great to be a part of.
You won the French Open at Le Golf National in Paris back in 2003, and you've had good finishes there on the senior tour. What is it about the course that brings out the best in you, and how do you think it will stand up as a Ryder Cup venue?
I think everyone knows that it's going to be a brilliant Ryder Cup venue. The closing stretch is pure drama, while the risk-and-reward options, the water, and the general layout, is perfect for all formats of tournament golf, especially the Ryder Cup. I hope that a lot of the matches go the distance, as the 18th is a superb closing hole. When I won the French Open it was a par five, so while it wasn't easy, especially if you decided to go for it in two, it wasn't the tough par four that it is today. I'm not sure why I performed so well that week. As with most winners on tour, I think I had one of those hot weeks with the putter. 
Do you think the StaySure Tour gives over-50s a good shot at making a decent living?
I think we're up to 19 events now, which is a really big improvement on where we were a few years ago, when we started in May and finished in December, and had large gaps in the schedule. Staysure's headline sponsorship has been a real shot in the arm for the tour, and it's really good to see more tournaments and more venues coming on board. The new event in Sharjah really gets the season off to a good start in March now, and there is new mixed tournament taking place in Jordan next season, so we're getting a kind of Middle East swing going. There is also now a really good run of events in the summer, so much so that some players are now taking a few tournament weeks off to recover! 
While you've enjoyed plenty of success in Europe, you've not had much joy in the senior majors over the last five years. Why do think that is?
Yes, it's been very frustrating not to have put myself into contention in the big ones. I had a decent run at the US Open this year, where I finished inside the top 30, but other than that it's been tough going. Obviously the competition is a lot tougher, as are the courses, but I've gotten off to slow starts a few times, and then been chasing cuts, and before you know it you're on the plane home.
If the 56-year-old Phil Golding was able to pass on one piece of advice to your younger self, what would it be?
I'd probably tell myself to have more self-belief. Anyone who goes on tour is a good golfer, but not everyone can cope with the mental side of competing. Golf at the elite level is played 90% between the ears, so I would have told myself to focus more on the mental side of the game.
Stay up-to-date: