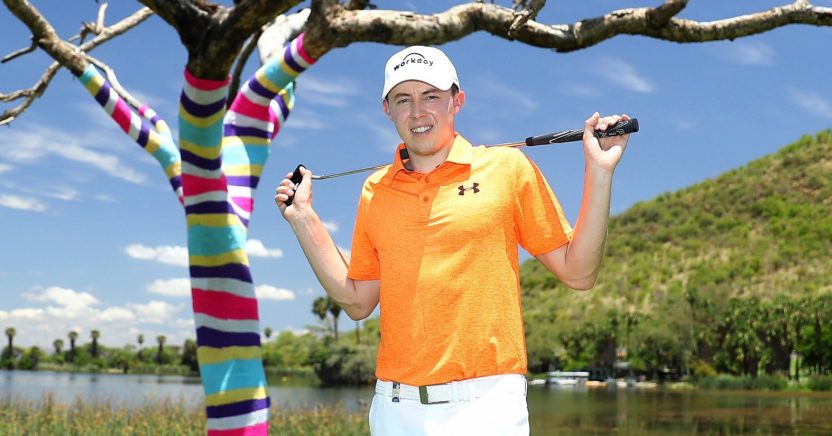 MATT FITZPATRICK

After moving up to a career high 25th in the world rankings, Matt Fitzpatrick is going places fast, but he's doing it while keeping his feet firmly on the ground
 Now that the dust is settling on the 2019 season, how did you rate it?
It's been very good. Technically my best year, in terms of world ranking points and my play in general – strokes gained stats and stuff like that. The only thing that was missing was a win. It's a kind of a shame that the season had to end where it did, as I felt like I was coming into my best form. There's no doubt that I had a disappointing season last year, and didn't kick on to where I would wanted to be, so hopefully I've gone along way to putting that right this year. I did a lot of soul-searching last winter and put in a lot of work on different aspects of my game, and the results this season have been good, although, as I said, I'm disappointed not to have anything to show for it in terms of trophies.
What have you done differently to previous seasons?
I deliberately played fewer events this year, and that really helped to keep me fresh throughout the season. When Billy [Foster] came on to my bag, he stressed the need to take more breaks. Looking at my schedule in years gone by, I was playing as many as 32 events, and this year I think played 28 or 29. It doesn't sound like a big difference, but it is. It's an extra week or two to work on the game, and it's an extra week or two of rest. It all adds up over the course of a season, and it certainly made a big difference to my performances. I'm seeing the benefits of a more structured approach to my practicing and I feel more prepared for tournaments.
Your caddy, Billy Foster, described you as 'the ultimate professional' and 'Bernhard Langer's love child' following your runner-up finish at the Arnold Palmer Invitational. I guess you've got to take that as a compliment?
It was nice to hear that, but I guess what he really means is that I might be prone to over-analysing things and get overly obsessed with details! I'm very lucky to have Billy. He's got so much experience, and has been there, done it and got the T-shirt.
What are your goals for 2020 and beyond?
I would like to be competing in all the Majors over the next few years and would obviously like to try and make the Ryder Cup team next year. I would also like to keep enjoying my time on the European Tour and climbing the world rankings – cracking the top 15 or 20 would be nice in the next season or two.
What do motivates you to keep on pushing?
No matter how good your achievements are, I think you can always be striving for more. There will always be guys that are having success and I suppose that competition is what motivates me. With so many players out there playing well week-in and week-out, you can never be content with your own game, no matter how good it is. I really want to be the best golfer I can possibly be, and if I give 100 per cent – there isn't much more I can ask of myself.
 Who first got you into golf?
It was my dad who got me into the game. He has played most of his life and when I was nine he took me up to my local club, Hallamshire in Sheffield. I got the bug and the rest is history really. I was actually more into football at the time and was enjoying that, but there came a time where golf was picking up some momentum so I ended up dropping the football and taking golf a bit more seriously. Now my brother is also playing to a decent standard in college, so it is a golfing household that's for sure.
Who have you taken inspiration from throughout your golfing career?
Tiger Woods was definitely my main inspiration. When I was a kid I used to stay up late with my dad and watch him of the weekend of the Masters. He is such a great player to watch and always provides so much excitement. Being from England I have a lot of admiration for Sir Nick Faldo and what he's achieved. Six Majors, countless worldwide wins and one of the top point scorers in the Ryder Cup – he's had an incredible career, and one I wouldn't mind emulating.
Where's your favourite tour destination?
We go to so many great places on the European Tour over the course of a season, but I like events such as the Hong Kong Open, which is hosted in one of the best cities in the world and I love the golf course at Fanling. It's nice to come away from the venue and have a look around the major cities and forget about golf for a few hours. I also like Italy, so the Italian Open is another favourite tournament of mine. I also enjoy my time in America. The way of life over there, the weather, the golf courses, it always adds up to an enjoyable time for me.
How do you like to relax and spend time away from the golf course?
For the most part I like relaxing with friends, going for dinner, heading to the gym or jumping on my Playstation. I find it hard to get away from golf, but if I do that is what I'll usually get up to.
You have had great success at a young age, winning the US Amateur, being low amateur in both The Open and US Open, and reaching number one in the World Amateur rankings, and now, a five-time European Tour winner aged just 24. What do you put your successes down to?
I think I probably owe a lot to my mum and dad, not only for the values they've instilled in me, but also taking me all over the UK and Europe when I was a teenager.  If it wasn't for them, I wouldn't have had the opportunity to take up the game and compete at a good amateur level, which was really the stepping stone to where I am now. I also think they brought me up on decent values and always said to me that if I worked hard, and keep my head down things would usually work out, and that's kind of the philosophy I've stuck to.
You've been a Rolex ambassador for a few years now. How did that come about and which is your favourite watch?
I think the relationship officially started at the Masters in 2016. I know there had been some discussions going on and I was so keen to just get it done because I wanted to be associated with the brand. Being with Rolex has surpassed my expectations and I couldn't have wished for a better partner to be involved with.
It's hard to pick a favourite Rolex, but I currently have the Platinum Daytona, which was the first Rolex I bought and I wanted my first one to be really special and one that I really loved. I also have a Submariner, which is kind of my everyday watch. I also recently purchased something a little different to those, which was the rose gold Yachtmaster Oyster Flex. That's really nice and I have been wearing that a lot since I bought it last year. I was also lucky enough to receive a Rolex during my 2016 Ryder Cup appearance, which is engraved with the Ryder Cup logo and I also received one when I won the DP World Tour Championship in 2016.
Stay up-to-date: