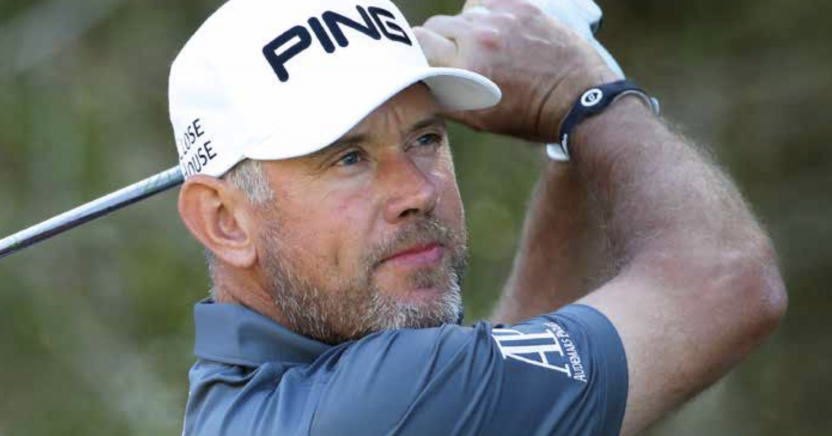 Lee Westwood

One of the most successful players of his generation, 46-year-old Lee Westwood
is defying his age and the odds as he bids to build on a record-breaking career that is now entering its fourth decade
Winning in four different decades is a tremendous achievement, given that you've only been on tour since 1993. Does it feel that long and how proud does that make you feel?
It did make me feel really old when I first heard that, but, you know, I've been out here a long time, this is my 28th season. So yeah, I'd like to add a few more wins to that tally. But I think it just shows the level I've played at for such a long time. Longevity in sport is difficult to achieve.
It gives me a lot of pride to set new sort of targets for everybody. That's what sport is about, isn't it? If I've got that kind of drive, then I feel like I can continue to move on like this.
I'll be the first to admit that I've never been a finely tuned athlete, but I honestly feel as healthy now as I ever have during my golf career. I don't groan too much when I get out of bed in the morning to put my socks on, I've got new commitment to the gym now, and it's really helped keep my golf game in decent shape.
How well did you feel you were swinging it coming into Abu Dhabi?

To be honest, I was trying to keep a lid on how I felt I'd been swinging it – especially my putter. I felt really comfortable with where my game was at, and wondered whether I could translate into a tournament environment. Mentally I'm a lot calmer now, and I put that down to working Ben Davis on the psychological part of it.
You also look very comfortable on the greens. How much of that is down to the new claw grip?
I went to see putting coach Phil Kenyon over the winter and he said we had to make a 'distract' change. We decided the claw was my best option. All the figures on the computer in his lab said that was the best strike and the best roll I was getting. Since then, I've continued to persevere and it's gotten more comfortable as time has gone on.
If you could sum it up in a few words, what's been the key to your success?
Hard work. You've got to be dedicated, and you've got to love it and you've got to love practicing. There are no shortcuts. It's just hard work. You know, when you think about leaving the range one afternoon and going to sit by the pool and have a beer or something like that, you've got to stay on the range for another hour. A few years back, there would be Tiger, Vijay [Singh] and me as the last three players on the range, and it isn't a coincidence that some of the most successful people, whatever line of work they're in, are the hardest workers.
With age, hopefully comes a bit of wisdom. Do you think that has played some part in your longevity at the top level?
I don't know about wisdom, but experience certainly counts for a lot. Ben [Davis], my psychologist, has instilled in me the fact that I'm playing the game I love for a living, and I should enjoy it, and sometimes it gets to the point where you don't enjoy it enough.
You know, we're lucky to be doing what we're doing, and a lot of people are far less fortunate. If things are going wrong, I don't really lose my temper anymore. I've never been a club breaker, but I don't really get wound up too much. I've become much more analytical and less emotional on the golf course.
I think that's just spreading through my whole game, especially my putting, and I'm on a very even keel. If the ball doesn't go in, the ball doesn't go in. The only thing I can control are the movements and the actions I'm doing to roll it on line to the hole. It might hit something or I might misread it, but I'm now able to brush it off and move on to the next hole, and it's served me well.
I think I'm quite a dangerous golfer at the moment because I'm playing golf like I don't care. Greg Norman told me to do that years ago. He said, 'Try your balls off and don't give a bleep about the outcome or the result.' So that's what I'm trying to do. I'm playing like I did when I was a kid really. That doesn't mean I'm not trying, but I don't care – there's a big difference."
You hit a golden patch around the turn of the millennium that no-one else has really come close to matching. Do you remember what it was like when you were winning for fun?
Yeah, I think I won seven tournaments in '99 and eight in 2000, something stupid like that. They were coming along like taxis, and I didn't appreciate it enough, I don't think, as it was just like a big merry-go-round. Looking back now, I appreciate it much more, and I understand all the hard work that had to go into it. I was working hard back then, but winning came easy, and I think that's just because I was a young man and I was rolling with the momentum of it all.
How amazing would it be to win another Ryder Cup on US soil, especially after the somewhat jarring experience of Hazeltine?

I didn't really feel that jarred by Hazeltine. You know, I've been on losing Ryder Cup teams, and I've been on seven winning ones. It's a big honour to represent Europe in the Ryder Cup, whatever the result.  I was joking when I said I would love to play another Ryder Cup as long as I'm good enough. I wouldn't want a captain's pick, but if I qualified, I would definitely play. So, you know, I'll be trying my hardest, there's no doubt about that, but you can't control qualifying for a Ryder Cup team. You can only control what you do each week you tee it up. I'll just be trying to do the small things right and it will lead on to the big things, and hopefully one of them will be qualifying for the Ryder Cup.
So we might have to wait a few more years before we see you in the captain's job then?
Well, it might well be a few – I'll be 49 in 2022, so I'll be amazed if I'm still competing for a place in the team as a player. I'd love to captain in Italy. Other people will want to do it, but I'll definitely be throwing my hat in. To my mind, that's the ideal time to be captain. I'll still be playing out here and I'll still be in touch with the players.
Stay up-to-date: