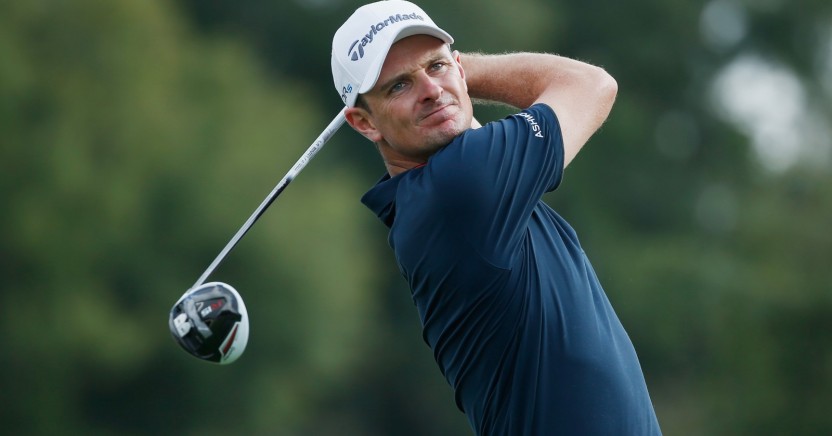 JUSTIN ROSE

TAKING AIM AT AUGUSTA
After winning the US Open in 2013, Justin Rose is gunning for more major glory in 2015, kicking off with the Masters at Augusta, which has been a happy hunting ground for Hampshire's finest export
Have you reached the stage in your career where your goals are purely based around peaking for the Majors?
I think that Augusta can loom very large in your head for a long time, because it's eight months between when the US PGA ends and the Masters rolls around. So it's a long time to think about it. But it's also very important to treat each event individually, and to get the most out of each event you play in, without chalking it up to 'preparation'. I think it's important to get your confidence going prior to Augusta, which means taking every event very seriously. I've changed things up a little bit this year, because I'm playing Houston before Augusta, and that's what's on my mind right now. I had two weeks off prior to Augusta last year, and I felt like it was too long to think about the tournament coming around. I was six over par through 12 during the first round last year, and felt that I needed to change it up this year.
What targets have you set for yourself this season?
Of course, you can target the Majors, but first and foremost, I look at myself and how I can improve. I look at parts of my game where there are weaknesses and try and iron those out. I believe that if you can improve your skills year on year, you're going to create chances to win tournaments. Besides winning majors, I'd like to become a more prolific winner. That would be a step up for me, but major championships are really what your career is going to be judged on at the end of the day.
Are there any specific parts of your game you think you can improve upon?
There are always improvements to be made, but I feel that I'm a point in my career when I'm not looking to make any drastic changes, I'm just trying to find that one or two percent here and there, without the risk of changing what I'm good at. For me it's fairly simple. If I looked purely statistically, at strokes gained with my long game, I'm pretty good. And towards the end of last year I started to hit the ball a lot further, which I think is going to open up a few new scoring opportunities for me this year. If I look at courses like Augusta, for example, that can really help. If you look at who has won that tournament in the last few years distance off the tee is certainly a factor. It's fairly obvious, but making a few more putts also helps a lot, too.
This will be your 10th Masters Tournament. What have you learned about Augusta in that time?
I learned the hard way in 2004, when I tried to chase the golf course. You've seen all the eagles and birdies on the back nine over the years, and I was trying to do that on Saturday. You can't chase the course. You've got to let it unravel. In the past, I've always tried to get ready for Thursday, but now I try to get ready for Saturday and Sunday. I assume my game will put me in contention and I try to get ready for that.
Augusta is different from almost any other venue we play – there's so much course knowledge that you build up through the years that it swings the pendulum in favour of the more experienced player. I still learn stuff every time I go out on the course, but I'd like to think that the pendulum is more in my favour now.
You've got to get over just being there. It's such an awe-inspiring place, as a first-timer you can't help but take it all in and potentially not be as focused on the course as you should be.
How does your approach to The Masters differ than any other tournament? Do you work more on any particular aspect of your game?
You really must have two shots in your bag: the ability to hit it right to left, and be able to have your ball come in to the greens high and soft.
You're now averaging over 300 yards off the tee. Do you think that gives you a better chance of winning at Augusta than ever before given the trend towards long hitters prevailing?
Absolutely. Length off the tee is a massive advantage at any course, especially Augusta National. Having the ability to come into those greens with shorter, more lofted irons gives you a leg up on the field.
How is your new R15 driver performing for you?
The R15 has been a fantastic addition to the bag this year. I'm hitting it longer than I have, and the added adjustability gives me the ability to dial in my preferred shot shape.
What is favourite and least favourite holes at Augusta?
The 11th is such a bear – you're required to hit a long iron to such a small target. My favorite hole on the course is the 12th. For such a short hole, it provides a significant challenge with wind that can be unpredictable in that corner of the golf course. It's so unique for us as professionals to be away from galleries, and on the green at the 12th you're almost on an island being so far away from the patrons.
What would be on your champion's dinner menu in 2016 were you to win the Masters this year?
Lamb rogan josh would definitely be the main course.
How do you fancy your chances at this season's other major venues – Chambers Bay, St Andrews and Whistling Straights?
It's funny that we're going to be playing three majors in a row where we probably won't see too many trees. It's going to be pretty interesting. Chambers Bay is going to play very linksy, with lots of shots running into the greens, wide fairways, which is somewhat similar to Whistling Straits.
Given where Chambers Bay is, it's going to be very difficult to prepare, as I would normally for a US Open. I normally try to sneak in a day here and there to familiarise myself with the course, but it being out west in Washington, it's a lot harder to do that. So I don't think anyone is going to have a great deal of an advantage around there.
And then The Open at St Andrews; we all know the ball is on the ground, running, crazy bounces, and humps. It's just one of the most fun Opens you can play. I've played well there in the past, and as an amateur I won a big tournament there and finished second in the St Andrews Links Trophy, so it's a venue that I feel comfortable at.
I don't really have any reason to feel good or bad about Whistling Straits, so looking at the majors as a group, I would say that I fancy my chances around all of them.
It feels like you've been on tour forever, but you're still only 34. Do you feel like your best days are still ahead of you?
I'd certainly like to think so. I turned pro when I was 17, so I've been on tour half my life. At 34, I think one of my strengths is the experience that I have under my belt, but there comes a point where you can't keep chalking things up to experience – it's time to go ahead and just do it. I tried to make that shift when I was 30. I said that the period between 30 and 40 was going to be the period in my career where I was either going to do it or I wasn't.
My 30s have been pretty good to me so far, with wins every year since turning 30, so hopefully I can continue that trend at least for the next five years, although I don't really have a time limit on it.
I'm fitter now than I was when I was 21, so that's another positive. The more resilience I can build at this point in my career, the longer that's going to last me into my 40s.
You moved from Florida to the Bahamas at the end of last year. Was there a golfing motivation behind the move or was it just for family reasons?
We had a place there for two or three years, and over time we developed a lot of friendships. There are a few more outdoor hobbies than I had in Orlando, fun things to do with the family to get away from golf, so we're giving it a go. We still have our house in Lake Nona, but the kids are starting school and they love it. On a golfing front, what they have built down at Albany gives me a real opportunity to be the best player I can be. The golf course, the practice facilities, and the gym are all amazing, and I have everything at my disposal to continue to be a better all-round player.
Can you explain how important your caddie [Mark Fulcher] is in the context of 'Team Rose'?
Fooch is very important. Any time you establish such a long working relationship, you get to understand one another on a deeper level. He is able to pre-empt things out on the golf course. When we get under pressure or we get towards the end of a tournament, I feel like that's where I can rely on him the most. That's something that's you can only really build up over time.
After the Ryder Cup, all the players were given a copy of the official DVD. Have you watched it yet?
I watched it with my family over Christmas. It was nice to remind myself of what we achieved. It was also fun to see how the other guys played their matches, and where the other points came from. From a personal point of view, it was also nice to have so many great moments, key putts, and celebrations on record to look back on if I ever need to find some confidence from somewhere. It's great to have that in the archives. The Ryder Cup will always provide me with great memories, but once it's over, it's on to the next thing.