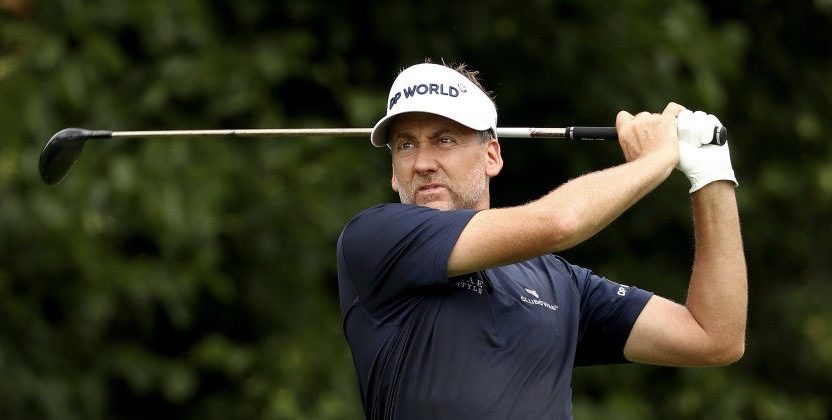 Ian Poulter

After spending time with his family and working on his fitness during the lockdown, a re-energised Ian Poulter has set his sights on moving back up the world rankings and earning a seventh Ryder Cup cap at Whistling Straits next year

EXCLUSIVE INTERVIEW BY NICK BAYLY
How was lockdown in Florida for you?
I don't want to belittle the situation, as it has clearly been a horrendous time for a lot of people, but I enjoyed not going anywhere for eight weeks or so and just staying at home with the family. I've been on tour for 25 years now, so, while the circumstances were not how anyone would want them to be, it was good to spend some quality time with my wife and kids and just do nothing for a while.
I put the clubs away initially, and then maybe played three or four rounds at most as we were coming out of lockdown. The golf course at Lake Nona was open throughout, as were the practice facilities, but I didn't make use of them. I've got an indoor studio at home with Trackman, a Zen Green Stage, a balance plate and few other bits of kit, so I had all I needed to keep my game ticking over. But, honestly, it was nice to not have to think about golf for a while and press the reset button. I did do quite a bit of fitness work though, and I feel fitter now than I have done in years.
What's it been like to be back playing again under Covid restrictions? How safe do you feel?
It's good to back out competing again, although under somewhat strange circumstances. We had just over a month to prepare for the first event back, the Charles Schwab in early June, which was plenty long enough, so I don't think I've ever been as prepared for an event as I was for that.
I've been very impressed with the way the PGA Tour and the host venues have handled the situation and enabled us to get us in a position to play, and where we, as players, feel comfortable to play. I think they've done an incredible job. I feel very comfortable with all the measures that have been put in place, and I'm taking all the necessary precautions to try and keep myself safe.
There was a video of you on social media undergoing the Covid-19 test. How uncomfortable was that?
It's just a bizarre sensation. It's not painful. It's just you don't want that swab going as far back as it goes. It's over within ten seconds, and then your fingers are crossed for a negative test. It's not something I'm going to get used to, but it's small price to pay to be able to carry on doing your job.
How does it feel to be playing without the galleries and the fans?
It's still very strange to be honest, and I'm hoping this won't be the future for professional golf, or any other professional sport. I, like a lot of players, feed off the fans, and enjoy the reactions, whether they're positive or negative. Hearing the cheers gets the adrenalin going and I definitely miss that. When you hole a bunker shot or play a great approach, it feels odd to be met with a wall of silence, or perhaps the odd ripple of applause from a family looking out over their garden fence. You get used to it, but it's not how I want it to continue. They're looking at getting fans back as soon as it's safe to do so, whether that's this season, at the US Open, the Masters, or whenever, no-one quite knows.
You've enjoyed a decent start back, finishing 14th at the RBC Heritage and fifth at the Workday Open in Ohio. What kind of shape is your overall game in now, as you move into your mid-40s?
Swing-wise I feel like my game's in a good place. I'm technically where I want to be and I'm swinging the club pretty well. The difference between an 'ok' week and a decent week for me is generally down to how well I'm putting, so when that's on I feel like I can compete.
I've shot 12 rounds in the 60s in four events I've played since the restart, but the scoring has been incredibly low, so you need to be aggressive, yet not make too many mistakes. It's a fine balance, knowing when to push and when to back off, but the cuts have been around four and five under, so if you don't make a good start you can soon find yourself chasing it. Fitness-wise, as I said, I feel like I'm in better shape than I have been for ages I have got no injury issues, so hopefully I've got a few miles left on the clock. 
A lot of the younger guys on tour are smashing it 350 yards off the tee these days – does that make it harder for you to compete?
I've never been particularly long off the tee, but then again, I'm not particularly short either. I might be 40 yards behind some of the longer guys off the tee, but I know the strengths and limitations of my game and I know how to get my ball around the golf course. You only need to look at the stats to know that it's not the guy who hits it farther that wins every week. Every facet of your game has to be on to win, and so while a lot of the top players are hitting it miles, they're not dominating the game or winning every week.
You, like everyone, must have been disappointed with the postponement of the Ryder Cup, but do you feel like it gives you a little more breathing space to earn your place on the team next year?
No-one wanted to play a Ryder Cup without fans – there really would have been no point, so it was definitely the right decision to delay it a year. Hopefully they'll have found an antidote to the virus by then and everyone can be there. Of course, I would love to make the team, but that comes as a result of playing consistently well for a long period of time, peaking for the right events, and then everything takes care of itself. If I don't get in the automatic spots, I hope I'll be close enough for Padraig to consider me for selection, but that's a long way off now, so we'll see how things pan out. The Ryder Cup has given me some of the most memorable moments of my career, and I'd like to add a few more.
When will you be back playing in the UK again?
I won't be back for the summer swing, but I'm planning on playing in the Alfred Dunhill, the Scottish Open and then the BMW at Wentworth in October. You really can't be travelling back and forth in the current situation, and although I am keen to support the European Tour in any way I can, there are just too many risks associated with switching back and forth. I've not seen my parents since Christmas, as they're in lockdown, so I'm hoping to catch up with them too when I come back.
It's clearly going to be a tough time for the European Tour given its geographical reach. How do you think things will play out?
Playing in as many different countries and continents as the European Tour does is definitely going to affect how it operates in the current crisis, but I really hope that it can come out of this in good shape. I hope to support as many events as I possibly can, but it's clearly a difficult situation for everybody. Players who only play in Europe have clearly missed some competitive opportunities, but the European Tour looks to have got a decent schedule moving into the summer and early autumn, so hopefully it can bounce back.
Ian was speaking to Golf News ahead of the launch of 2K's new PGA Tour 2K21 game, which is out on August 21 for PS4, Xbox One, PC, Nintendo Switch and Google Stadia. Ian is one of 12 PGA Tour professionals that players can compete against across 15 licensed PGA Tour courses to become the FedEx Cup Champion. To find out more, head to www.pgatour.2k.com.
Stay up-to-date: