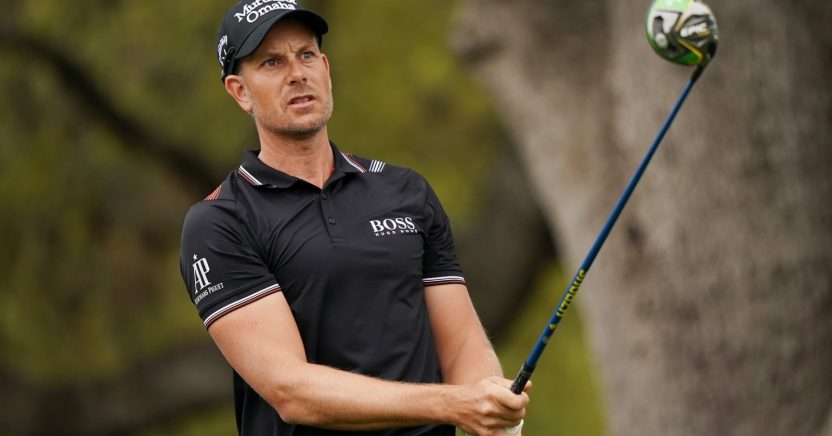 HENRIK STENSON

Three years after winning the Open Championship in a thrilling showdown at Troon, 43-year-old Henrik Stenson is hoping that his magic links touch returns when he tees it up at Portrush for his 15th appearance in golf's oldest major
It's been three years since your incredible win at the Open at Troon in 2016. What is your abiding memory of that week, and, of course, the final round in what was a virtual match against Phil Mickelson? 
I remember feeling very calm all week, very focused. My preparation was great before the Scottish Open the week before: I got to look at Troon and played it a few times, so I had a good plan on how to play my way around the course. My game was in good shape, too. I came off an important win a couple of weeks earlier at the BMW International Open in Germany, which was my first win for a couple of years. That was a big confidence booster for me.
Looking back now, the picture I have in my mind is holding the Claret Jug on the 18th green after the presentation. The champion always gets his photo taken in front of the press, and I was sitting down in one of the bunkers around the green. I was an image that I'd seen so many times before when I watched the Open on TV as a kid, with the winner hoisting the Claret Jug up into the air, and receiving the appreciation from the fans. I could see that so clearly when it was finally my turn to do that. It was a very proud moment.
At what point did you think that it was yours to lose?
When I made that huge 51-feet putt from the fringe on the 15th hole. I had just birdied the 14th to move one ahead of Phil – and then I made this absolute bomb from the edge of the green all the way across. I think he realised at that time he was in pretty big trouble. It gave me a two-shot lead with three holes to go – it was still not over, but that was really the moment that edged me ahead and gave me a comfortable lead coming into the final holes. I didn't know that I broke the tournament record with that birdie on the 18th. To be fair, I was as much in the zone as I've ever been playing those last five holes. I made four birdies in the last five and I didn't even know what score I was on. I just played each shot as its own
How do you rate your chances at Portrush this year?
I wouldn't say I'm quite up to the standard of 2013 or 2016, but my game is in decent shape and I'm not far away. I have had some really solid tournaments over the first part of 2019 – and coming off a top-tens at the Canadian Open and the US Open, and I feel like I've done a lot of good stuff. It might just be that little extra 10-15% that needs to click in and then I hope I'll be able to challenge at The Open.
You've obviously had some injury problems last year, and were out for a while before the Ryder Cup. How are you holding up physically these days? 
I'm feeling pretty good. I took some time off with my elbow and that feels better. It's close to a hundred per cent, so it's not bothering me playing or practicing golf, which is good, so I think we can hopefully leave that behind us.
How have you found the switch to the major schedule, with them coming in quick succession from April to July?
I think it has worked out great, but there were some tournaments that I would have played in the past that have now been taken off my schedule. The main difference is that I have played in the US from February right the way through to the US Open. It's been a pretty hectic schedule over the last three or four months.
What are your thoughts on the new rules? 
I think, in general, the changes have been good for the professional game. Of course, in the beginning it was a bit of a steep learning curve for everyone, and we all needed a bit of time get to know the correct ways of dropping and how to address certain situations out on the golf course, but it soon became second nature. The game is constantly in development, so it's no different with the rules.
You put Callaway's new Epic Flash driver in the bag this season. How has that been performing for you?
Yes, I did some testing in November in Dubai and the driver felt good and I got some good numbers. Callaway's tour team built up some drivers for me, and it's been in the bag all season. I'm happy with the way it performs, looks and feels. I also tried the Epic Flash 3-wood, and it goes further than my Diablo, no question, but for me it's more about having that feeling of trust, that when you're standing on the 72nd tee and you need to hit a fairway, if you've got a club that you really like, sometimes it's hard to change it. I've had the Diablo for nine years now, so it's been a good friend to me. I've also got a Rogue 4-wood, because my 3-wood is 13 degrees, so I have a good gap down to my irons.
My Callaway Legacy Black irons are also an older model. They were only sold in Japan and Germany or something like that, so there are not too many of those around.
I've got four Callaway Mack Daddy wedges now, as I had a change in my setup in August last year. The biggest changes were the pitching wedge and 4/5 iron. So my 4-iron is really kind of in-between 3 and 4, so it's a weak 3 or strong 4.
Putter-wise I've got an old Odyssey Fang White Hot #7. I like a thick leading topline, and I've got the lines on the Fang, so I find it pretty easy to line up with. The one I used to win The Open with is happily retired in my office!
You'll be 44 by the time the next Ryder Cup comes around. Do you think you've got one more left in you? 
As long as I'm playing decent golf, and I'm up there on the points list, I'd like to think I can bring something to the team. I'd rather not have to rely on a wildcard, as I did in Paris, but I got three points from my three matches, so I like to think that I justified my place in the team. The next one is obviously a long way off, but I'll certainly be giving it my full attention. The Ryder Cup has given me some of my most cherished moments on and off the golf course.
Stay up-to-date: