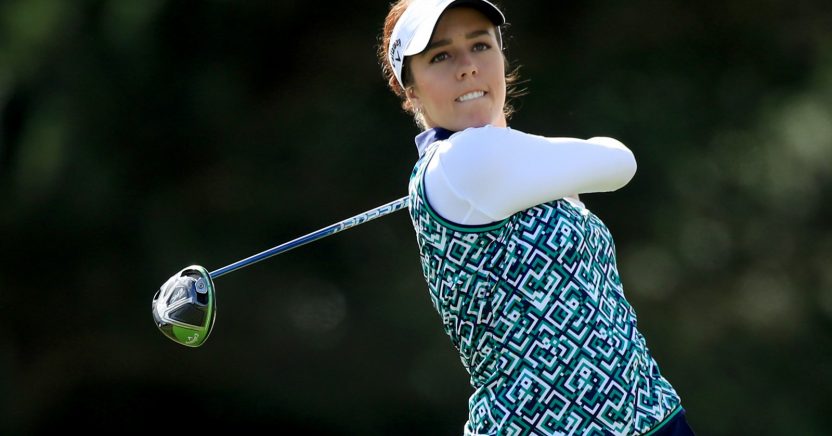 Georgia Hall

Georgia Hall, the poster girl for British golf since winning the Women's Open at Royal Lytham in 2018, talks about winning her first LPGA Tour event, life in lockdown, the pressures of playing two tours, and why having a boyfriend who is also her caddy has helped her stay relaxed
First things first – congratulations on winning your first tournament on US soil at the Portland Classic in Oregon. How does it feel to have finally got that on your golfing CV?
Yes, it's definitely a relief to get past that hurdle. It's been one of my goals to win in America for several years now, and while the circumstances of playing tour golf are pretty wierd right now, it feels like the burden of my own expectations has been lifted a little bit with the win. I always knew it would be harder to win over there on the LPGA Tour, so it's a big relief to finally get it done, and hopefully I can take that confidence with me into what remains of the season and beyond.
You looked a little shocked when you came off the final green in regulation play and told you were in a play-off. Did you not keep tabs on the scores?
I was feeling pretty nervous over the last nine holes, and for whatever reason I never looked at the leaderboard once, so I had no idea where I was until right at the end. To bogey the last and fall back into a play-off was devastating, and I had to try and regroup and make sure I won the play-off. I've never been too obsessed with scoreboards. Sometimes it's good to know where you stand, and sometimes it isn't, but in this instance I'm quite happy I didn't look, although it was just a relief to win the play-off.
Of course, your last win – and your first tour win – came at the Women's British Open in 2018. As great and as life changing as that was, how important is it to be able to move your story on from that?
Yeah, I mean, obviously it was amazing winning my first major, let alone my first event. Then, yeah, I had a kind of so, so kind of year last year, where my first half wasn't very good and my second half was better. So, yeah, it's obviously a bit of a cliché, but I'm just taking one tournament at a time and not really focusing too much on the future. But my goal this year was to win in America, and I'm really glad I've done that.
It's obviously been a difficult year for everyone, but how has 2020 being for you under Covid-19? Where we you when lockdown was announced in March and how were those three months off?
I was playing in Australia when I heard, and I came straight back to England. Like everyone else, I couldn't leave the house for six or seven weeks except for an hour of exercise a day, so initially it was pretty tough for someone who normally spends most days outdoors.
I did a lot of running and some more anaerobic exercises, weights and stuff, and I would say that I'm stronger and fitter now than I've ever been. When I was allowed out to hit balls I soon noticed that my irons were going five to seven yards further, and although that doesn't sound much, it feel good to be that bit longer. Better fitness has also given me more energy and that's really helped me since tournament golf came back.
While the lockdown was horrendous for a lot of people, for me it was a way to slow down, be at home a little bit more, and catch up with some things around the house. For one thing, I'm now a professional-level painter and decorator. We painted about six or seven rooms, so that's a skill I didn't have before!
A lot of top European players headed over to America as soon as the LPGA Tour started back up in July. What made you decide not to stay at home?
I didn't want to go all the way over there and have to quarantine for two weeks, and then come straight back and play the Scottish Open and the AIG Women's Open straightaway. I was quite happy here. The weather was pretty good and I really wanted to make my return back at the Scottish Open.
How worried were you about playing in America given the situation with the pandemic over there?
Obviously I take these decisions very seriously, but so far I've been impressed with the protocols that are in place, and I've not heard or experienced anything that made me think it's the wrong thing to do. Fingers-crossed, things will get much better in America as we go along, but if it comes to a situation that I'm stuck out there for a bit, then I will have to stay out there and try and make the best of it.
How important was it to have the Rose Ladies Series to compete in over the summer?
Initially, I wasn't sure if I was going to play in the series at all and instead just practise hard for when the Tours resumed. But I played in a pro-am in Worplesdon soon after golf re-opened in May and I absolutely loved having a scorecard in my hand again, and I quickly decided that I should play in as many of the series events as I could.
They were very different events, only being one round, so you had to get off to a quick start to have any sort of chance. But it gave me something to practise for every week, and it was really good just to get out there with a scorecard in my hand and compete. I'm really grateful to Justin and Kate Rose, and to Liz [Young] and everyone who helped support and organise those events. It meant a lot to all of us.
It's funny, I really missed the other girls – Charley [Hull] and Bronte [Law] and I go way back – and it was great to see them all again. But we are all competitive and want to beat each other, so it was great to win at Bearwood Lakes and The Shire after finishing second in the other three.
Obviously things didn't quite go to plan at Troon for the AIG Women's Open. What were your thoughts on that week?
I was a tough week that's for sure. With the wind and the rain and the long rounds, it turned into a real slog. They put on a great event and it was great to get back to competing against world-class players on an amaxing golf course, but it was only my second event back, so I felt like I wasn't as match fit as I might have been. I was pleased with the way I finished off the weekend, but it was a difficult week.
How did you feel about playing with no fans?
It was very strange, especially because I'm used to having quite a lot of fans watching me in when I'm playing in the UK. I definitely do feed off the crowd and it helps get the adrenalin going, but I guess it's something we're going to have to get used to until things get back to normal, but it could be a while.
That was lot of focus on you and women's golf in this country after your victory at Lytham in the Women's British Open in 2018, but do you think it has had the impact that you would have hoped in a broader sense for female golf participation in Britain?
I think it had much bigger impact than I thought. Even six months later I had messages from girls on social media telling me that they'd taken up golf because they had watched me win. That's a great feeling that I got to have a lot more youngsters into golf, and if I can continue that, that would be great.
Golf was one of the first professional women's sports to come back. Do you think this is a chance women's golf to step into the spotlight?
Definitely. As you say, not much women's sport is going on at the moment, so it would be great for us to make more headlines and for people to see us around the world more and the UK. Obviously as players, we're going to do the best we can to showcase the best golf to the public around the world. So I think it's a great opportunity. I think maybe more people can relate to women's golf a little bit more, because we don't hit it 350 yards. We are kind of more about hitting fairways and greens and putting well. I think if they can take that from it, it would be a positive.
You've got your boyfriend, Harry [Tyrrell] on the bag. How important has he been not only in his professional role, but also being there to support you?
Playing professional golf is a team effort – people forget sometimes how much we travel and how much time we spend away from home. It can get very lonely if you are on your own, so it is great to have Harry with me, not just as a boyfriend and a caddy, but also as a travelling companion.
He definitely helps me be more relaxed on the course. We are still boyfriend and girlfriend, but we just stay focused on the golf. He truly wants me to play well and I know he is someone I can speak to about everything and anything, as I do get a bit stressed at times. He can be a bit too laid-back, but I think I can be a bit too much the other way, so we balance each other out well.
As a caddy, he does all the yardages with me, double checks that we have the right number of clubs, all that kind of stuff, but in terms of the green reading, I have always done that myself.
How hard is it to adjust between playing the LET and the LPGA Tour?
The LPGA Tour is a big change from the LET – the pins are a lot harder and the courses are a lot longer than in Europe, and, of course, the fields are stronger. There can be some big distances between venues, and time differences, so you have to factor all that in to.
We obviously play for a lot more money in America, but it also costs a lot more to get out there and stay out there. If you are not playing well and missing a lot of cuts, it is extremely expensive. You have to pay for a visa to get over there, flights are even more expensive nowadays, and if there is a week where there isn't a tournament, you still have to pay for accommodation. It is expensive, but if you do play well, the rewards are there.
Slow play has been an issue in professional golf, and women's golf in particular, in recent years. What more do you think needs to be done to speed things up? Are you in favour of harsher penalties?
If someone is being slow and holding up play, then I believe that they should get penalised, whether it's a warning, as a first-off, or some sort of penalty for habitual offenders. I don't think it should matter whether it's the last round or the first, if someone is being slow, they need to be told to hurry up or face a penalty. I don't think there necessarily needs to be a change in policy, but players do need to be told more often by officials to get a hurry on. It doesn't make for great viewing on TV or help the other players when players are extremely slow. It can be hard when the weather's bad and the wind's blowing, like it was in Scotland, but otherwise there are no excuses really.
WHAT'S IN GEORGIA'S BAG?
Driver: Callaway GBB Epic (9)
Fairway: Callaway Epic Flash Sub Zero (15)
Hybrid: Callaway Mavrik (19)
Irons: Callaway Apex (4), Callaway Apex Pro (5-PW)
Wedges: Callaway Jaws Mack Daddy 5 (50, 54, 60)
Putter: Odyssey White Hot RX Rossie
Ball: Titleist Pro V1x
Stay up-to-date: