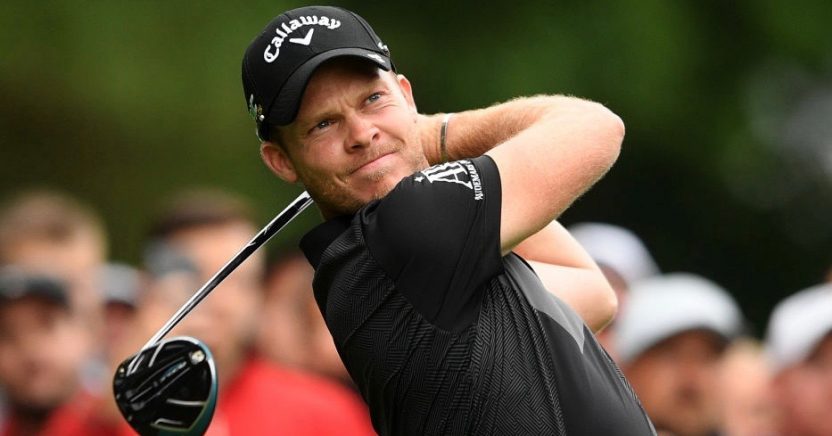 DANNY WILLETT

After suffering a number of injuries and battling with his form following his Masters victory in 2016, Danny Willett is back at the top of his game and challenging for his place at golf's top table and a spot in Europe's Ryder Cup team
The last 12 months have seen a dramatic turnaround in your fortunes, with your win in Dubai last December and the victory at the BMW PGA Championship catapulting you back up the world rankings. How pleasing has it been to get back to where you feel like you belong?
Yeah, it's certainly great to start playing the kind of golf that I know I can play. More than anything, it's been great to be playing pain-free, and that's what's made the difference. Playing with an injury is just the hardest, soul-destroying thing you can imagine. Everything's a battle, just getting up in the morning, getting out to the range and then teeing it up at a tournament knowing that you're not in a position to do yourself justice. So to put all that behind me, and to play as well as I have over the last year or so, has been amazing.
I know the results have been a bit mixed this year, but a lot of that is because I've now moved out to America full-time with the family, and I'm playing on the PGA Tour and trying to find my feet. It's a bit of a learning phase, trying to find which courses I like, and how to go about things, so hopefully next year will be more consistent.

How bad did things get with the injury?
I had to literally roll out of bed. It wasn't just painful to play golf, it was painful to sit on the floor with my two kids. I also had a couple of little muscle tears in my shoulder, so I couldn't even pick the kids up. The first thing I'd do each day would be to pop a few painkillers with the morning coffee. That's not a way you want to keep going.
I was on painkillers when I won the Masters. Back then it was becoming an issue, but not a huge issue. And then I played and travelled a lot more than I'd planned in America and Asia, and the body didn't cope great with it. In the back your mind you constantly know that there's an underlying problem, and any moment it could spring up and hinder your performance. So you're competing and almost waiting for something bad to happen, instead of being completely clear of thoughts, and just actually enjoying the game.
I got to a point where I was feeling like there was almost no point playing, because I wasn't going to play well. I wasn't living to up to the status I'd created for myself. It's embarrassing when you pitch up at golf events, and people are expecting you to play pretty well, you're a Masters champion, and you don't perform. I was just taking spots and making up the numbers, which is never a good thing if you're trying to be a professional golfer.
How hard was it to see your world ranking taking such a tumble?
There were times I'd look at it and I'd just have to giggle because I know the player that I can be. But it got to a stage where my ranking was so poor that there was no point really paying attention to it. It's how the rankings work. It's easy to drop a long way down when all your points come off from when you were playing well, but it's also easy to jump up pretty quickly. Lee Westwood fell all the way down and then came back to no.1, Henrik Stenson has had a couple of topples in his career and has come back, Sergio Garcia's the same. And now of course, Tiger fell all the way down, and came back up to the top. Now I just feel that if I keep doing the right things, inevitably something good will come of it.
Winning inDubai last year was obviously a big turning point, but what was it like to win the BMW PGA Championship in front of all those fans at Wentworth?
As you say, any tournament win is important, but winning at Wentworth was extra special. Most of my wins have come in big events against pretty stellar fields, so be able to win the PGA on such an iconic golf course, and against one of the strongest fields the tournament has had in recent years, was very rewarding.
You've not been afraid to switch things up with regards to your support team, dropping your coach and your caddy. What difference has Sean Foley made to your game?
I think anyone who has ever met Sean knows that he's a charismatic guy. The time when we first got together, I was in a pretty low place, and I needed a lift. Foles just brings a different energy to the table in how he does things with his work and backs it up with a lot of science and facts to get to the bottom of things. He's an incredibly intelligent guy, and I like the fact that he's always wanting to get better and to increase his knowledge. I'm the same in what I'm trying to do. The work with Foles has improved me technically, so now that I'm injury-free I can work for longer and better. Being more technically sound has allowed me to think much clearer when I'm out on the golf course.
Having my best friend, Sam [Haywood], on the bag has been great. Travelling as much as we do, you need a mate to keep you sane on and off the golf course, and Sam does that.
You're switching your time between Florida and Sheffield these days. How have you and the family settled in to life in the States?
Yeah, it's all pretty good. We've bought a place in Windermere, near Isleworth. It's 80 degrees every day and the kids are enjoying it, playing in the pool every afternoon. We'll be doing a six-month stint at home and six months back in the States, so we'll see how it pans out in the long-term, but while the kids are young it makes sense to base ourselves for longer chunks wherever I'm playing.
What goals have you set yourself for 2020? A return to the Ryder Cup team?
The Ryder Cup is definitely on my radar. Having lost the away leg at Hazeltine last time, it would be nice to have another crack at it. I might be the guy that plays every Ryder Cup away from home, which will be great fun for me.
As far as long-term goals go, I just want to be able to carry on playing and see where it takes me. Now my body is in good shape, I think I've got maybe another 15 or 20 years of golf left in me, which is a pretty long time. This is my tenth year of being a pro, and I want my career to be as long as it possibly can and as good as it can possibly be.
Stay up-to-date: