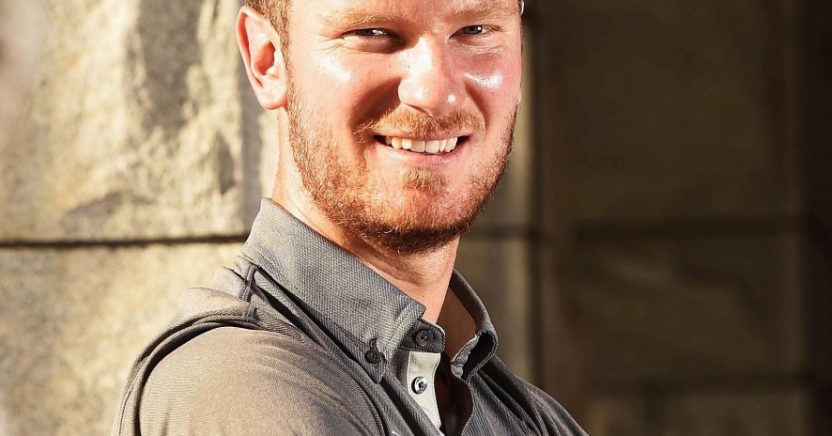 CHRIS WOOD

18 May 2016
CHRIS WOOD talks about his long road from amateur sensation to Ryder Cup hopeful, overcoming injuries, and the difficult decisions he has had to make in order to get his career back on track
When Chris Wood tried to enter the United States for the first time in 2009, he was escorted to a detention room and left to stew for two hours. The immigration officers wouldn't believe he was a professional golfer on his way to the US PGA Championship at Hazeltine.
Wood's soft, rambling Bristol accent, which sounds like a surf dude speaking at half speed, probably didn't help his cause. And he doesn't exactly fit the American profile of an athlete. While his wispy ginger beard and lanky frame, he looked more like Shaggy from Scooby Do as he lollopped through security in flip-flops. But Wood took it all in his lengthy, laid back stride. "I remember being taken away by a sheriff, quite an intimidating looking guy," Wood says. "I was 21 and on my own. I didn't really know what to do. But it's part of travelling I suppose," he grins.
Fast forward seven years, and Wood's 6ft 5-inch frame has become an increasingly familiar sight in America, as he reaps the rewards of breaking into the world's 50 for the first time, with appearances at Bay Hill, the WGC Match Play in Texas, and last month's Masters, providing clear indications that this is a man whose career is in the ascendency.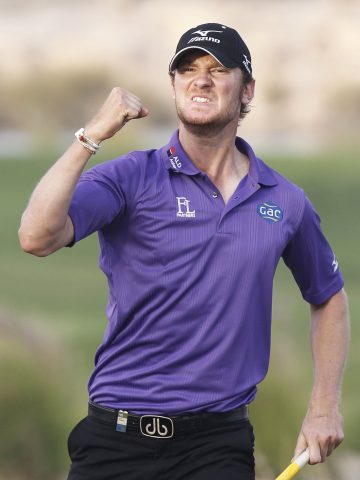 At 28, Wood is one of a growing band of young Englishmen, headed up by Masters champion Danny Willett, 2015 Race to Dubai runner up Andy Sullivan, and young upstart Matt Fitzpatrick, that are at the vanguard of new generation of home-grown talent. And while the likes of Rose, Westwood, Donald, Poulter and Casey are far from ready for their pipes and slippers, it's heartening to know that Team England has some golfing firepower waiting in the wings.
Currently ranked 46th in the world, and residing in a handy seventh place in the European Ryder Cup points list, Wood's star is definitely on the rise, but for someone so tall, it has taken a surprisingly long time to become accustomed to his lofty place in the golfing order.
Evidence of Wood's low professional esteem came at January's EurAsia Cup – a team match play that is designed to give Europe's Ryder Cup captain an early sighter at potential Ryder Cup players. Despite being an automatic selection for Darren Clarke's team, Wood still found himself slightly overawed by the pedigree of his more experienced partner. "I played with Westy [Lee Westwood] in the fourballs. He did not miss a shot, absolute machine. I think he was four under par, but I was five under, so I had the better score, yet I felt so out of place playing with him in that setting. He was one of my idols. I was on FaceTime with a mate the night before, and I said to him: 'Have you seen the draw? I've got Westwood.' I still couldn't believe I was playing with him as my partner, fine in a three-ball, but as a teammate, after watching him for 15 years, idolising him. I put too much pressure on myself, and it really knocked my confidence. I think I carried that over a bit. But the golf is there, no doubt about it."
A contemporary of both Willett and Sullivan on the amateur circuit over a decade ago, Wood says that his rivals' rapid rise up the ranks has provided a spur for his desire to take his own game, which has suffered several injury-led setbacks, to the next level.
"I roomed with Danny on trips abroad. We were the only ones in the gym first thing, no one else, and last to leave the range. Looking back we were the two with the right attitude and approach. He certainly spurred me on, and I suppose I did him. I played county matches with Sully, he was Warwickshire, I was Gloucester. Every year we seemed to be drawn together and it was always tough. He thrives on confidence, as you can see now. That generation from my amateur days are now coming on really strong, a changing of the guard if you like."
While Willett came away from Augusta with the green jacket, Wood was able to draw plenty of positives from his second trip to the Masters, following his less than spectacular debut in 2010, where he missed the cut. Indeed, following a third round 74, Wood was tied 16th and well placed to mount a Sunday afternoon charge. Sadly a triple-bogey seven at the fourth hole stopped the Bristol man's final round in its tracks, and a the resulting seven-over par 79 saw him slip down the field into a share of 42nd – scant reward for his patience over the first three days.
Still, it was a significant improvement on his first visit in 2010, where, by his own admission, he was 'winging it with nil expectation'. "I birdied the first, sticking a 9-iron to six inches with my approach, and I was thinking 'this is all right'," he recalls. "Then I thought I hit a decent tee shot at the second, a fraction left maybe, but in good shape. The ball caught a branch and went into the trees. I was cooked from there, took an eight, and it was all downhill from there."
It was the definitive Masters learning experience. "I played with Ryan Palmer and Larry Mize, who was 30-40 yards behind me off the tee, but on the greens, goodness me. It was my second year as a pro, so I very inexperienced. I learned a lesson that day. And not just on the course. I got told off for using my mobile in the wrong place. I was sat eating lunch texting my fiancée. I was too in awe of it, too inexperienced, but now I'm a different player.
"This time around I was much more relaxed. My girlfriend came out and caddied for me in the par 3 competition, and I knew a lot more about where to go, what to do, and generally felt a lot more comfortable about the course."
With another Major safely tucked in the memory bank, Wood believes he is finally moving in the right direction since recovering from a serious wrist injury that saw him ruled out of action for five months at the beginning of last season, and only returning to the fray last March.
Though he boasts a not inconsiderable three European Tour victories – the most recent of which came at last July's Lyoness Open – there is a sense with Wood of a career that has edged along at a rate incommensurate with his abilities. A session in the psychologist's chair of Ryder Cup veteran Thomas Bjorn earlier this year helped crack the paradox.
"Phil Kenyon, my putting coach, was talking to Thomas in Dubai, and said I had not had the best of starts to the season, would he have a chat with me. Thomas said that most of my problem is I don't believe I'm as good a player as I actually am, and he was spot on. I don't know if that is my personality, or not, but you have to get over that. I know that now. There is a real opportunity to train on. I sense I'm coming into a new maturity. I've been striving for top-50 for years, now I'm there I have to believe I can compete against the top guys in big events."
Perhaps his split from long-time coach and confidante, Paul Mitchell, last year was a first step in that direction. There is a deep sensitivity still about the separation, but Wood felt he needed a new set of eyes on his swing if he were to progress and in May last year he turned to Lee Westwood's coach, Mike Walker.
"I play my best golf with a fade, but I was struggling with a pull hook for a while. There was no sign of improvement, so I had to make the change and it was the hardest thing I have ever had to do because Paul was my best mate. Working with Mike has cemented my rise to the top 50. I haven't just sneaked in."
Since taking up with Walker the results have been as quick as they have been impressive. A third-place finish at the Nedbank Challenge in South Africa secured the 28-year-old's spot at the Masters, and he preceded that with fifth at the Turkish Airlines Open, second at the Portugal Masters in October and fourth at the Alfred Dunhill Links in the same month. That came on top of a victory at the Lyoness Open in Austria and fourth at the BMW PGA Championship at Wentworth.
Ultimately the technical stuff will take care of itself. It is the mental aspect that Wood needs to harden, and to that end he treasures his one and only pairing with Tiger Woods at the 2013 US PGA Championship, his last year as world No.1.
"Henrik's [Stenson] caddie said to me before we teed off, 'Make sure you learn, make sure you watch him.' He turned a 78 into a 68 that day. That was the most impressive thing for me, not how he hit the ball. Inside 100 yards he was phenomenal. I chunked a two-iron off the first tee, pulled an 8-iron into the trees and got up and down for par. I then went birdie, birdie, birdie. Hopefully he thought I could play a bit. He was so high up on a pedestal, untouchable. I had never even spoken to the bloke. I was there to learn, and he was brilliant to play with.
Early in the round I spoke to his caddie, Joe LaCava, to break the ice a bit. 'How long you been out here, Joe?' 'Twenty seven years,' he said. 'Blimey, you were out before I was born.' That got a laugh. Tiger hits it to eight feet at the first, the par-3. I did the same, a little bit inside him. He came over picked up my club and said: 'Man, these Mizuno guys make good clubs.' I'm thinking: 'This is Tiger having the craic with me, bloody hell.' Now I have to make the mental adjustments. My journey is taking a little longer, but I know I'll get where I want to be."
Wood has had to have plenty of patience and self-belief over the last 18 months, during which time he has been plagued by a bulging disk in his back, and only now is back to something resembling full fitness. At 6ft 5inches, Wood is among the tallest players on tour, and has always been troubled by his back, resulting in hours spent on the physio's table and many more in the gym trying to strengthen his body to meet the demands of the modern golf swing.
Currently ranked 10th in the Race to Dubai, and with a genuine shot at Clarke's team, I learned I need to hit a few more fairways to help him. Just to play with Lee, nine Ryder Cups, it was a privilege for me to be playing with him and to learn as much as I can as I go along. The Ryder Cup is a real ambition for me and I've put myself in a good position by performing so consistently this season. But it's all about continuing to perform consistently."
Wood's sole Ryder Cup experience came as a 14-year-old spectator during Friday's matches at the Belfry in 2002. "I was completely inspired by everyone," he says, after having watched Westwood and Garcia beat first Duval and Love in fourballs and then Woods and Calcavecchia in foursomes, "and I would love to be apart of that."
His time may come soon.
Stay up-to-date: