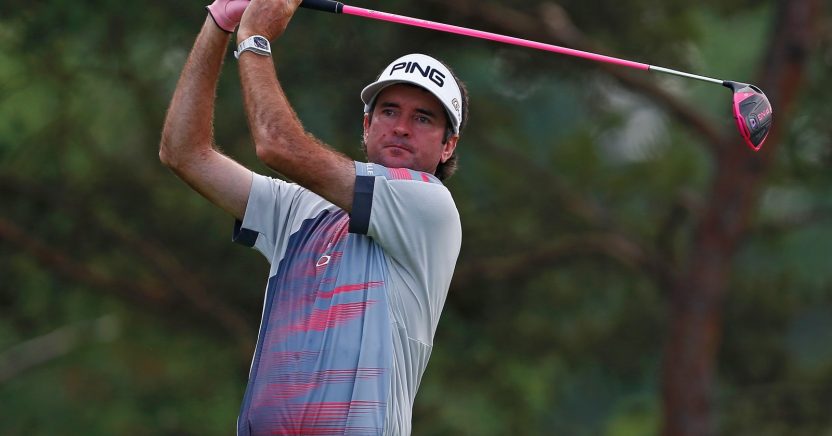 BUBBA WATSON

With three wins already this season, and a Ryder Cup place all but assured, life is good again for two-time Masters champion Bubba Watson, after overcoming a massive slump in form in 2017
With three wins in the bag already this season, do you feel like you're playing the best golf of your career right now?
I'm not sure. I think 2015 was pretty special, wasn't it? I won the Northern Trust and then I won the Masters, and I also won in China towards the end of the year. So that was probably my best calendar year to date. I hate to say it, but I'd be really happy to have just one win a year, as long as it was a major.
How does it feel to pretty much have your place in the US Ryder Cup team locked down already?
Jim [Furyk] hasn't texted me yet, but I'd really like him to say he's going to pick me no matter what. It would mean a lot to get back in the team. That's always been the goal. To win a golf tournament, and to make the Ryder Cup team. Being American, there is always a team to play for every year, but Ryder Cup years are extra special. It's a thrilling time. I've never won a Ryder Cup, so making the team and trying to win the cup as a player, rather than as a vice captain, would be incredible. It would be even better if it was on home soil, but it will be fun anywhere you can get a victory.
You were left out of the team in 2016, despite being ranked ninth in the points list and no.7 in the world. Davis Love made you a vice-captain, but why did you feel you weren't included as a player?
Davis basically told me it was all about team strategies, and about who matches up well with who. I don't know what that means. I don't know if it was about partners, or who matches up better with three people. It wasn't about my play. But any time you're not in the top eight automatic slots you leave yourself open to the discretion of the captain. It happened before with Hunter Mahan in 2012, and it will probably happen again in the future. But once Davis had made that call, I still told him that I wanted to help the team in any way I could, and, to be honest, being there to support our players at Hazeltine was one of the best things I've ever done in golf.
You said earlier in the year that you'd set a goal of getting ten wins on tour. Now you have 12. How does that feel?
My dream has always been to get ten wins on Tour. I didn't think it was possible, but then I got to that mark, and now I've got two more. It's unbelievable. My whole career has been an amazing ride, but this year has been outstanding. After last year, who knows what to expect? It's amazing what some good energy will do.
It's been said that you were on the verge of quitting the game last season. How did you get to that point and how did you talk yourself out of it?
Quitting the game is always a possibility, but I've got to keep paying the bills somehow, and I don't know any other way of doing that apart from playing golf. But last year was one of the lowest points in my life.
I was tired, both emotionally and physically, and was kind of running on empty. I lost 25lbs in the space of three months, and lost all my energy and focus, and just wanted to take a step back. I've got a wife and two young kids who I want to see more of, and I was being pushed and pulled in lots of directions.
But I had lots of good advice from people I trust. My wife, Angie; my caddy, Teddy Scott; my manager at Pro Sport Management; and John Solheim at Ping, who is like a father and a grandfather to me – I spoke to them all, and they kind of reminded me where my passions lay. So I got off the sofa, stopped eating chips, and decided to go out and play golf again.
The quality of your golf seems to mirror how you're feeling. Are you in a happy place right now?
Well, yeah, I have never been in a bad mood and won a golf tournament, if that's what you mean. When I first came out on Tour, I thought I was a world-beater, and would win everything, but then I found out pretty quickly how great everybody else was, so I had to change attitude and the way I went about my business. As I've got older, I've learned to try and focus on the most important things in my life. We all go through stages of life that affect us – getting married, moving house, having kids, parents passing away – there are things that we don't ever talk about that cause somebody not to play well or somebody to play great. So, yeah, I've been in a good frame of mind whenever I've won, but I've never been in a bad frame of mind and still beat everybody else.
You're very much a 'horses for courses' player, with three wins at the Travelers, two at Augusta. How much has being a left-hander, and your style play, dictated where you play and where you have had most success?
Well, we all pick our schedules based on what courses we like, what events we like, because that course fits us. I really like Hilton Head, but I haven't played there in years because of how difficult it is, with its small greens – and given the way I shape the ball, it would be really close to luck if I won that tournament. So we've seen players throughout the years follow a particular schedule because the golf courses fit the way they play. I'm no different; I feel comfortable on some courses and not on others, so it's no real surprise that there are some on which I perform better.
With two majors under your belt, and lots of wins, what motivates you in the long term?
Having been lucky enough to play at the Olympics in Rio, I'd say that I'm really motivated about getting to Tokyo in 2020. It was the best experience of my life to watch all the other events in Rio, and to get the chance to play golf as well. I know it's a couple years away, and I'll be 41 by then, but I'd love to have a chance to make the Olympic team again.
Stay up-to-date: