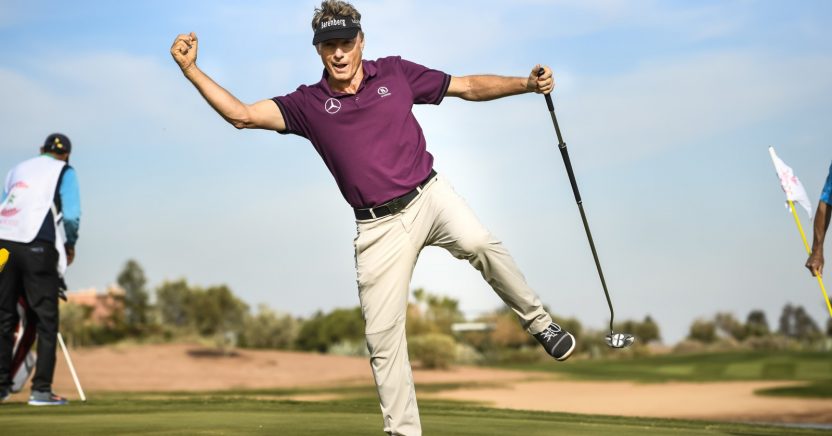 Bernhard Langer

The COVID-19 pandemic has brought many aspects of everyday life to an eerie standstill, including tour golf. Bernhard Langer, current money leader on the PGA Tour Champions and Mercedes-Benz brand ambassador, speaks about putting his prolific career on pause and how he's keeping his game in shape ahead of a return to competitive action, whenever that might be
"Even though golf is my profession, there are far more important things in life than playing golf right now," said Bernhard Langer, talking from his home in Boca Raton, Florida."
Since the end of March, social distancing has taken hold throughout the world, including Florida, where the 62-year-old and his wife Vikki now live. The couple have just become grandparents for the first time, with their oldest daughter Jackie giving birth to a son at the start of April. Mother and baby are well, and Langer is understandably elated, although he and his wife have yet to meet his first grandchild in person. "Only Jackie's husband is allowed to be in hospital with her," says Langer. Rules are rules, and even a double Masters champion cannot head to the hospital in the lockdown era.
Langer has not played tournament golf on the PGA Tour Champions since the first week of March. Mileage on his Mercedes-Benz has dropped considerably and it currently sits in a garage that has become, in recent weeks, particularly well-ordered and uncluttered. "A total overhaul would be a good thing," admits Langer. This is a golf interview and we are discussing Bernhard Langer's garage. Unfamiliar times indeed.
Langer is not phased too much by the unscheduled break to his season, brought on by the COVID-19 pandemic, but not knowing what the future holds is unsettling. "The last time I played golf was with my son a couple weeks ago before they closed our golf course," he says. "I have not played competitive golf in a few weeks, but so far that is not unusual. I have had breaks of several weeks without competitive golf before, and when I go skiing, I might not touch a golf club for a week or 10 days. So far this does not feel unusual in terms of playing golf, but if it goes on for another month or two then it will be very unusual."
However it did feel strange for Langer not to be playing the Masters, which was scheduled to take place last week, but is now on hold until November. The champion in 1985 and 1993, Langer has not missed the Masters since a thumb injury left him sidelined in 2011, although he still made the journey to Augusta National for the annual Champions Dinner on the Tuesday evening. It is the Masters, after all, and he never misses an opportunity to dust off the green jacket.
Before 2011, the last Masters Langer missed was in 1983. He has played in 35 Masters and being at home for the second week of April certainly felt peculiar. "I would love to have jumped into the car and say, 'Hey Mercedes, navigate me to Augusta', but obviously I couldn't!" he says. "The Masters will be played in November and I will be there. I have never played Augusta in the autumn. I hear the conditions will be very similar to April, just with not so many flowers in bloom, but that's okay – hopefully I can keep my golf ball out of the flowerbeds anyway!"
Even at 62, it was business as usual for Langer on the PGA Tour Champions before COVID-19 struck, on a tour which he has largely dominated for the past 13 years. In five starts in 2020 Langer posted three top-10s and a victory in the Cologuard Classic in Arizona. In the final round at Tucson, Langer posted nine birdies and shot 65 to convert a four-shot deficit into a two-shot victory. The win keeps alive Langer's record of having won at least once each season on the PGA Tour Champions since turning 50 in 2007, which now extends through 14 seasons.
"I was thrilled with my start to the season," says Langer. "I actually had a chance to win the first four tournaments. I ended up winning one and finishing in the top six in the other three. I am excited about where my game was, and hopefully I won't be too rusty when we go back out."
By nature, the PGA Tour Champions – with a minimum age of 50 – should get tougher for a golfer each year, as age takes its inevitable toll and with younger players qualifying each season. But Langer is age-defying. He is top of the tour's money list at the time of the enforced break in the season, looking down the ranking upon some younger major-winning names including Ernie Els (50), Fred Couples (60), Retief Goosen (51) and José Maria Olazabal (54).
Langer's win in Tucson gives him a PGA Tour Champions total of 41 victories, just four shy of Hale Irwin's career record of 45 which was set in 2007, and which looked utterly insurmountable for more than a decade. But Langer just doesn't know when to stop.
"I get reminded of Hale's record just about every week. Now I am one closer," said Langer. "We don't live and die for records, but it's fun to have a couple of them. I don't contemplate Hale's record too much. My goal is to get better and improve my game, and I know that if I can do that, and play close to my best, then I can win tournaments and I can win majors and reach 45 Champions Tour wins.
"But my focus is just to be the best Bernhard Langer I can. I am just very fortunate and blessed to be in the position to have a chance to reach or surpass Hale's record. To be frank, for a long time I did not think it would be possible for anyone to reach the record. It is just ridiculous. But you know, as time has gone on, I have lost a bunch of play-offs over the past two or three years, and had they finished in my favour I could have already passed Hale's record. I will keep trying."
Keeping the rust off Langer's game could be easier said than done this spring. The family home for 25 years has been at the idyllic Woodfield Country Club, a community defined by carefully mown edges, elegant water fountains and orderly rows of palm trees, but the golf course that winds its way through the neighbourhood is deserted – the entire course and the practice facilities are shut down.
"We have a wonderful fitness centre about 300 yards from our house, which I usually use every day when I am at home, but they have had to close that down for social distancing, so I have had to be a little creative," says Langer, who plans his own fitness routines without a personal trainer. "I can swing a club a little bit because I have a heavy club – a 7-iron with lead down the shaft – and I swing that in my fitness room. I also have a treadmill and exercise bike. I have mats to stretch on and do body-weight exercises and I am learning to do some workouts in the pool, which is actually better for my knees and my shoulders.
He added: "You need to be creative and use what you have and everyone has that opportunity. You can do sit-ups, push-ups and pull-ups and benching just using your body weight. You don't need a lot of other stuff. I cycled yesterday for an hour and I enjoyed that. It was beautiful and good exercise. I also have a little putting green in our back yard and I can chip around that too."
Herein lies a little reminder to Langer's rivals on the PGA Tour Champions: don't rest on your laurels for long during this break from competition, because you know your money leader will be fresh and as ready as he can be when tour golf resumes. Langer gets asked all the time what the secret is to his enduring success, but he says there is no magic potion, no special Black Forest gateau, and his tour colleagues know this. If they want a chance to beat Langer they need to start by out-working him, and that is hard to do.
"There are a lot of things that need to come together to win out there," says Langer. "You need to be fit and healthy to swing the club how you want to swing it, you have to be determined and you have to practice every aspect of the game. You need good technique, you need to withstand the pressure we play under, you need to play shots on all kinds of uneven lies, control your bunker shots and you need to chip and putt well. You also need to control your emotions. There is so much that contributes to being successful."
It will be fascinating to see what happens next on tour and no-one wants to wait long to find out but as Langer says, for the time being, "There are far more important things in life than playing golf."
BERNHARD LANGER'S GUIDE TO STAYING FIT IN THE LOCKDOWN
Stay up-to-date: