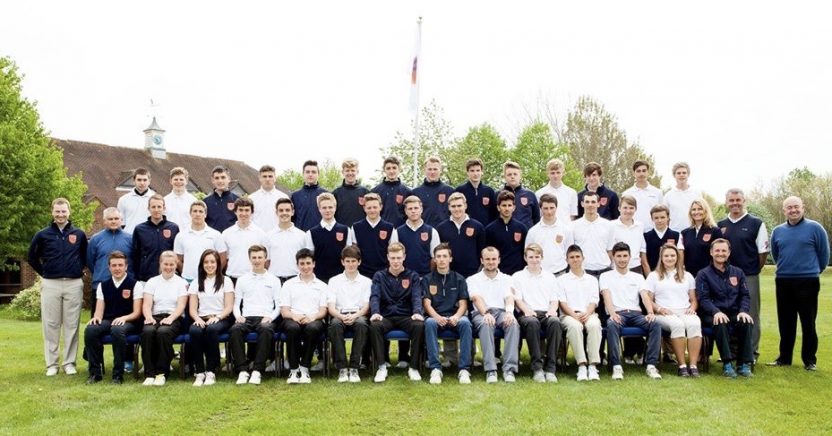 The Golf College prepares to welcome back students
Featured
It's clearly an uncertain time for all of us, but especially so for the current generation of 16- and 18-year-olds looking to take the next stage of their educational journey. With question marks hanging over what sort of teaching contact time they will have, and how large social gatherings can take place, it's no wonder that so many prospective college and university students are being cautious about how to proceed.
Some prospective higher education students are deferring their places until next year, by which time a Covid-19 vaccine might have been found, but college-age students have little option but to carry on regardless and hope that the colleges they attend will have measures in place to ensure they can conduct their studies safely, while still enjoying all that student life entails.
One centre of learning that is confident of being able to do just that is The Golf College, an award-winning college located in the leafy village of Lindfield in West Sussex, which is preparing to welcome new and existing students back in September under the new Covid-19 guidelines.
Paul Lyons, The Golf College's founder and director, is adamant that he and his experienced team will be able to teach the classroom and golf course-based syllabus while strictly adhering to the new Covid-19 protocols. He said: "Unlike a lot of further education colleges, we know that we will be able to deliver the full teaching programme to our students through our exam-free education next term. With small class sizes and large elements of the curriculum based outdoors, we can assure students that their safety will be paramount at every stage of the way during these difficult times."
The college, which Lyons set up in 2005, currently offers a two-year BTEC Extended Diploma in Sport for 16-17 year-olds (which is equivalent to three A Levels), and a three-year BA Honours Degree in International Golf Management or International Business Management for 18 year olds, both of which provide a superb platform to develop a career in all areas of the golf industry, as either as tournament professionals, PGA Professionals, administrators and beyond. Many BTEC students go on to other universities in the UK and America, proving that The Golf College provides an all-round education to match any academic institutions.  
As Lyons alluded to, one of the benefits of The Golf College's size – it has never had more than 84 students on its books at any one time – is not only the personal, pupil-led nature of the teaching, but also the ability to accommodate the socially-distanced learning that is currently in place. Class sizes of typically around 15 make it easy to keep students apart in the classroom setting, while the largely outdoor nature of the syllabus means that students will be out in the fresh air and able to be coached, practice and play in as safe an environment as is possible. 
The college accepts a broad range of skill levels, but with plenty of one-to-one tuition and personal mentoring, each player is treated as an individual, with realistic goals set between staff and pupils to ensure everyone is working in the direction that they want to go, and at the speed they want to go.
The two-year course, which accepts up to a maximum of 30 students each year, is split into three terms, starting off in September through to mid-December, the end of January through to Easter, and from mid-April until the end of June. Students are housed with local families – from where they are picked off and dropped off by bus every day – and divide their time between the golf course, the practice facilities, the gym and the classroom.
One of key draws for students considering the Golf College is the term spent abroad over the winter. This sees BTEC students and staff base themselves at Castro Marim Golfe and Country Club in Portugal for nine weeks between January and March, while the degree-course students spend their term in Spain.
Students at both venues remain on site throughout their stay, sharing a number of private villas and benefiting from the purpose-built facilities which enable them to switch between educational lessons and golf tuition in a matter of minutes. It makes for a superb 'boot camp' environment, with the consistent weather allowing uninterrupted coaching and the superb practice facilities and championship golf courses helping to prepare players for the competitive summer season ahead back in the UK.
Whether in the UK or at the term spent abroad, students receive expert one-to-one tuition from Lyons and his dedicated team, including regular instruction from tour coach Denis Pugh, who is one of the college's founding fathers, alongside experienced PGA-qualified coaches Tim Spence and Jack Bado. Fitness is vital for the modern pro, and the college has a well-equipped gym on site at Lindfield, while the spacious clubhouse provides a home from home for the students to relax in during rare breaks in activity.
The college has virtual free run of the facilities at Lindfield Golf Club, and the club's 6,200-yard layout provides a good test of the student's abilities, with water featuring heavily on the undulating parkland course. Competition is extremely keen between the students, and every Wednesday they tee it up in a hotly contested Order of Merit competition which runs throughout the year. The college also hosts The PGA South Region's Golf College Challenge in July – which was postponed due to the pandemic this year, which gives the students a chance to test themselves against some the region's top professionals – and often outperform them! 
The college has produced a decent number of elite level players in the men's and women's game – including the likes of 2009 Faldo Series winner Jonathan Bell (who is now working as a caddie on the European Tour for the likes of Tyrrell Hatton and Tom Lewis), while George Groves is currently the top-ranked disabled golfer in the world. The college also prides itself on producing students ready to work in the industry. Former pupil Tim Cowley became one of the youngest head professionals in the country following his promotion at Royal Ashdown Forest in 2013, while another graduate, Jack Laws, was appointed Director of Golf at Les Bordes in 2018, which is one of the most exclusive clubs in France. 
Shannon Flyyn Hanley, who is now a PGA-qualified coach working at Silvmere Golf & Leisure in Surrey, is one of the many students who have thrived in The Golf College environment. She said: "My three years at The Golf College was the best and biggest learning curve of my life. I joined playing off a four handicap, and left playing off plus-two. Having the opprtunity to play and receive top-class coaching every day, along with the winter term spent abroad, made a huge difference to my game. There is no better college to to go if you're serious about becoming an elite player."
So whether your future lies on Tour, in a pro shop, or at college or university, the Golf College's motto, 'Be the best you can be', is what underpins all that they try to achieve. And with such a highly qualified team of staff, matched with some superb facilities, The Golf College provides the perfect springboard to take your career to the next level and beyond.
OPEN DAYS
Prospective students interested in joining the college this September are invited to attend Open Days being held on August 8 and August 22. To book a place, or to arrange a visit at any time, call 01444 484467 or email info@thegolfcollege.com. For more information visit www.thegolfcollege.com
Stay up-to-date: