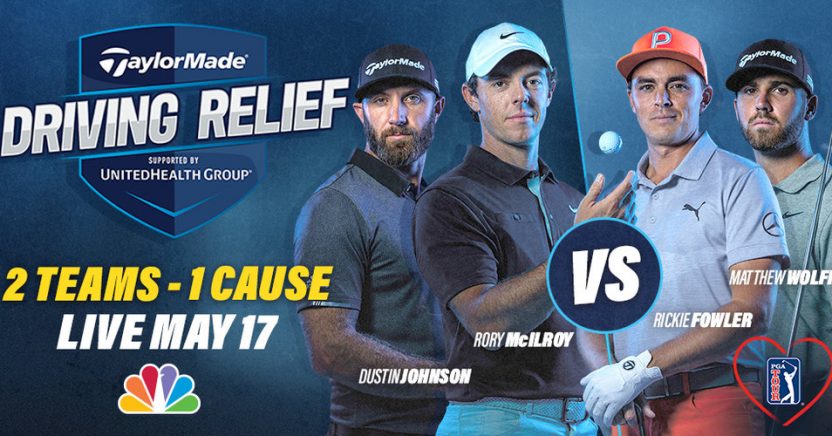 Rory McIlroy TO STAR IN CHARITY TV SKINS MATCH
Featured News
Rory McIlroy, Dustin Johnson, Rickie Fowler and Matthew Wolff are to take part in a $3m charity skins match at Seminole Golf Club in Florida on Sunday, May 17.
All proceeds from the 'TaylorMade Driving Relief' match, which is being played without spectators, will be donated to a range of charities, including Off Their Plate, a charitable organisation helping COVID-19 healthcare workers and impacted frontline employees. The McIlroy/Johnson team will also be playing for the American Nurses Foundation, while the Fowler/Wolff pairing will be supporting the CDC Foundation.
The four players will follow strict social distancing guidelines and undergo appropriate testing measures to help protect the health and safety of themselves, on-course reporters, TV production crews and other officials on site.
The $3m prize fund for the event is being sponsored by UnitedHealth Group, while Farmers Insurance has also pledged $1 million to back a birdies-and-eagle pool. TV viewers will have an opportunity to raise further funds through an online donation platform during the live televised event, which will air on in the US from 2pm-6pm, and on Sky Sports  in the UK from 7pm-11pm. Pre-match coverage, as well as the first two holes of the event will also will stream on Twitter.
PGA Tour Commissioner Jay Monahan said: "We are excited about the return of live golf and the opportunity to raise significant funds for those on the front lines of the COVID-19 pandemic through the TaylorMade Driving Relief event.  With four of the PGA Tour's top stars in Rory, Rickie, Dustin and Matthew of Team TaylorMade participating, golf fans around the world can look forward to a unique, interactive and entertaining event that will help those in need."
David Abeles, TaylorMade Golf's CEO, said: "While all of us navigate through the impact of this pandemic, we wanted to do our part for first responders and nominated COVID-19 charities. After speaking with our Team TaylorMade athletes, we are thrilled to make this TaylorMade Driving Relief event happen with our partners at the PGA Tour and NBC Sports. The return of live golf and the opportunity to raise money for those affected is simply fantastic."
World No.1 McIlroy, who hasn't played competitively since the final round of the Arnold Palmer Invitational on March 8, said: "It's been difficult to witness what so many are enduring over the last several weeks due to the COVID-19 pandemic. I hope that we can provide some respite and entertainment for those tuning in across the globe. Dustin and I will have a lot of fun together and our games will fit well as we push to raise funds and awareness on May 17."
Fowler added: "When I heard about this event, I couldn't get involved fast enough. It's special to be able to have an impact and raise charitable contributions through our sport and to do it with Matthew as a partner. I know how much I have missed golf, so to be one of the first events returning to television is very exciting. Playing aggressively has never been a problem for Matthew and me, so we should have some fun going the birdies-and-eagles bonus pool!"
Stay up-to-date: