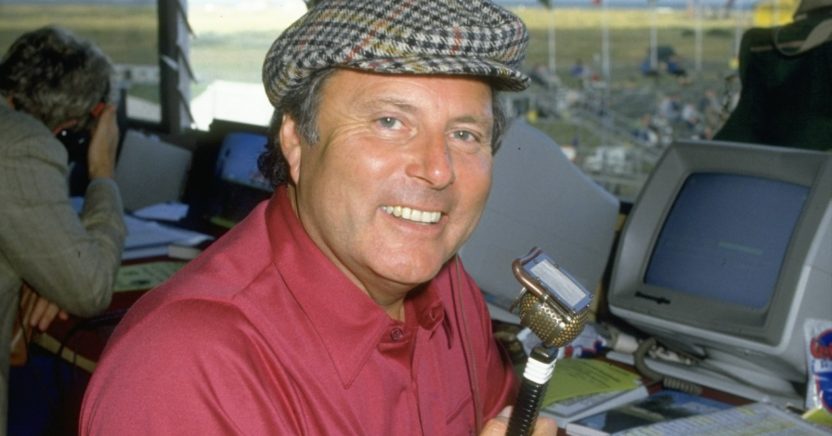 Peter Alliss, the legendary BBC golf commentator, has died at the age of 89.
A statement from the Allis family, released on Sunday morning, said: "It's with great sadness that we announce the passing of golfing and broadcast legend Peter Alliss. Peter's death was unexpected but peaceful. Peter was a devoted husband, father and grandfather and his family ask for privacy at this difficult time."
Known throughout the world as 'the voice of golf', Alliss was last seen on our screens during the BBC's coverage of last month's Masters tournament at Augusta, when the 89-year-old commentated on the highlights from his living room at home.
Among the hundred of glowing tributes, Barbara Slater, Director of BBC Sport, said: "Peter was an absolute master of his craft, with a unique ability to capture a moment with a magical turn of phrase that no one else could match. Following a highly distinguished playing career, where he won 20 titles and played in eight Ryder Cups, his broadcasting career spanned an extraordinary 60 years. Just last month, at the incredible age of  89, he was doing what he loved – commentating for the BBC on the Masters. He transcended his sport as one of the greatest broadcasters of his generation. He will be terribly missed and our thoughts are with his family, friends and colleagues at this very sad time.'
Keith Pelley, Chief Executive Officer of the European Tour, said: "We are deeply saddened to hear of the passing of Peter Alliss, truly one of golf's greats. Peter made an indelible mark on everything he did in our game, but especially as a player and a broadcaster, and he leaves a remarkable legacy. Our thoughts are with his wife Jackie and the Alliss family."
Alliss was born in Berlin, where his father, Percy, was the professional at the Wannsee club, and weighed 14lbs 11oz when he arrived in 1931, which was allegedly a record for a baby born in Europe.  Those hereditary blessings helped him blossom into a fine ball striker himself, establishing Alliss as one of the brightest young players of the time.
He turned professional in 1947, at the age of 16, as an assistant to his father at Ferndown Golf Club in Dorset. Between 1954 and 1969, he won 31 professional tournaments – including three British PGA Championships – and was twice winner of the Harry Vardon Trophy, given to the leading European player of the year. 
The biggest title evaded him, however. Alliss came within four shots of lifting the Claret Jug in 1954, one of five top-10 finishes he had at the Open Championship. 
Alliss played on eight Ryder Cup teams between 1953 and 1969 with a record of 10 wins, 15 losses and 5 halved matches. He played on Great Britain's victorious 1957 Ryder Cup team, while he and his father were the first father and son to both participate in and both win the Ryder Cup. Alliss also represented England in the World Cup on 10 occasions.
Alliss' first experience behind the microphone came at the 1961 Open Championship, remarkably, in the same tournament he was challenging Arnold Palmer on the course. In 1978 he was appointed the BBC's chief golf commentator following the death of his co-host and great friend Henry Longhurst.
Alliss also worked for ESPN and ABC Sports in the United States from 1975 through 2010. He continued to appear as a guest analyst on ESPN's coverage of the Open Championship from 2011–2015.
The BBC's loss of live golf coverage to Sky saw Alliss's commentary work curtailed in his latter years, but he was always in the commentary booth for the BBC's coverage of The Open Championship, the Masters, and the BMW PGA Championship.
As well as a player and commentator, Alliss was was also involved in golf course architecture. His first course design partner was Dave Thomas, with whom he created over 50 courses, including The Belfry. Alliss then joined forces with Clive Clark, and added another 22 courses to his portfolio, including Old Thorns in Hampshire, Pyrford in Surrey, and Herons Reach in Blackpool. He was the club president at Old Thorns and also at Castlemartyr Links Golf Club in Ireland.
Alliss captained the Professional Golfers' Association in 1962 and 1987, and he was also the president of the British Greenkeepers' Association, and was the first president of the European Women's Professional Golfers' Association. In 2012, he was inducted into the World Golf Hall of Fame in the Lifetime Achievement category.
Stay up-to-date: