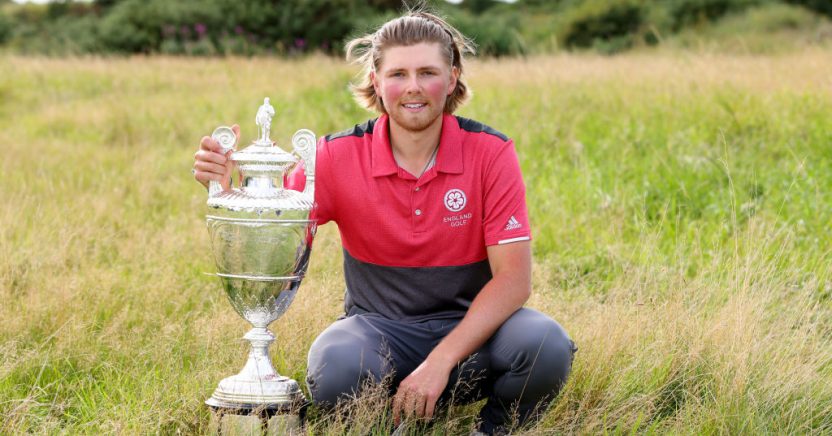 LONG WINS AMATEUR CHAMPIONSHIP
Featured News
Gloucestershire's Joe Long won the 125th Amateur Championship after beating fellow Englishman and good friend Joe Harvey 4&3 in the 36-hole final held at Royal Bikdale in Lancashire.
Long, 23, who is a member at Lansdown Golf Club in Bath, was the first to make a move in the tie, making a birdie at the par-four 5th to take the early advantage before quickly giving it up with a bogey four at the 7th. A conceded hole at the 8th saw Long regain the lead, which he extended to three up by the 11th hole.
Losing his tee shot at the par-5 15th, Long conceded to his opponent, with Harvey also winning the 16th to close the lead to just one. However, Long was quick to reaffirm his presence in the tie with a birdie at the 17th to go two-up and head into the clubhouse for the lunch break.
Played in glorious weather, a far cry from Tuesday's stormy conditions, which saw the first round of stroke play qualifying abandoned, Long opened with a bogey five as the match resumed. While Harvey recorded wins at the 19th, 23rd and 27th holes, he was unable to peg back his friend's lead.  Long recorded a 4&3 victory to become the first Englishman since Harry Ellis in 2017 to win the title.
Long, who earned exemptions into the 149th Open at Royal St George's next year and an invitation to play in the 2021 Masters and an exemption into next year's US Open, said: "I am just so pleased and can't believe it really, it's all so surreal. '125th Amateur Champion' has quite a nice ring to it. I was feeling nervous, we both were. My game plan was just to try and stick in the present as much as I could, forget about all the rewards and benefits that come with winning. I hit a few ropey shots in the first round, but I started to tee my driver down and get it back in play. I felt like I was pretty solid overall. This afternoon again I was hitting driver well and holed a few nice putts.
"I was never behind and just stuck at it. I have been behind in a lot of matches before and still turned it around, but it is always nice to be in control. Joe is a really good mate and when I win it is hard to see him lose. But it is all part of the sport we play and the match was played in great spirit, we enjoyed it out there."
On qualifying for three of next year's four Majors, Long added: "Wow, when you look at all the exemptions. It still hasn't hit me. It's going to be incredible. This is what I have worked hard for since I started playing golf. I am just so chuffed with it really. I played Royal St George's maybe four years ago in the South East Links Championship and I remember it being a tough track. So that is going to be a good battle, it's just going to be awesome and I am going to enjoy the experience of playing in The Open. It's just going to be huge."
Harvey, who is a member at the Kendleshire, said:"If you had said at the beginning of the week that I would be in the final I don't think I would have believed you. I am really chuffed with the way I have played all week. I would like to say congratulations to Joe. He played great today. It was quite relaxing having one of my good mates out there with me. But we were both out there to win, so between shots we would have a little bit of a chat, but coming up to our shots we were in the zone.  As his friend, I was so happy for Joe when he holed that putt; but as a golfer, I was gutted that my chance to win had come to an end. I am so tired after a long week, so my emotions are a bit all over the place."
Stay up-to-date: