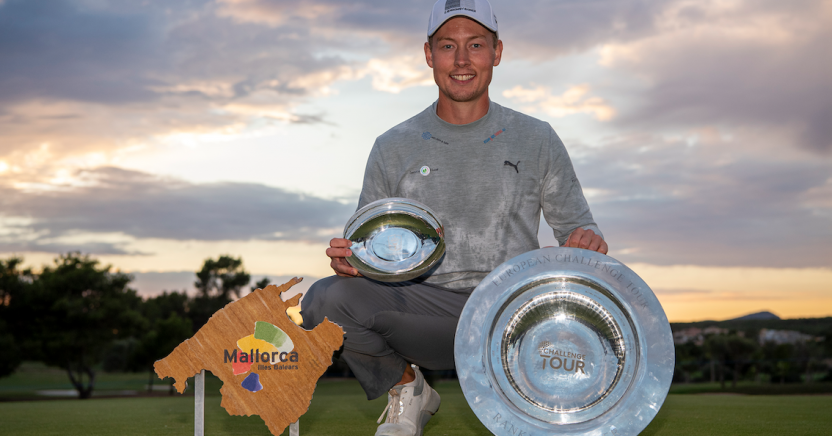 Helligkilde enjoys double delight at Challenge Tour's season finale
Featured News
Denmark's Marcus Helligkilde won the Challenge Tour's Road to Mallorca rankings after securing his third victory of the season at the Rolex Challenge Tour Grand Final held at T Golf & Country Club.
The 25-year-old posted a closing 72 to move to eight under par and clinch an emotional victory. The win saw him climb two places to the top of the Road to Mallorca Rankings and become the Dane to win the tour's money list after Thomas Bjørn in 1995 and and JB Hansen in 2018.
Helligkilde parred the last hole after a miraculous shot from under a tree to claim victory in Mallorca, one stroke ahead of Richard Gouveia, Yannik Paul and French duo Julien Brun and Frederic Lacroix who shared second place on seven under par after a tight final day which was full of twist and turns.
South African JC Ritchie finished in sixth place on six under par and narrowly missed out on a European Tour card after missing a birdie putt, on the 18th which would have elevated him into the top 20 on the rankings, while compatriot Bekker finished a shot-further back on five under par.
Helligkilde, who won in Switzerland and Finland earlier this season, said: "I didn't have a full status on Challenge Tour at the beginning of the year and I was just trying to get into the top 70. I just stayed focused on what I had in front of me, grind as hard as I could and be the best version of myself. I'm still the same Marcus Helligkilde and I enjoy playing golf.
"I've got so many good friends and family back home and all of them have been motivating me and keeping me happy. I try and hang around with good people, and these are amazing people, always inspiring me to become a better golfer. I knew on 17 I could get in trouble trying to play that shot, but I was so lucky to hit the right distance and give myself a 16-footer. I will have some beers with my friends tonight and also celebrate with Santiago Tarrio because it's his birthday today."
Helligkilde finished 34,337 points clear of runner-up Gouveia in the final rankings, with Santiago Tarrio third. Brun graduated in fourth place, with Lacroix one place further back. Alfredo Garcia Heredia finished in sixth, while Oliver Bekker, Ewen Ferguson, Yannik Paul and Lukas Nemecz rounded out the top ten.
Two-time winner on the 2021 Road to Mallorca Marcel Schneider graduated in 11th, with Espen Kofstad and Chase Hanna in 12th and 13th respectively. Hugo Leon and Marcel Siem finished 14th and 15th, while Niklas Nørgaard Møller was the only man to make a final day move into the top 20, graduating in 16th place.
Germany's Hurly Long will compete on the European Tour next year after graduating in 17th, as will Andrew Wilson, who birdied four of the last five holes of the season to climb back inside the top 20 after a double bogey at the 13th hole had moved him outside of the projected graduation spots. Scotland's Craig Howie graduated in 19th and the final European Tour card belongs to Daan Huizing, who finished just 2,429 points ahead of South Africa's Wilco Nienaber and just missed out.
To check out the 2021 Challenge Tour's final standings, click here