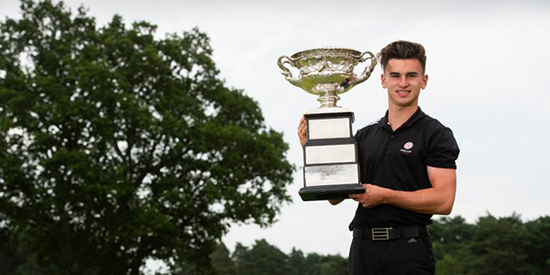 Gough and Hume ready to defend English Amateur titles at Woodhall Spa
Featured News
Conor Gough and Ellen Hume have revealed a strong desire to defend their English Men's and Women's Amateur titles in this week's historic joint staging of the two championships.
For the first time, both flagship events will be held simultaneously at the same venue. From tomorrow, Woodhall Spa Golf Club in Lincolnshire will host the finest talents in the country for a six-day celebration of the amateur game. And Gough and Hume are excited to be trying for back-to-back wins in such memorable circumstances.
The women's championship was originally due to take place in May at Sheringham Golf Club in Norfolk, but those plans had to be shelved with the onset of the pandemic. Rigorous planning has gone into staging both the men's and women's events at Woodhall Spa. There is strict enforcement of government guidelines on social distancing and safety and it will not be possible to welcome spectators from the general public, while the amount of time golfers spend on site before and after rounds has been restricted to ensure a safe flow of traffic around the two courses, the Hotchkin and Bracken. Everyone on site will be temperature checked every day on arrival.
The Women's Amateur has attracted a field of 66 players, who will play 18 holes of stroke play a day over the first two days, with the top 16 players advancing to the knockout match play rounds. The winner will be crowned on Saturday after a 36-hole final. A total of 222 men will take part in the Men's Amateur following the same format as the women over the opening two days. The top 64 will advance to the match play with a 36-hole final scheduled for Sunday.
Conor Gough was only 16 when he won the men's title at Hankley Common last year. If he was to win again this week, the Stoke Park member would become the eighth player in the tournament's 95-year history to successfully defend the crown. The last player to achieve this feat was Paul Casey back in 1999 and 2000.
Gough said: "The history shows that it's not impossible to defend and that's my aim. It's actually a little bit surprising to see how many people have won it two years in a row, because it's such a tough event. It can be a long week with the stroke play and then the match play, but you have to learn to pace yourself and not get worn out."
Hume won the women's title last year after a play-off with Curtis Cup player Lily May Humphreys at Saunton Golf Club. The 20-year-old, who is a member at Mill Green Golf Club in Hertfordshire, said: "I'm excited, as I know what it takes to win. You need to play well day in, day out. There is maybe a little more pressure this year in that the match play is reduced to 16 players, so you will have to play really well in the stroke play to advance. But it's a great event and special to win. It would be really amazing to successfully defend it. It's great that we can play in this event again, despite what has happened with the coronavirus pandemic."
For live scoring and video highlights from this week's action, visit www.englandgolf.org
Stay up-to-date: