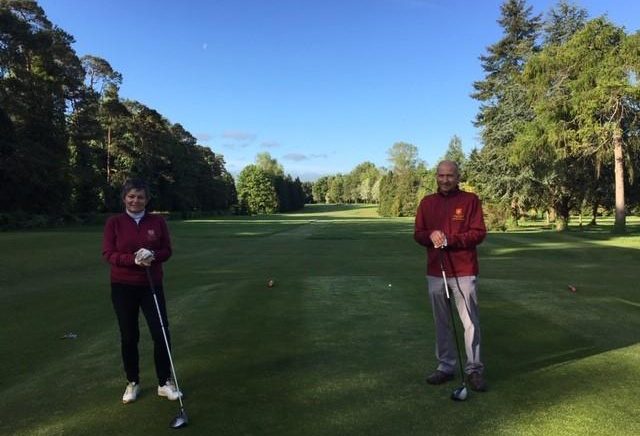 Golfers get back in the swing in England
Featured News
Over 200,000 golfers across England managed to get back onto the golf course yesterday (May 13), as the vast majority of the country's 1,800 clubs reopened for the first time since March 23.
The seven-week absence created a huge demand for tee times, with nearly all of the clubs that were the able to open reporting tee sheets being booked from dawn to dusk for the next few days.
Despite a cold start across the country, the sun soon came out and shined on golfers who were simply delighted to be back on the links again. Although courses were exceptionally busy, golfers stuck to the government guidelines on social distancing, and, as yet, there have been no reports of anyone abusing the system or being asked to leave the course for breaking the new etiquette of 'lockdown golf'.
Most clubs operated a two-ball maximum in order to get as many golfers out on the course as possible. Golf at Goodwood in West Sussex had tee times running from 7am to 7pm and managed to get 192 golfers out on the course through the day. Members here are currently restricted to two rounds per week in the initial re-opening phase in order to allow everyone a chance, with advance bookings of up to six days.
Some clubs have had to limit the early post-lockdown rounds to nine holes so they can cope with demand, while many private clubs are only allowing members to play during the first few weeks before opening up the tee sheet to visitors. However, there are plenty of venues, in addition to council-owned clubs, that are offering visitor tee times right from the off. The intervals between tee times have been extended in order to keep groups apart, while golfers are being asked to change their shoes in the car park as clubhouse changing rooms remain closed.
While many players were happy to simply make contact with the ball for their first shot in months, some enjoyed somewhat better luck. Ed Sandison, an 18-handicapper from Cheshire, had reason to be glad that the clubhouse bar was closed when he his opening tee shot at Styal Golf Club's 174-yard, par-three first hole found the bottom of the cup.
Sandison, who founded Ocean Tee, a company which has recently launched an environmentally friendly golf tee made from recycled bamboo, was delighted to have made his first ever hole-in-one on his return to golf.
"At first I couldn't find my ball anywhere, so I was getting a little annoyed – until I checked the cup," he said. "I spent the next 17 holes laughing with my father-in-law, Tony. But everyone I saw seemed to be in such a good mood – and no wonder with golf being back. Usually I would be buying everyone a drink at the 19th hole, but as I've been living with my in-laws for the past eight weeks, I bought them a couple of bottles of champagne and a nice takeaway instead."
Following two months of maintenance without the interference of golfers, the courses were presented in pristine condition thanks to the tireless work of course managers and greenkeepers, many of whom had been working on their own or with a skeleton staff due to most staff members being furloughed. Jeremy Tomlinson, the chief executive of England Golf, praised golf club staff for their "Herculean efforts in trying to keep clubs afloat" during the lockdown.
Under new government guidelines issued on May 13, pro shops must remain closed as far as retail is concerned, but are allowed to be open to take green fee payments and receive and send out goods. Golf lessons are able to be given providing strict social distancing measures are in place, while driving ranges can open providing touch points, such as tees, balls and screens are disinfected before and after use.
The main image shows Burford Golf Club captains Julie Talbot and David Bell, who were given the honour of being the first to tee off on Wednesday morning.
Stay up-to-date: