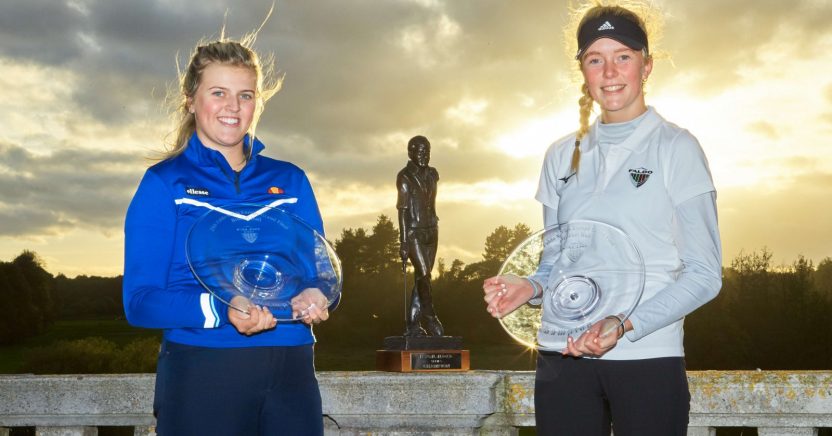 Girls lead from the front at Faldo Europe Grand Finals
Featured News
It was a case of girls to the fore at the Faldo Series Europe Grand Finals held at Brocket Hall Golf Club on October 25-26 after Patience Rhodes and Faye Wheatley emerged as overall winners of the two finals for 2020 and 2021, which were held simultaneously after last year's final was postponed because of the pandemic.
The event saw 65 of Europe's very best juniors compete at Brocket Hall's Melbourne Course. In the 24th Europe Grand Final, Somerset's Patience Rhodes' rounds of 71, 74, 70 sealed the win, commanding a penal course with tight and undulating greens that asked demanding questions from the players. Whilst fellow Englishwomen Faye Wheatley completed the girls one-two, with an inspiring win to claim the 25th title.
Rhodes, who is a member at Burnham & Berrow Golf Club, also won the U16, as well as the overall title with her four-under-par total. She said: "It's just a great feeling to be the 24th Faldo Series Grand Final champion. At the start of the week my goal was simply to win the Under 16 category, and suddenly I found myself stood on the 18th on the final day winning by two."
Wheatley, a member at Gosforth Park Ladies Golf Club in Northumberland, also won the U16 section en route to securing the main prize. She said: "It is amazing to finish the week as champion against such a competitive field. I really felt like it was won and lost on the greens this week. I putted great and almost treated it like a putting competition because the greens were that tough. I really didn't expect the week to go as it did, but I'll continue to work hard on my game and try and come back and defend my title next year."
Both players earned invitation to the Faldo Series Asia Grand Final in 2022, as well as being offered a start on a professional Tour event in the 2022 LET or Access Series schedule.
Joining the overall champions, age category winners from the tournaments also earn a coveted invite to the Asia Grand Final. In the 24th championship, Jamie Van Wyk (Boys U21), Ben Loveard (Boys U18) and Reis Suart (Boys U16) completed the winners circles. They will be joined by their 25th championship counterparts, Sam Potter (Boys U21), Lucas Martin (Boys U18), Ben Bolton (Boys U16) and Nicola Slater (Girls U21).