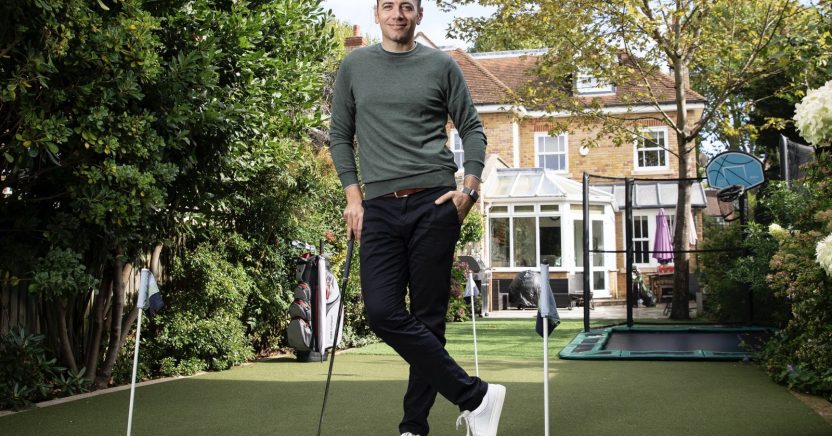 EXCLUSIVE INTERVIEW with Nick Dougherty
Featured News
Golf News talks to Sky Sports Golf presenter Nick Dougherty about the upcoming BMW PGA Championship at Wentworth, his life talking about the game for a living, and the success of his Tee Time Tips show
This week sees the second of the season's Rolex Series events, the BMW PGA Championship, tee off at your home club, Wentworth. What can the players expect from the West Course at this time of year, and who do you think will do well here?
The West Course is going to be play long, that's for sure. It's a month later in the schedule than was originally planned, so the fairways will be that much slower and the rough that bit lusher.
That's going to play into the hands of those who carry the ball longer off the tee, but it's still going to be vital to hit it straight, as it's going to be hard to get any control from the rough into the greens. The greens will probably be the best they've played on all year, as the Sub Air system ensures they will be running faster than would normally be the case at this time of year in the UK.
The West is a ball-striker's course that rewards accurate iron play, so I expect to see Tommy [Fleetwood] up there again, as he was last week in Scotland. His ball striking there was superb, and if he'd holed a few of those short putts on Sunday he'd had won for sure – although that's not to take anything away from Aaron Rai, who was a worthy champion and shot a superb closing 64.
As a broadcaster, it must be good to see so many of the top English players coming back to play at Wentworth given the extraordinary circumstances.
Yes, it's great that the likes of Tommy [Fleetwood], Ian Poulter, Justin Rose, Tyrell Hatton and Danny Willett will be teeing it up, and although there will sadly be no fans to watch them, there will hopefully be a decent audience watching on telly, and their presence in the field will certainly add to the occasion and be welcomed by the sponsors, BMW, who continue to offer huge support to the European Tour.
It's obviously been strange to have no crowds at tournaments since golf's return in June, but do you think the lack of crowds, particularly at  an event like the BMW PGA Championship, which traditionally attracts one of the biggest crowds of the season, will affect the way players go about things?
Of course, it's not going to feel, look or sound the same, but I don't think for one minute that the players will approach it any differently than they would if there had been crowds. Some of the less experienced players not feel quite so intimidated by their opening tee shot or their approach to 18, but everyone will be going all out to win what is quite rightly still regarded as the flagship European Tour event. With all the history behind the tournament, and that great list of former winners, it's one trophy that every European golfer wants to win – never mind the huge amount of prize money and Ryder Cup points that are up for grabs.
What have you made of the changes that have taken place on the West Course over recent years?
I've been at this club pretty much since I was 19, which is half of my life, so I've witnessed first hand the transformation of the West Course over the years. It's obviously changed a lot in that period, not only in its style, but also in its overall playability. Back in the day it was never a push over, but it was definitely more scoreable. You could shoot six or seven under if you were on your game. Since the changes if I ever break par around there now I'm delighted. It's a bit of a monster now, but that's because I was never a great driver of the ball, I was never very straight off the tee, and that will always punish you around Wentworth.
But arguably the biggest change has been the greens. When they had the poa annua greens you used to get a lot of players complaining about their bumpiness and their pace, which was hard to argue with. The greens were often coming into seed in May when the PGA used to take place, so it was always the biggest topic of debate. But since they dug up all the greens in 2016 and introduced creeping bent grass and the SubAir system, which regulates the moisture content of the soil under the green, they are probably the best greens most of the players play on all year. It's made a huge difference, and it means they can host a tournament like the BMW in October and know that they will still have world class surfaces.
How impressed have you been with how the European Tour has managed to get a tournament schedule going during the pandemic?
I take my hat off to everyone involved. The tour, the venues, the sponsors and the players. They've all done a tremendous job in allowing players to carry on playing and earning. OK, the prize funds haven't been quite what they were at some events, but no-one is complaining. It's been an incredible team effort.
The UK Swing was a tremendous success, and all the players that I've spoken to have been grateful for the opportunity and been overwhelming supportive of what the European Tour has been able to put together for them, with the support of the venues and sponsors.
The good thing is that nobody is under to pressure to play in terms of worries over losing their cards for next season, as the Tour has carried over all playing rights for the year, so if players don't fancy the travel, or the living in the bubble or are shielding for health reasons or whatever, then they don't have to play. But for those that do want to play, the European Tour has done a fantastic job of creating a schedule which has allowed players to earn some pretty decent money and keep their competitive hand in on some pretty decent courses.
You've just become a brand ambassador for TaylorMade. I'm not sure I've heard of a TV commentator getting an equipment deal before, but I guess that must be more linked up to your Tee Time Tips show on Sky?
It is, but I guess with my role on TV as a presenter and a broadcaster, as well as the coaching tips and masterclasses that I do, it's great to have access to players like Tiger, Dustin Johnson, Rory, Jason Day and all those TaylorMade guys, many of whom I grew up playing alongside with. We'll be able to do some really cool stuff with these guys, getting their insights into their games that I will hopefully be able to translate into content that all golfers watching will be able to learn from and relate to.
It's also really nice to be with a company that I kind of grew up playing with. When I got my European Tour card for the first time back in 2002 I was using a TaylorMade R320 driver, so to be working with these guys again is really cool. I recently got fitted for the new SIM driver and have instantly picked up 14 yards off the tee, so I'm certainly not complaining about that at my age! So yes, I'll be using TaylorMade gear on my Tee Time Tips show, and hopefully it's a partnership that we'll both benefit from.
Switching tack a bit, you came in for a bit of criticism on social media for your comments about the way Bryson DeChambeau went about winning the US Open. It's obviously part of your job to express your views, but what did you make of that reaction?
My comments about Bryson weren't particularly directed at him, but more the way the challenge of the US Open has changed, but I understand where the criticism came from and I had to hold my hands up and say, yes, I got that wrong. All kudos to Bryson, he took a look at the set up of the course and worked out a strategy of how out to play it and executed it to perfection. I may not have liked the way he did it, but you have to hand it to him for being able to play the way he did.
As much as it is my job to provide insight, it doesn't mean that I'm always right. I'm proved wrong on an almost a daily basis, such is the nature of golf, so it just goes with the territory, but hopefully it won't stop me from saying what I think, whether it's right or wrong. They're just opinions.
It's obviously part of my job to comment on how I see players and the way they perform, so there are times when I'm going to say things that might annoy or upset players. I have a rule of thumb that if a player comes up to me and says "I heard you say this about me…", I have to be able to look them in the eye and say "Yes, I did, and here's why…" I have to have the evidence to back that up. If I'm only able to look a bit sheepish and say that I didn't mean it in that way, then I know I shouldn't have said it in the first place.
It's been almost four years since you played your last event at the Dunhill in 2016. I know it's been a while now, but what have you missed most about not being on tour?
To be honest, there's isn't a lot that I miss apart from the competition. As a sportsman, that's what we love to do – compete. Constantly challenging ourselves against others and seeing how good we can become. I don't miss the stress of not earning, which was obviously a factor in the latter stages of my career, but the thrill of competition is hard to replace.
Have you had time to play much casual golf in lockdown?
Although it's been a pretty hectic schedule with my Sky commitments, I've played more golf over the last five or six months than I have for ages. With a young family and my other work commitments, my golf always comes a distant third in the pecking order.
I'm a member at Wentworth and although the tee sheet gets booked up pretty quickly, I have managed to sneak out for a few games. I played a few weeks back with John E Morgan and Andrew Coltart, and it got quite competitive, I can tell you. We even hit some half decent shots and we all got to wondering where it all went wrong. I've got another 12 years before for I reach Senior Tour age, but you never know. If people get tired of hearing me talking a good game, I may have to play it…
You've been visiting the back garden practice facilities that members of the public have built during lockdown. How impressed have you been with the set ups, and what's your own back garden set up at home?
The courses that fans have created are incredible. As well as being a great sport, many people find golf really helps relieve stress. Covid-19 has shone a light on the game and showed more people than ever how golf can help with fitness, both physically and mentally, by getting us outdoors and active. The last few months have opened up the sport to new players, old and young, and I hope that continues.
The golf set ups people have built in their gardens have offered ways to spend more time with family and friends, create challenges, practice their short game and, more than anything, spend time outside. The golf is almost secondary.
I don't have much of a golf set up at home, although my young son Max and I been out there a few times practicing our chipping, which has led to the odd golf ball flying over the hedge into our neighbour's garden – although perhaps I need to keep quiet about that in case he reads this!
Nick Dougherty is a brand ambassador for BMW. The BMW PGA Championship will be shown live on Sky Sports Golf all for all four days of the championship from 11.30am on October 8 and 9, and from 10.30am on October 10 and 11. For more details visit www.skysports.com.
Stay up-to-date: